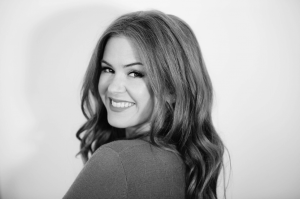 With the release of her fourth book in her much-loved children's series, Marge In Charge, Isla Fisher tells me about all about Marge and the Secret Tunnel – a fun, family story written by isla Fisher and illustrated by Eglantine Ceulemans.
The books follow Marge, a babysitter, who 'breaks all the rules' by cooking the children chocolate soup for dinner, making a mess and doing, in short, everything Isla wishes she could do as a self-proclaimed clown. 'I have to be a sensible mum and make sure everyone goes to bed on time, otherwise things fall apart,' she says. 'But Marge can just encourage the kids to get creative. She's this naughty character who became really popular with my kids at bedtime.'
Writing children's stories isn't what Isla had always had in mind. Indeed, the 42-year-old is far better-known as an actor and for her hilariously mad performance in Wedding Crashers, for 2009's Confessions Of A Shopaholic and from her days as Home & Away's Shannon Reed in the '90s. She's one half of Hollywood couple (married to British comedian Sacha Baron Cohen) and together, they have three children – two daughters, Olive and Elula and a son, Montgomery.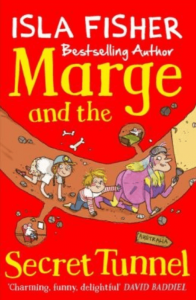 I started by asking Isla Fisher where did the idea of Marge come from?
If two of my best friends had a love child, it would be Marge. One of them is the eternal Peter Pan who is in total denial about reality, and the other tells magical, amazing stories. The stories are a bit like The Cat in the Hat meets My Naughty Little Sister, which are books I love to read with young children. I find kids are used to other kids misbehaving, but when grown-ups do it they find it hilarious.
As a busy mother and actress, what helped you to focus on her creative writing?
I wish I had the secret to balancing it all as a mum, but I don't have a clue. Acting is difficult with a young family. I don't want to drag everyone around the world at a whim which limits my role options and I don't want to be gone for huge chunks of time. Writing fits neatly around everything. I can write in the car pool line, in bed when everyone is asleep, on a playdate, wherever I can bring my computer (or my phone which has a Dictaphone setting) I can write.
What do you enjoy the most about writing?
The complete creative control. With acting you only play your part but when I write I get to inhabit the emotional landscape of all the characters and create their world!
Marge And The Secret Tunnel –is available now from all good book stores and online.