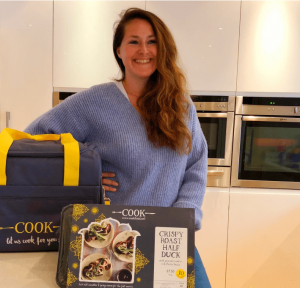 Sometimes it feels like family life seems busier than ever. The rise of technology and after school clubs often means we are 'always on'. Things which can be both a saviour and a curse at the same time. Many parents are now both working, either full time or part time and only a third of us are managing to escape work on time.
For many, that means when it comes to family dinners, we need ideas which are quick and easy. If you are anything like me, I have a pile of fasinacting cook books in the office, which I never get round to reading. From Jamie Olivier to Joe Wicks 'Lean in 15', I'm just too tired to even pick up the book (sorry Joe!).
Being time-poor can be frustrating and who wants to spend what little time there is left in the day slaving away in the kitchen rather than being with their family or partner? In fact, according to Kantar Worldpanel, the average time taken to prepare the main family meal has reduced from 60 minutes two decades ago to around 32 minutes across all social groups now – a sign that many households do not have the time, resources or confidence to devote to home cookery.
When I get home, there can sometimes be a queue of people waiting for food (dog included), whilst I rustle through the fridge like Ainslie Harriott coming up with a food idea using four items, (mostly using the ingredients which are going out of date). Whether you like to dine in or dine out, many of us just want to enjoy quality, delicious food to meet every budget. For dining in, COOK food could be the perfect solution. It works for us as a family and it could work for you too.
There has been something of a stigma around ready meals. Too much extra salt, sugar and preservatives but ready meals have come a long way over the years. Well, a long way since I used to buy them religiously as a twenty-one-year-old (I hardly ate anything else).
COOK was founded in 1997 by Ed Perry and Dale Penfold, who had the idea of trying to cook and sell frozen ready meals that tasted like they were made by your mama. Their aim was to create frozen meals that tasted as good as your parents' home cooking and bring it to you on the high street. Edward Perry commented to The Telegraph, "For many years… food journalists seemed to studiously ignore us as we had committed the two cardinal sins of food creation in that we were a ready meal and we were frozen." Managing Director of COOK is Ed's sister, Rosie Brown, who keeps a fairly low profile. As a fellow working mum herself, she understands the family juggle and we've spoken about this face to face when we met earlier in the year.
COOK has grown over the years and now has 84 shops and over 800 employees. Clearly business is good and this article has really helped me to remember that frozen is good for us. I once had a very honest conversation with cook, Melissa Hemsley, (of Hemsley & Hemsley), who told me that she freezes everything to avoid any waste! Who knew?
COOK have really extended their range over the years and I have been so impressed with their family range, kids meals, vegetarian meals and 'new parents' concept to name a few. Their Nut Loaf is one of the best I have ever tasted and I'm not even vegertrain.
Their kids meals have no nasty additives; no added salt; and at least one portion of veg in every meal. For every meal you buy from the COOK Kids range, they will provide a school meal for a child in one of the world's poorest countries through our partnership with One Feeds Two. How amazing is that? So I'm not going to feel guilty about my COOK delivery as it's a blessing. For every COOK meal we have, I gain more valuable time with my family. If fact, even Ed Perry might get an extra hug for achieving that.
When my friend recently had baby number three, I didn't rock up with cuddly toys and flowers. Instead, I left a cool bag of COOK food on her doorstep to last her a week as a new family of five. Because, quite honestly, if I had another baby…that is what I would want!
New mums and dads can get 10% off the entire COOK range for six months. You're going to have your hands full, so let COOK take off the pressure. Click here for details.
As part of this collaboration, I have been working my way through some of their yummy meals and I must say, I've been impressed. Especially, as we don't normally eat many frozen meals.
My favourite meal without question is the award winning Green Thai chicken curry, which is both dairy free and gluten free. It tastes so good, I don't think we will ever order a takeaway ever again. We served it with Drunken Noodles with Tiger Prawns, jasmine rice and spiced thai crackers. Absolutely delicious!
So why not go online and try your first order from COOK? Use promotion code GUILTY10 for 10% off online. Promotion code ends 30th September 2018. Delivery charges may apply. (This promotion can't be used in conjunction with other offers.)