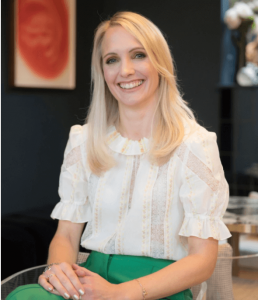 It was my pleasure to interview Anna Jones who is an absolute inspiration for female entrepreneurship here in the UK and abroad. Anna Jones quit her high-profile job to set up AllBright, a funding platform and academy for female-led businesses, with friend and entrepreneur Debbie Wosskow.
Today, Anna Jones is more focused than ever on empowering female entrepreneurs and supporting women to build their business or elevate their career through the AllBright Academy. In this interview, we talk all things business, balance, motherhood and how proud she is of the UK's first female-only members club.
Anna, please start by telling us a bit about yourself?
I am the eldest of 4 sisters and I was born in Yorkshire to a Danish mother and British Father. I am married to my husband Marcus, who I met at university in Newcastle. Until March 2017 I was CEO of magazine company Hearst (whose titles include Elle, Harper's Bazaar and Esquire). I set up AllBright in 2016 with my Co-founder, entrepreneur Debbie Wosskow OBE, because I wanted to create an organisation with a mission to make the UK a better place to be a working woman. We opened the AllBright – the UK's first members' club for working women – in London this year – and we have been overwhelmed with interest and support. So much so that excitingly we are now planning Clubs 2 and 3 – one in London and one in LA. Both will open next year. As well as this we have just launched a 10-week online professional development programme for entrepreneurs and executives through the AllBright Academy.
Can you share a couple of your career highlights with us from when you were working at Hearst magazines. I imagine you've rubbed shoulders with some influential people in the world of TV, music and fashion?
Although Hearst reached a third of women in the UK and had mainly female focused brands I was the first woman appointed as CEO of the company in 100 years. That was a proud moment and I was lucky enough to work with so many talented creative professionals on so many iconic brands. I got to do some wonderful things in this role and had many 'pinch-me moments' like introducing the Harpers Bazaar Women of the Year Awards or the ELLE Style Awards to an audience of mega stars. More recently though I feel like my whole life has become a 'pinch me moment' – I'm running my own company alongside the most inspirational Co-founder, doing something I feel passionately about every day with incredible women and enlightened men. What could be cooler than that?….
Describe a typical day?
I get up as close to 6am as possible as I like to do 20-30 minutes of Pilates every morning and get ready before the rest of the family wake up. I'm so busy that it's a great to have a moment in the day to just concentrate on me. I have breakfast with my children before I head to the office. Sometimes I take the kids to school on the way, so I usually get in for about 9am. In reality, I start work as soon as I wake up via my phone – the beauty of technology is that you can always stay up to date and manage things from anywhere. I split my time between working with my team in the office and meeting established and new founders and women from all walks of life interested in AllBright's club and Academy services.
As a member of AllBright myself, I love what it stands for. It is an incredible space for women to work, meet and share ideas. What does it mean to you to have created the first club of its kind like this for working women in the UK and what makes it different?
Since we opened The AllBright, we have seen the magic that happens when women come together. As well as our members building their networks, we have seen new businesses being started, book deals being signed, and female founders being funded. The feedback we get from members on the positive impact AllBright has made to their ambitions and sense of community is constant and makes all the hard work worthwhile. The AllBright welcomes men in the club as guests of members at any time, which makes us different from many of the women-only co-working spaces that have recently started to emerge, especially in the USA. We believe that to really instigate positive change we need enlightened men in our movement too.
Tell us about the AllBright Academy?
The Academy is designed for women at all stages of their career – executives and entrepreneurs. From September, it is offering women across the UK the chance to sign up for a free, 10-week educational programme designed to help women start and scale-up successful businesses and smash corporate glass ceilings to achieve their career ambitions. The programme is completed online and supported by a network of regional ambassadors and there will also be in-person meet-ups during and beyond the 10-week course, giving participants the chance to come together and network as 'AllBright Alumni'.
Designer Cath Kidston, Wahaca Founder Thomasina Miers and TV presenter Trinny Woodall are among the Academy faculty who are delivering the programme's content, together with Cosmopolitan Editor Farrah Storr, co-founder of Coffee Republic, Sahar Hashemi, equality campaigner Luciana Berger MP, Olympic Gold medallist Christa Cullen and the award-winning talkRADIO team from Badass Women's Hour. Other AllBright Academy faculty include: Melanie Eusebe, co-founder of the Black British Business Awards; Alice Bentinck, co-founder of Code First: Girls; Irish writer and disability campaigner, Sinead Burke, recently named by Vogue as one of the 25 most influential women working in Britain; Pippa Murray, founder of nut butter brand Pip & Nut; Michelle Kennedy, founder of female-focused networking app Peanut; Nina Leykind, CEO of make-up brand Eyeko; and Cassandra Stavrou founder of multi-million-pound snack brand, Propercorn.
Every time I see you at AllBright you look immaculately dressed. What is your 'go-to' outfit or designer for a busy day at AllBright? And secondly, clothes can really affect our mood/confidence, so how important is it to feel good in what we wear?
I think the key to looking 'pulled together' and confident is working out what shapes suit you and then sticking to them. You can experiment with fabrics, colours, textures but you tend to feel good if clothes hang well on you. I have a petite frame and can look drowned in a lot of clothes so I wear dresses, skirts and trousers with a defined waste.
I am always running around but I feel more dressed for work when I'm wearing heels, so I change out of my flats as soon as I walk into the office or Club. I love classic colours and styles but preferably with interesting details that when I'm buying new things. I mix vintage precious vintage jewellery with low cost high street accessories and if I'm really tired I make myself look awake with bright red lipstick. I think my team can tell how late a night I've had depending on how bright my lippy is!
Weekends become sacred when you have a young family. How do you untangle yourself from work emails and how do you relax?
We try to do things we all love to do so we can spend time together so weekends usually involve baking, dancing, movies, hiking and having friends over. I don't really see my job as work – it's also a crucial part of my life. I am very fortunate to have created a business that I love and so I'm happy to be thinking about what we can do next – even if that is while eating an ice-cream in the park with my kids at the weekend.
It's clear that Debbie and yourself are on a mission to seek out and support a new wave of female-led businesses. How do you hope to change the way we see global business and what are your aspirations for the growth of AllBright?
With a growing community of inspiring and connected women across the globe – there's no stopping what we can do. I think global business is waking up the impact of having motivated and empowered women building businesses for themselves and others and as we're half the population that can only be a great thing.
We've just secured investment to support the international expansion of AllBright, starting with our first American club due to open in LA in 2019. And we want to extend the reach of our Academy offer to support women in work and business across the world.
How do you juggle business, motherhood and home-life? Do you have a good work life balance?
There's no silver bullet here – like most people, I'm making it up as I go along. I try to do what makes me happy and then I'm a nicer mother, boss, business partner…What makes me happy is being with my family and friends and doing meaningful work that I love, so I just try and blend work and home as best I can.
What is your advice for women who have a fantastic idea and want to go ahead at start their business?
It's all in the planning. Take your time, map the steps, talk to the right people and do your homework. Be clear about what's important to you, what is your motivation for starting your company (money, flexibility, enjoyment, purpose etc) and think carefully about whether your idea can truly deliver this for you. If the answer is yes, then get practical and use the resources out there as a springboard. Sign up for the AllBright Academy as a start!
Thank you Anna for this fabulous interview. For more information, visit www.allbrightcollective.com.
You can also follow them on Instagram @allbright and @annakristinajones.