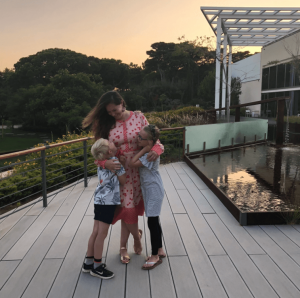 I first heard about Martinhal Family Hotels and Resorts through a few friends who had been before. One had stayed at the Sagres resort in the Algarve and the other had been hereat the Martinhal Cascais resort.
I distinctly remember thinking that the photos looked divine. We feel very grateful to have been invited for complimentary stay here at the Cascais resort near Lisbon, at the end of August 2018 (just before back to school). We had been invited as a family to come and explore and review the hotel. It was our pleasure to come and do so and what a wonderful place this is. I'm so pleased I can now share this honest review with you all.
We all know that first impressions are important and when it comes to interior design, this place is very impressionable indeed – for all the right reasons. Martinhal was created with one core message which was to put luxury into family holidays, combining five-star accommodation, good food, relaxation…and children's facilities.
I was interested to find about more about the owners of Martinhal, Roman and Chitra Stern. Both were accountants in London when they met and then decided to leave the busy London life behind them. In 2001, they settled in Portugal. Two months later, they found their first plot of land at Martinhal.
Now, in 2018, Chitra and Roman have built four child friendly hotels in Portugal. Both Roman and Chitra were having brunch on the table right next to us in the M Bar on one of the mornings, which was lovely to see how relaxed they are amongst their customers.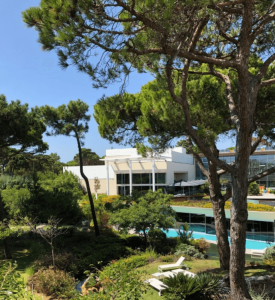 When it comes to choosing the right hotel, which has the perfect mix of luxury and family, you know you have made a good choice when the hotel provides a soft, white dressing gown and flip-flops. I don't just mean dressing gowns and flip flops for the adults, I mean…for the whole family! Giving you a sense of relaxation as soon as you walk into the hotel room. I knew we were off to a good start.
The hotel itself is breathtakingly stunning and if you enjoy architecture, then there is plenty to fuel your interior decor imagination here. In fact, it could run wild! I may have taken more photographs of the resort building and soft furnishings than I took of my own children during this trip…guilty!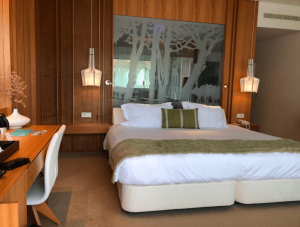 Consisting of 68 hotel rooms, 4 suits and 12 villas, the Martinhal Cascias hotel aims to provide top level comfort and style. Each room features private balconies and terraces where you can take in some of the stunning views of the area. The private villas are for those looking for a more freestyle holiday with the added benefit of a fully functional kitchen, two bedrooms and living rooms.
We stayed in a vast bedroom with a calming Scandi-style wood and light décor. All their rooms come with super king size bed and our room was arranged with bunk beds for the children. All hotel rooms have huge windows and extend out onto a spacious balcony with views over the gardens.
The room was spacious and brilliantly designed for family-living. A glass partition to the bathroom enables parents to keep a watchful eye on their children, while taking a soak in the bath.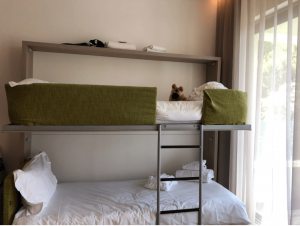 There are three pool areas dotted around the resort to ensure that guests can enjoy pool time with their children There is the Pool Hangout (open in the Summer), the indoor and outdoor pools next to Finisterra Spa and the Kids Clubhouse pool.
As you can see from the photograph below, in spite of the Cascais being almost full, the resort felt very peaceful and chilled. Perhaps is it because the resort is so well laid out. This really is a very clever hotel.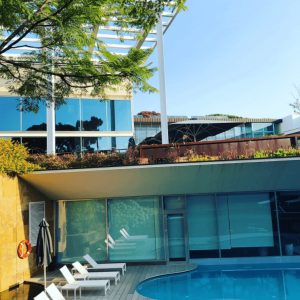 The spa is open to the whole family, so children can use the jacuzzi, sauna and steam room if they wish, which my kids loved. In fact, the jacuzzi and the steam room (my son called it the smoke room), were one of their holiday highlights. They loved it!
The Finisterra Spa area is a beautiful space, offering an excellent range of treatments, including purifying facials for teenagers. The indoor and outdoor pools at the spa are generally quiet and so we spent most of our lazy days here. We took full advantage of the spa facilities, by booking us both in for back massage which was heavenly.
The spa uses Voya products which hail from Dublin and their products are 100% organic and perfect for adults, children and babies with sensitive skin.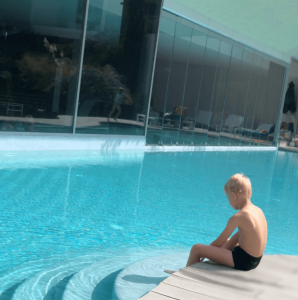 The spa also offers mother and daughter or father and son treatments which is such an innovative idea at a family resort. We booked in for some mother and daughter time with a joint pedicure, so we have pretty feet for the rest of our holiday adventures!
When it comes to delicious food, Martinhal Cascais has three restaurants and all the staff are professional and very friendly. The O Terraço offers buffet breakfast and dinner, so we dined here most mornings and evenings. I couldn't resist a cheeky Portuguese mini custard tart for breakfast. They were so yummy!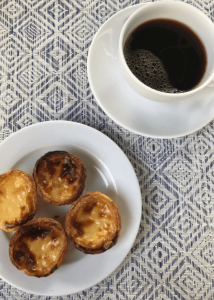 It a beautifully designed restaurant with both indoor and outdoor eating areas. It has a children's corner where staff entertain little ones while parents finish their meal, instead of the children fidgeting at the table. For those with dietary requirements, everything is catered for here, including a selection of vegan and vegetarian. Additionally, there is the Lounge Bar with healthy smoothies, cocktails, as well as a family Afternoon Tea experience.
If you are travelling with little ones, we know holidays with babies can be hard work. At Martinhal, they really try to accommodate every need, so you can relax. I was blown away by the effort Martinhal go to as you can pre-book bottle sterilisers and warmers, cots, baby baths, safety gates, potties and door protectors at no extra cost.
If you need a baby bottle warmed or a bottle sterilized, just contact room service and they will bring it straight to your room. I mean, what other hotel do you know that does that?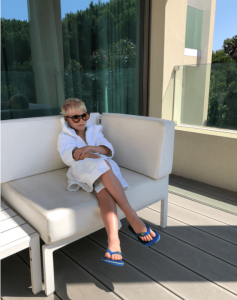 Our children, aged eight and six were a great age to enjoy every corner of the Martinhal Cascais resort. From the football pitch, play area, archery lessons, treasure hunt, pool table, Martinhal camper van turned play space, trampoline and zip wire, Martinhal ticked so many boxes for us. Sadly we missed Lego robotics and mocktails, but you can't do it all!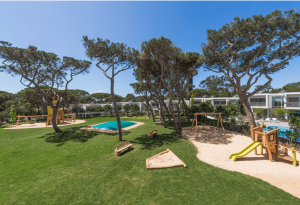 For families, the childcare facilities on offer are first class. Other than the babysitting service offered, babies and children from six months to early teens can be booked into two-hour sessions at the Kids Clubhouse.
There is also a baby room which is dedicated to babies and little toddlers. Full of toys to entertain and stimulate them, aswell as allowing them to take a cheeky nap when required.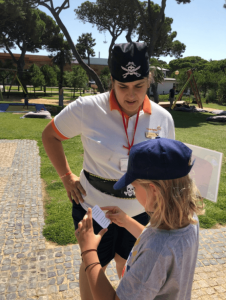 On one of the evenings, we walked into Cascais town which took us around thirty minutes from the hotel but was well worth it. The area was so peaceful with a relaxed, laid back vibe.
We had a leisurely walk around the little market stalls before sitting for a dinner at Paladar da Guia, which I would highly recommend. The staff at this restaurants were great with the kids.
A little later, we booked an Uber back to the Martinhal Resort which was just a five minute drive and cost under five euros. Before we knew it, we were back and settled in our crisp, white bedsheets of the hotel room. A glorious evening.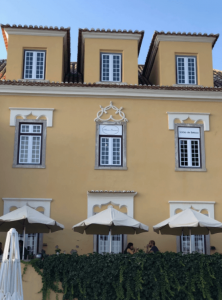 The next morning, the children said a sad farewell to their new friends they had met at the resort. A last breakfast hug from the resident furry fox of Martinhal Fox Club. The fox offers great breakfast hugs!
After breakfast (and one final mini custard tart), we packed our bags, said thank you to the fantastic hotel staff including Monica, Marta, Ana and Issac before checking out and headed to the Martinhal Chiado apartments in the heart of Lisbon. You will be able to read about our stay at the Martinhal Chiado apartments in part two of this blog coming soon.
If you enjoyed this blog, you can book your stay with Martinhal by clicking here.
Note: This blog post is brought to you in collaboration with Martinhal Family Hotels and Resorts but all views and opinions are honest and my own.