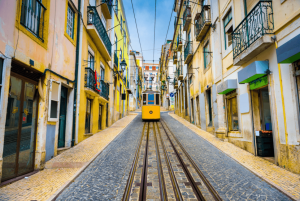 Thought a city break with kids wasn't possible? Think again. We travelled to Lisbon with Martinhal Family Hotels and Resorts, which has changed our perception of city breaks with kids.
I know there's plenty of amazing cities out there from Paris to Barcelona to the wonder of London. Somehow, I felt I had overlooked Lisbon…but for no good reason at all. Lisbon is a city that makes you want to go exploring. It is a safe and friendly city, relatively small, which is perfect for family travel but with so much to see.
City Breaks with Kids
Lisbon is now, in my opinion, one of the best cities to spend a weekend. Whether you travel with a loved one, with kids or for a girls trip, this versatile city has it all. Despite being one of Europe's smaller capitals, this city is big in architecture and beauty. From the pastel coloured houses, the hilltop views, vintage trams and cobblestone streets, Lisbon's charming beauty has captured our hearts.
It's not just us who loved Lisbon. I was reading that Lisbon is now the fastest growing city for visitor numbers in Southern Europe. Who knew? An estimated 4 million overnight visitors—6.5 times the city's population—stayed in Lisbon during 2015. And that's not including the day trippers or cruise visitors. It's easy to see why many holidaymakers are flocking here.
Martinhal invited us to enjoy one nights' complimentary stay at their Chiado Family Suites in the beating heart of the old town, we jumped at the chance. The Martinhal Chiado Family Suites in Lisbon are the world's first city hotel with a kids' club open from morning till late at night. This gives parents and children alike a great opportunity to enjoy a city break, tailored to everyone's needs.
On arrival, the Chiado family apartment was clean, modern and vibrant with colour. Perfect for luxury family stays. We stayed in a two-bedroom apartment with a gorgeous open plan living/dining space. The children shared a bedroom with bunk beds which was ideal.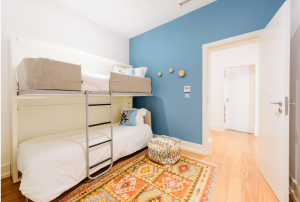 If you are travelling with babies and small children, use the Baby Concierge service to accommodate every need. This service gives you the opportunity to pre-book baby equipment – from small items like door protectors, potties, bottle sterilisers & warmers, to bigger items like safety gates, baby cots and baby baths.
Exploring the City
To make the most of our twenty-four hours in Lisbon, we unpacked and headed straight out to explore the city. Here are some of the highlights that we managed to do: –
Castelo de São Jorge (St George's Castle)
One of Lisbon's most iconic landmarks – with over 1000 years of history, Castelo de São Jorge is a must see for any visitor to the city. It is the highest point in the city, set amongst the most typical of neighbourhoods. A unique opportunity to feel and understand the city's relationship with the river Tagus.
The castle has 360 degree views across the city. Be warned! You'll need to climb the uphill streets to get there, so make sure you wear comfortable shoes. Oh my goodness, I sound eighty years old! We had plenty of shouts from the kids of "are we there yet?" but once you get to the top, the view is well worth the climb. Make sure you reward everyone with an ice cream when you reach the top! I chose Hazelnut ice cream which was delicious!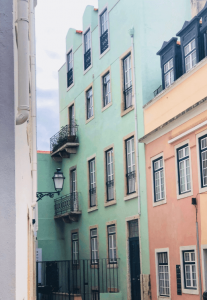 2. Chapel of St. John
Hidden in São Roque Church, the Chapel of St. John is one of the world most precious (and expensive chapels) – built from gold, this chapel is a truly spectacular place to. The inside is far more beautiful than the exterior of this church. The ceiling and interior decor are really stunning. Some were created in Italy and shipped to Lisbon. Definitely worth a visit. Trust me, even the children were impressed!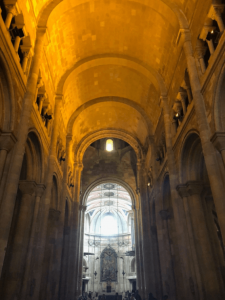 3. Ride The Trams
Head on one of Lisbon's iconic trams and rattle your way across the city and they have been in operation since 1873! It is the perfect experience to include when your feet get a little tired! My top tip is to take the tram up some of Lisbon's hilly districts… especially on a sunny day as the views are super! Although some of the trams are red, I adore the yellow ones, just like you see in the adverts!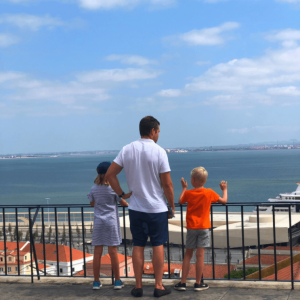 4. Dining out
From sweet pastries and flans to great cod dishes with Portuguese wine, Lisbon is a haven for food lovers. Lisbon is packed with characterful eateries and from ice cream to Portuguese pies….we enjoyed it all!
There's plenty more on offer in this city and we simply ran out of time. However, we will come back to explore the Science Museum, Lisbon Zoo and Jardin da Estrella and Monstano National Park to name just a few. I also heard of a kayaking trip that sounded like fun!
Raposinhos Kids Club
Our children, aged six and eight, really enjoyed the Raposinhos Kids Club at Martinhal. They have created a fantastic kids club which covers a wide age group from children of 6 months old to early teens. In the Kids Club, children can be looked after by their caring and responsible staff in a safe and secure space.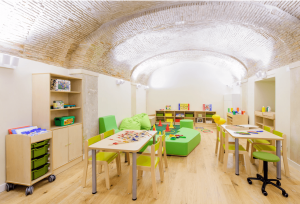 For our evening in Lisbon, my husband was keen for us to enjoy a peaceful evening dinner (just the two of us). The Martinhal team recommended that the children may like to join their Kids Club Pyjama Party, where they snuggle down to watch a movie, whilst us adults pop out for a few hours for dinner.
I was a little hesitant leaving them at first, which I know is really silly as they were completely safe in the kids club. However, we did have the most gorgeous Portuguese dinner at Cafe Lisboa (as recommended by the hotel). We were able to walk the pretty lanes of Lisbon at our leisure. On the way back, we stopped at the wine bar over the road is great (check out the ceiling) which is almost directly opposite the Kids Club.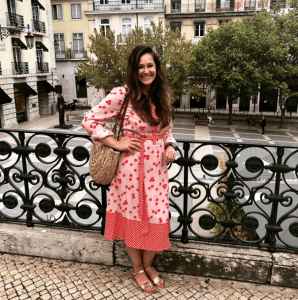 As we walked back into the hotel and signed the children out of the Kids Club, it would seem I had nothing to worry about. Everyone had a good night. Especially the children and there was no guilt required! We all slept well that night.
The next morning, we came down for breakfast in the M Bar. The old-school BMW mini which takes centre stage in the bar was a big hit with the kids! As we packed our suitcases to head home, if felt like we were only just settling in. We were so sad to leave our comfy apartment at Martinhal, but all good things must come to an end.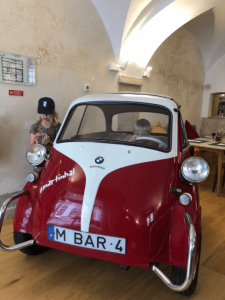 In summary, we thoroughly enjoyed our stay with Martinhal in Lisbon. In fact, I would say that it exceeded our expectations. Everyone that worked at Martinhal was friendly and helpful. The location was amazing and gave us easy access to all the shops and attractions. So if you want an easy trip to Lisbon with children in tow, choose Martinhal and you'll be in good company.
If you enjoyed this blog, you can book your stay with Martinhal by clicking here. Note: This blog post is brought to you in collaboration with Martinhal Family Hotels and Resorts but all views and opinions are honest and my own.
Click here to see Martinhal's suggested itinerary for a Family day in Lisbon.