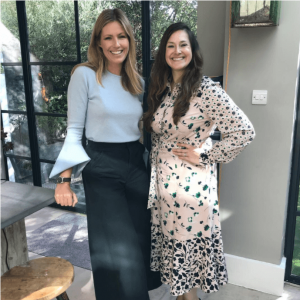 I popped in for a coffee with Marina Fogle at her London home to talk all things parenthood, building kids confidence and of course maternal guilt. Marina kindly invited me to be a guest on her podcast called The Parent Hood which is brilliant. Please do have a listen as I think you will really enjoy the conversation we had on maternal guilt. It's a good one!
In return, I interviewed Marina as part of my Inspiring Interviews at their beautiful North Kensington home, which is full of bright colours and exotic pieces Ben has carried back from his adventure travel. Marina is lovely. Kind and welcoming and honest, so I hope you enjoy the interview…
1.Marina, please start by introducing yourself?
Well firstly thanks for having me! I'm the founder of London's most loved antenatal class, The Bump Class and also produce a podcast called The Parent Hood on which we discuss all things parenting – everything from verrucae to how to talk to your child about sex. I'm also a mother to Ludo and Iona and wife of the adventurer Ben Fogle.
2. You teach antenatal classes at The Bump Class. Please could you tell us more about that?
My sister Dr Chiara Hunt and I started The Bump Class after we realised that a lot of people were experiencing traumatic labours because they were woefully ill prepared. There seemed to be sentiment that if you just focussed on the birth you wanted that was what you'd get. Unfortunately the world doesn't work like that – if only it were that easy! And what was happening was that women were ending up with a c-section and being terrified as they'd not understood what was happening or had believed the often incorrect horror stories that were being peddled.
So we decided to set up our own and bring on professionals – midwives, doctors, physios, breast feeding consultants – pros whose jobs give the the whole spectrum of birth but also whose knowledge is accurate and evidence based. Our course is 8 sessions long and covers pregnancy, labour and (most importantly) how to look after your baby when you get home. It's honest, engaging and great fun. The girls always tell us they're sad when it's all over!
3. You are now recording a podcast called The Parent Hood, which is brilliant. I am so pleased to say Guilty Mother is now on it! What was the inspiration behind the podcast?
The girls who'd done The Bump Class all asked for a postnatal class in the same vein but I just didn't have the time to teach another lot of classes and also we know how hard it is to get out of the door with your baby on some days so we thought it would be best if we could provide a podcast which people can listen to in their own time, wherever they are, for free!
We get professionals to come and speak about all sorts of different issues – there is no topic we shy away from and we cover everything from the practical (verrucae, nits, worms) to the more complex issues around parenting (guilt, how to build resilience, positive body image). Listen here.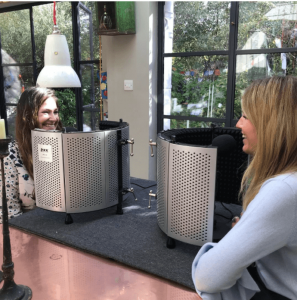 4. Ben is such a positive influence for so many people as he is never afraid to explore the world and meet new people. How do you think his confidence and ability to 'give something a try' rubs off on your children?
We've always tried to teach our children that it is good to take risks and it's important to fail. Mistakes are celebrated in our house and I think as a result, our children are bold but not reckless. They love exploring, meeting new people and diving head first into new experiences…most of the time.
We are a far from perfect family and often find ourselves in a situation where we've made the wrong decision and we've pushed the children too far and they're fed up but then we try to laugh about it. I believe fiercely that bringing a sense of humour into your job as a parent is essential!
5. Congratulations on the new book called 'UP', which you have co-written with Ben and available now. Can you tell us more about the book?
Ben climbed Everest this spring and while the book is about his journey to the top of Everest, it's about so much more than that. Growing up, he struggled with life – he was bottom of the class, failed all his exams and never made a sports team.
The academic system told him he was a failure. But his confidence grew when he travelled in South America and when he started tackling real life he realised that believing in yourself is essential if you're going to succeed. The book is his story about the journey from shy child to successful adventurer. I've contributed to the book as our editor wanted the family perspective – how we coped with the risk and how we have those broader conversations as a family.
6. Praising children on their efforts instead of their beauty is something you have written about previously. Why do you feel it is so important to have this conversation?
I remember feeling pressure to look a certain way and feeling rubbish because I didn't. And that was the '80s before social media and constant photos and filters and snapchat. All children feel vulnerable at some stage and this peaks in the teenage years and being obsessed with how you look we all know is awful. So we, as parents, have to be aware about how our language and actions might be unwittingly telling our children that how they look is important. There is convincing data to show that children whose effort is praised rather than result do much better in life – we think that's because they then focus on their effort rather than beating everyone else.
7. Can you tell me about your ambassador role for Tommy's and what that means to you?
After my son Willem was stillborn in 2014 I started working with Tommy's to help them raise money for the groundbreaking research they're doing into stillbirth, premature birth and miscarriage. Seeing their projects is one of the most uplifting experiences I've had since Willem died – they are changing the face of pregnancy and birth worldwide and thanks to them I'm quite sure that when it comes to my grandchildren being born, the risk will be much less.
Read more about Tommy's here and the amazing work they do.
8. How important is self-care for women to try and find some time for themselves each day?
Crucial. Our children depend on us completely and if we're exhausted, depleted, listless and unhappy, they are going to be the ones that lose out. There seems to be an expectation that women become parents as well as working and that the two can co-exist quite happily. But they're two different jobs and each takes a huge amount out of you. If you look at the still face experiment (you can google it) it shows just how important a happy mother is right from the very beginning. So invest in yourself, be kind and look after yourself and the real winners will be your children.
Thank you Marina.
Please click here for more information on The Bump Class. There is also a book to accompany this which is full of advice from trusted professionals combined with friendly, pragmatic information from mothers. An honest guide to pregnancy and the first few months, the ultimate companion for new and experienced mothers alike and you can buy on Amazon here.
And finally, please subscribe and listen to The Parent Hood podcast as like me, I'm sure you will love it. Listen to our episode on iTunes or acast.