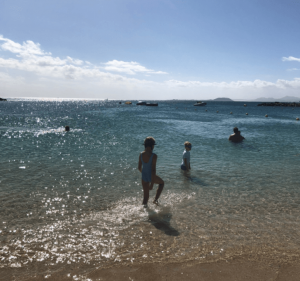 You don't have to take a long flight to enjoy balmy temperatures in October through to December. It could be the perfect time to check out the Canary Islands for some winter sun. I don't know about you, but I see an upward trend in families deciding to escape the UK for a short break in the sunshine.
Not only is it a welcome respite from the longest school term, but it offers good value, compared to the peak summer travel weeks. With a reasonable flight time of around three and half hours and perfect temperatures (mid-70s) combined with family-friendly accommodation, make Lanzarote hard to beat for a fly-and-flop holiday.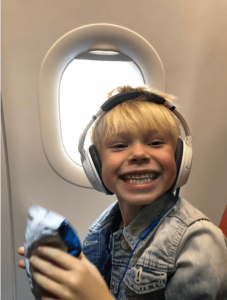 We have been coming to Lanzarote in the winter months for several years. In fact, we have even had Christmas day here before. As an existing customer of Solmar Villas from trips to Menorca, I contacted them to collaborate, experience one of their villas in Lanzarote and share the experience with you all. I am very grateful that they agreed and said they would love for me to write this honest travel review, which is exactly what I have done.
When I first used Solmar Villas, I thought they great and had some very reasonable pricing. However, for an award-winning travel brand, none of my friends or family had heard of them. To tell you more about them, Solmar Villas are a family run business for over 23 years of experience in arranging high quality, tailor made villa holidays. They have won several awards including British Travel Awards in 2016 and Best Holiday Company in 2017. They are gold trusted and have a Feefo rating of 4.7 out of 5. All their villas are hand-picked to give you a high-quality selection of villas in the regions of mainland Spain as well as the Balearics and Canary Islands.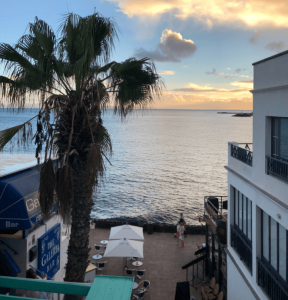 Lanzarote is a popular destination and if you are trying to decide on where to stay in Lanzarote, then you should take into consideration that the West of the Island has constant winds all year round and best suited for surfers. The North has beautiful views and lots of vegetation and palm trees but is quiet. The south is where you'll find all the action and is great for kids.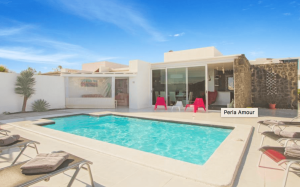 We love to stay in Playa Blanca in the south of the Island. Originally a fishing village, Playa Blanca has matured into a grown up resort with a stylish marina and gorgeous waterfront restaurants. On that basis, Solmar Villas recommend this beautiful, modern four-bedroom villa called Perla Amour which was just a five-minute drive from Playa Dorada and a few minutes drive from the local waterpark 'AquaLava'.
Perla Amour has a stunning contemporary design. With sliding glass doors, a good sized family pool and modern day bed. It would seem that Perla Amour is one of the hippest hangouts on the island.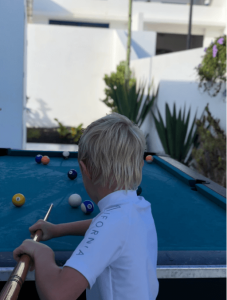 The outdoor playground is fab. It features a pool, decked with sun loungers and a four-poster day bed. There's also a lovely lunch spot to the side, with a glass table with sun umbrella. The kids particularly loved the pool table which was a huge hit and we played every day.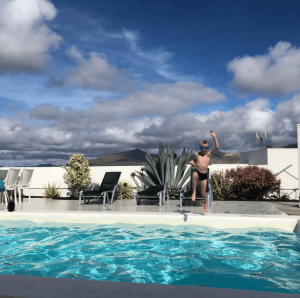 Inside, the rooms blend seamlessly with one another with great open plan living with the dining table in the living room overlooking the pool. The contemporary kitchen features a glass wall, with full view of the living area.
Each of the four bedrooms are air conditioned and has its own theme; one is teal coloured; another is grey with stone cladding in the bathroom and features a Jacuzzi bath. In fairness, we didn't actually use the jacuzzi bath as would take too long to fill up but the children were very happy using the showers they had in their own bedrooms. I know…their own personal en-suite!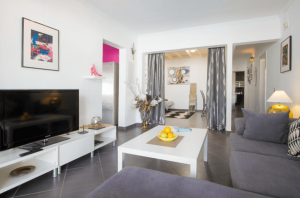 All the bedrooms have their own unique style. Some of the style wasn't necessarily to my personal style, but in all honesty, the space of the villa was perfect for what we needed and secondly, the children thought the décor was super fun! Click here to see the funky bedrooms!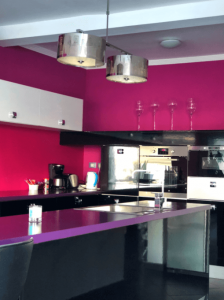 The bright, contemporary kitchen was a great space to cook for the children when they were tired after a busy day swimming, so I used all the fantastic facilities to rustle up their favourite tomato pasta of course. It was home from home!
I definitely wasn't planning on cooking every night, so on day two we headed to our favourite Italian restaurant in Playa Blanca called L'Artista. This really is a little gem of a place and if you go, please try the spaghetti with prawns on their specials menu. Delicious!
During our week, we did plenty of exploring as well as relaxing on the beach. I say relaxing on the beach 'loosely' as really meant that I read about five pages of my book. Although, I am certain I read the same page about three times. Doesn't everyone do that?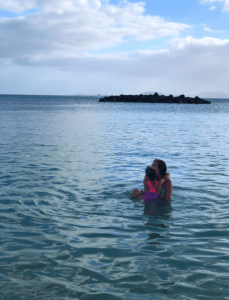 When it comes to beaches, Playa Dorada is the largest and most popular of the beaches. It has warm waters and has lifeguards in duty during the day. The beach bar is great value with excellent bar food, a range of ice cream and delicious smoothies, which my daughter loves!
Just a 15 minute walk along the promenade (which is all buggy and wheelchair friendly) is the Marina Rubicon. It has markets twice a week, Wednesdays and Saturdays (both in the morning). The goods sold range from handcrafted gifts to local wines.
Furthermore, the Marina has some upmarket shops selling clothing from Tommy Hilfiger, Lacoste and Ralph Lauren. There is a more relaxed vibe at this end of Playa Blanca, so perfect for a chilled evening meal or a cocktail or two.
Two hundred meters to the east of Marina Rubicon, Castillo de las Coloradas stands on the headland of Punta del Aquila. This watchtower was built between 1741 and 1744. It offered good protection through its robust circular construction and through its drawbridge. Its bell was sounded to warn that pirates were approaching the coast.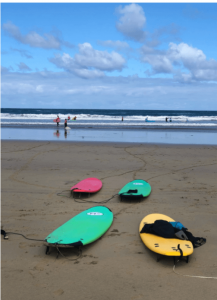 On day two, we took a drive out to Famara Beach which is near La Santa. It takes a leisurely forty five minutes from Playa Blanca and the scenery is quite spectacular as we take the route through the Timanfaya National Park. Once we parked up near the beach, we spent a few hours playing on the beach, writing our names in the sand and seeing how many pebbles we can balance on top of each other, in other words, beach jenga!
The children and I loved watching the surfers catch some waves here. In fact, in the last few years Famara has become the place to be for numerous surfers from all over the globe, who have come to check out the best beach and reef breaks of the island known as the "European Hawaii". The 6-star ASP event La Santa Pro, leg of the world surfing championships, is held every year in October at the beautiful beach of San Juan.
For other days when we weren't jumping in the waves in the sea, we headed to AquaLava so the kids could enjoy some water slides. This waterpark is slightly on the pricey side, but we were happy to go just the once. The kids absolutely loved it and now they are a bit older (aged six and eight), they were finally tall enough to go on all the slides!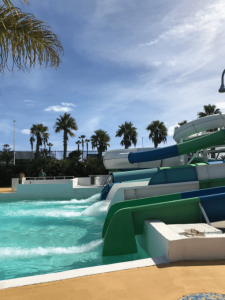 During our holiday, we tried to get a bit of exercise in (guilty). We decided to walk up the mountain behind our villa. Not only was this good for me, it was great exercise for the children too! Thank goodness the views at the top are worth it! It always feels like a real achievement to reach the top. It can be slightly slippery underfoot on the way down but the kids navigated it just fine and there are lots of children on the same track coming up and down the path.
On the final day of our holiday, we went to Puerto Calero which is a lovely marina and should be on your 'must visit' list if you come to Lanzarote. The marina is a great place to wander, look at the fabulous boats and generally soak up a bit of the luxury atmosphere that permeates the whole place.
You can certainly spend a few hours sat in one of the cafes or restaurants that overlook the marina without even realising how long you have been there, which is exactly what we did. We had pizza and cocktails at Casablanca bar, which was great and very family friendly.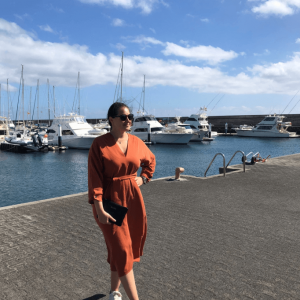 And suddenly, in a flash, our holiday had come to an end and before we knew it, we found ourselves heading back to the airport. Our stay with Solmar Villas had been just the tonic we all needed to recharge before the cold winter sets in. I hope this review has given you a good idea of what it is like to escape the winter chill and find that final piece of summer before next year.
N.B – In this review all opinions and photographs are my own. Thank you to Solmar Villas for providing us with our accommodation for the holiday but all flights, food and day trips were paid for by ourselves.
For more details visit www.solmarvillas.com