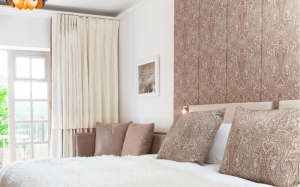 After a mild October, the winter nights are finally starting to set it. I made the misjudgement of going into London the other week without a coat and it was a mistake. Very chilly! So, as the dark evenings draw in we start to think about…Christmas. Yes, I've said it…. Christmas. Just the thought of all the things that I need to get done or purchased is already leading me down an overwhelm sinkhole.
So, before the busyness cranks up a notch, I booked in to head down to Champneys Forest Mere in Liphook, Hampshire. I am a huge Champneys fan and stayed at the Eastwell Manor health spa a few times, but have not been to Forest Mere before.
We were kindly invited to Champneys Forest Mere after a friend recommended to me that we should try their 'Festive Spa Break' which is perfect with a friend or a family member. I chose to come down with a friend who lives just up the road in Liphook. I was coming straight from my office in Kent which meant by the time I collected my friend in the car, we arrived at Forest Mere in the dark.
On arrival, we were welcomed by friendly staff who checked us in and gave us our Champneys branded flip flops and bathrobes. Inside, the hotel was much larger than I was expecting. The décor was light, stylish and contemporary. Throughout the hotel, there are cool art pieces, wicker baskets and attractive lanterns to complete the elegant feel. I felt right at home here.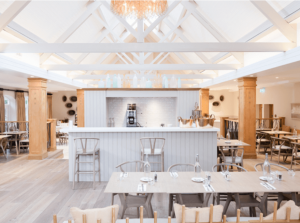 The spa package we had included a three-course dinner, so once we had dropped off our bags for our overnight stay, we headed straight to the restaurant for a glass of prosecco! Feature walls are clad in sustainable wood; quirky spoon wall-art and a novel hand-whisk chandelier hang in the restaurant and bar, which I thought were fun and different. It always pays to look up!
The dinner menu was varied and nutritious with yummy scallops, tender chicken or steak with peppercorn sauce served with plenty of delicious vegetables. We were very well looked after by our waiter, David, who must have thought we were super hungry as brought us extra desserts! Unfortunately, we couldn't finish it all, but I must say, we were both really impressed by the quality of the food.
I had a smart and stylish room complete with king size bed all to myself. The rooms are decorated in restful naturals, forest greens and florals. The luxe rooms have soft flowing curtains contrast with a patterned wall covering and cushions and minimalist light-wood furniture. All bedrooms include plenty of storage, complimentary bottles of water and of course…Champneys toiletries.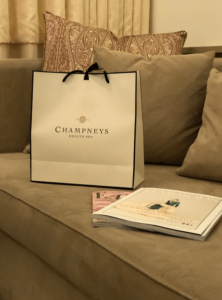 After a relaxing bath and a good night's rest, I woke and peeled back the curtains. As we had arrived in the dark the evening before, I had not realised just how beautiful it is here. Champneys Forest Mere is set is stunning countryside surroundings. The backdrop of the forest trees and the lake was one of the most welcoming views I have seen for a while. It inspired to me to get my running kit on and go outside to explore. After a forty-minute run (or mum shuffle if you prefer), I came back to knock on my friend's door for breakfast. She was already in her Champneys robe and flip flops and ready for the day ahead.
Back in the restaurant again, there was a variety of options for breakfast including super seed berry & bee pollen granola, Champneys tropical muesli, kedgeree, miso soup, avocado and eggs.
After breakfast, we slowly wandered around the hotel and made our way to the spa. The facilities here are state-of-the-art: think calming water beds, tropical rain and cool mist showers with birdsong; dimly-lit relaxation rooms, and whirlpools with massage jets, including one outdoors. I was really impressed with how much was available to us here.
There is a range of thermal poolside suite where guests can experience a range of rooms at different temperatures to help with circulation and skin cleansing. This include, the snow room which is held at a constant minus 15 degrees and the water system means it produces actual flakes of snow. Naturally, I had to give it a go and managed to stay in there for a few minutes. It was surprisingly very nice!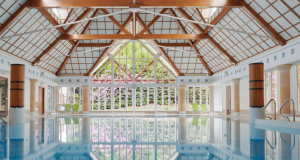 After a few lengths in the pool, we made our way to the spa reception. We were both booked to be swept off our feet with a soothing 'Head in the Clouds' 25-minute massage. Feeling completely relaxed by lunchtime, we chilled and read magazines in one of the relaxation rooms made up like a ski chalet, all toasty warm with a fireplace and hanging egg chairs. It was total bliss.
Before we knew it, our stay had come to an end and we both had to return home to our respective families. We had spent hours talking, laughing, eating and most importantly relaxing. I know we talk about this a lot on the blog but self-care is important. So many of us parents put ourselves at the bottom of the queue and we often get run down. I am not feeling guilty about this spa day as I know being more relaxed makes me a better person and perhaps, a better mum.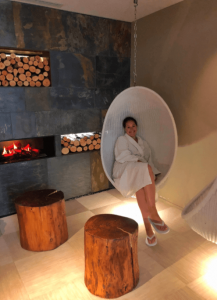 If you like the sound of this review, head over to the Champneys website to see their Winter Offers. Why not take the plunge and go with a friend for a one night winter spa break? Rest and recharge before Christmas and it could be the best Christmas present to yourself.
Champneys Forest Mere health spa is a 10-minute drive from Liphook and the A3, and 1.5 hours by car from west London. Trains from Waterloo to Liphook station take just over an hour.
https://www.champneys.com/spa-resorts/resort-spa-special-offers/get-ready-festive-spa-break/
N.B – We received complimentary stay as part of a blog review to share with my followers. This is to give you a honest review of our stay and what to expect if you would like to come to the Champneys spa experience too. I hope you enjoy the review.
Champneys Forest Mere – Old Portsmouth Road, Liphook GU30 7JG, England.
01428 726000 www.champneys.com