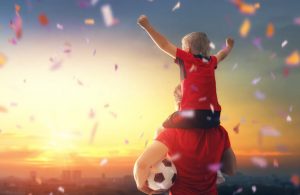 The sack race was always a tricky one. We all have a master plan of how it is going to come off but many of simply fell flat on our faces. I'm sure I was one of those kids. Probably a mini Bridget Jones of the primary school world. I didn't win the races but I was always a trier. I always strived for gold but normally got bronze.
Sports day has changed somewhat over the years. During my important class rep duties a few years back, I recall a parent texting me to ask if there was a parent's race. This was a big debate and surely, an old tradition. But as well as the egg and spoon race slowly disappearing, so has the parents race. I don't mind. I've already done my run just trying to get to sports day on time from the office. Sweating somewhat on arrival.
In 2018, traditional sports day activities have fallen out of favour as head teachers want to focus on the taking part rather than winning. According to Government figures, there has been a sharp fall in the proportion of young children taking part in a competitive sports day last summer. In fact, the survey published by the department for Digital, Culture, Media and Sport revealed that 62 per cent of children aged five to ten had taken part in organised sport in 2016. It fell to 55 per cent last year.
So why has it taken a dip? There seems to be a debate over 'winners and 'losers' along with concerns over school funding cuts. A growing culture of everyone's a winner could perhaps in turn, be accidentally leading to competitive sport reducing.
However, one thing we can all agree on is that with children increasingly struggling with mental health, staying active is an important aid in relieving stress and anxiety. So maybe there has never been a better time to encourage children to become more active. With so many sports available, perhaps we can help them to find just one thing, one thing that changes the way they feel. It could even be walking – it doesn't matter.
Asides from the statistics on how many children aged between five and ten are taking part in competitions, I ask you, how many have the desire to win? I don't count myself as a competitive mother but I'm an encouraging one. My children strive to win. They go for gold. Often, they don't get it and that is the important point I am trying to portray. They go for gold because they have a desire to push themselves and not give up. Perseverance and resilience are two major qualities I want to install in my children. Sometimes third or fourth place is their gold.
Back in the summer, my son ran the 'fastest runners race' with some of his year. Around seven children I recall. He had already predicted and told me that he would be fourth place. "How do you know you'll be forth?" I enquired. He replied my strategically telling me the three boys that were slightly faster than him. This meant 'his gold' would be fourth place. It meant he would run his best race on the day. He gave it everything. He was forth and proud of himself. We know in life that hard work will prevail and I'm so proud of my fourth-place boy. So, on a personal level, please don't take away competitive sport in primary school. We learn so much from what it feels to win but equally how it feels to lose is just as important. Just encourage children to race their own best race to make themselves proud and we'll be right there cheering them on.
I've very fortunate when I run. My thighs clap together like my own internal motivation system. It's quite clever you know. I was once so slow finishing a 15-mile cross country run that they were packing up as I was finishing. The only guy still running behind me looked around eighty years old. But…I did it. I basically got over three hours' child free time, which I think of as quite smart really.
I got a medal, probably bronze; but it was my gold…