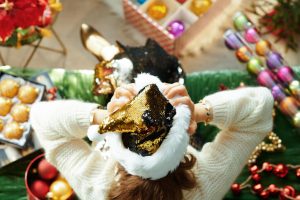 The festive period. Love it or loathe it, the long December is here and the Christmas music is already ringing in my ears.
When I was younger, maybe the pace was slower back then. One tree, one car, one dinner, us kids entertained ourselves all day – or maybe I'm just remembering it that way. Either way, it seemed simplistic, other than the time my dad had a bust up with a family member and the tree went flying. Arrrrhhhh…. good times.
Now the pressure is on to reproduce the holiday magic for our own families. From the German markets to assorted winter wonderlands and the sparkly jumpers, does anyone else feel the pressure to make this Christmas…you know…more Christmassy? For example, how many times is it acceptable to visit Santa on one month and cover as many Christmas markets as humanly possible?
In a time where it feels like we all have more 'stuff' than ever before, doesn't it equally feel like some shops are shovelling the whole Christmas thing down our throats. Trying so hard to make us buy stuff we don't even need. In 2010, The Emirates Palace Hotel in Abu Dhabi decked out a 46-metre-high Christmas tree with $11 million worth of jewellery. Too Much?
Don't get me wrong, I do love Christmas. This time of the year is supposed to be the happiest and many of us want it to be. But we also know it can be crazy-making, from overthinking gifts to houseguests to party logistics and the pressure to book in your Christmas food delivery in October. And did you remember to book tickets to see Santa in September or it will be sold out?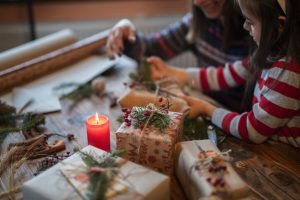 Some may say that Christmas isn't about just 'getting through' the holiday but enjoying the time. This message really resonated with me. My husband takes two weeks off work and we spend quality time together as a family of four. That is what makes for an enjoyable Christmas time together. So perhaps we need to tone down our expectations of what matters and don't be afraid to change even the smallest holiday tradition if it doesn't work for you or your family.
Let's just try and get through the festive period with the least amount of arguments or disagreements. I was reading in The Guardian from an old survey in 2005, how from a survey of 2000 Britons, six out of 10 had reported having arguments on Christmas day, with 73% claiming tension was at its highest after Christmas dinner.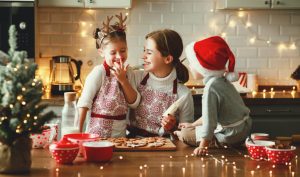 This is your holiday downtime too and not one from a magazine or Instagram grid. Embrace the imperfections and have a Christmas that works for you. In the season of giving and receiving, think about others who might need your support the most.
Whatever happens, I just want the magic of the Christmas holidays to live our children's hearts now and for ever more. Because, if we aren't all enjoying it, why the heck are we doing it?