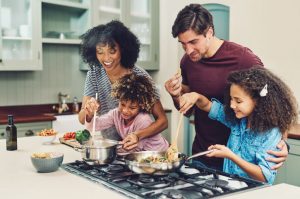 Hands up if you have a fussy eater in your house? I do. In fact, I have two. One day they love sandwiches, the next day they don't. If I offer them a shepherd's pie they give me a look as if I am trying to poison them (which, to clarify, I am not). Personally, I am quite partial to a good shepherd's pie.
Fussy eating is one of the most common food-related issue parents struggle to address. In fact, a 2016 study found that just over 25 percent of children between 1.5 and 5 years old are fussy eaters. Children tend to be the fussiest between ages 2 and 4. It is that these times when it's so easy to get locked in a battle of wills, and feel frustrated when your child simply refuses to eat certain foods.
It is hard not to talk about children without thinking mentioning nutrition and how important it is to think about what we are feeding our little ones. Almost every country in the world now has serious nutrition problems, either due to over-eating leading to obesity or a lack of food leading to undernutrition. Researchers behind the Global Nutrition Report 2017, which looked at 140 countries has called for a critical change.
More than 155 million children aged under five are stunted due to lack of nutrition, and 52 million are defined as "wasted" – meaning they do not weigh enough for their height, the report said. At the other end of the spectrum, over-eating is taking a heavy toll on people of all ages worldwide: the report found that two billion of the world's seven billion people are now overweight or obese.
If you're worried about how you're going to get through the festive season with a fussy eater then check out this advice from Alex Thurman of Feed the Brood. I interviewed Alex and we chatted about how we can help our children move beyond the world of tomato pasta and food that was beige. Could it be done and the burning question…could you ever get a child to like Brussel sprouts? I'm not convinced but we can talk to Alex about that one!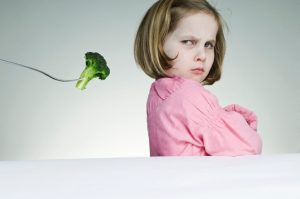 1. Alex, please could you start by introducing yourself?
Hey! I'm Alex, the founder of Feed the Brood, former primary school teacher and nutrition graduate. I have three beautiful but hectic kids, a very fluffy cat called Charlie and an incredibly domesticated husband! You'll always find me in the kitchen at parties and I hate giving people lifts in my car because it's always such an embarrassment.
2. What encouraged you to start your blog, cookery classes and workshops. Where did the idea come from?
It's so interesting where people end up isn't it? Teaching was a huge passion for me, but it had become such a complex and demanding job that when I had my firstborn and I had the chance to be a stay-at-home-mum, I grabbed it with both hands. We had three children very close together and I started thinking about what I'd like to do next. I didn't want to return to teaching whilst the children were so young, so a side hustle made sense! After my third and final baby was born I was itching to start something relating to food and family, so I decided to start a Baby-led Weaning Blog.
After lots of conversations with mums I met all over, what they really wanted was a Weaning Workshop to learn how to wean from the get go, so that's what I started! And from there it snowballed – I now run courses, classes and events in my home and at venues teaching people about weaning, fussy eating, meal planning and I'm starting cookery classes too! It's so much fun and I get the chance to share my experience with people whilst making a huge difference in their day-to-day lives. Helping people gives me such a buzz!
3. My children are aged six and nine. They are still quite fussy eaters. I tried to offer them different foods as babies and toddlers but I don't think that worked? What is your best advice for encouraging little ones to try new food flavours and textures?
Jo – you are not alone in this – so many parents I speak to are frustrated because their children simply won't try new things and have a very restricted list of foods they will eat. It causes friction between all the adults and creates stresses that ripple through every day family life. What you must remember is that this is a completely normal developmental phase that all toddlers go through, but so often, the 'phase' never seems to end!
There are so many things I've learned about fussy eating, through working with experts and my own experiences as a mum, but there are two main aspects – firstly Autonomy and secondly, Routines.
Put lovely nutritious meals on the table for your children, but back off and let them decide whether to eat it and how much. The long -term impact of using this strategy is huge! Your children will trust you more and your mealtimes will be far more pleasurable! If anyone wants to find out more about this, look up Ellyn Satter's Division of Responsibility.
Speaking of pleasurable meals, my other advice is to make mealtimes fun and enjoyable. Did you know that stress reduces appetite? There are some really simple ways that parents can make the routine of mealtimes so much more fun, but also predictable and safe. This will reduce stress and increase the likelihood of the children joining you at the table, even when something unfamiliar is being served up.
Here are some routines that work a treat for us: lay the table nicely for each meal, put music on, place food in sharing bowls in the middle of the table for helping yourselves to, eat with the children as often as you can, make eye contact, ask about their day, have silly conversation starters up your sleeve e.g. What's your favourite dinosaur? Where would you fly to in the world if you could? By sitting with the children and eating, you're taking time out of your busy day to stop and focus on them as a person and take the focus away from the food.
And an added bonus if you're able to start this when they're babies is that little people learn everything by copying, so if you're there eating with them every day, they will copy you and learn eating skills and great manners really quickly!
4. How old are your children? Alex, what works for you and how do you structure mealtimes for your family?
My children are 6, 4 and 2 – they keep my very busy!
My husband runs his own business so we decided very early on that having a family meal together at the end of the day was a top priority for us. He makes sure he's joins us at the table most nights. The pay-off is that he works late into the evenings, but our mealtimes are a fab way for us all to bond as a family, so we feel the benefits to the family relationship even if we lose our evenings. And now I have Feed the Brood, I'm working in the evenings too, so we have desks side by side and that means we get to spend some time together in the evenings. It's lucky that we're currently quite compatible!
I still straddle the stay-at-home- mum position with my business, so I am always the weeknight cook in the family. I'm so into my meal planning – we tend to fall apart a bit without it. It helps that I've made meal planning part of my business, as I'm always developing new recipes and I can use the 4-5pm slot as an element of my work too! My kids currently have swimming and clubs two nights a week, so on those nights we defrost a meal from the previous week and have a speedy dinner when we get through the door. On the quieter nights, I always batch cook to ensure we have at least two more family meals banked in the freezer for next week. Having a plan really is the key to making sure we have a healthy and varied diet without the stress of having to think of something at the last minute.
Like I said before, we aim to eat at 5pm, I always lay the table the same way and serve the food up in bowls in the middle of the table. We have music playing and try to all remain seated at the table throughout. If there's any drama (almost always with my middle one), we ride it out with minimal fuss. We usually ask each other how their day was – the children have started asking us how our day was now without any prompting which is incredibly sweet!
So often I speak to people who don't want to eat at 5pm, I always suggest just giving it a go for a few weeks. I love that fact that I have eaten before the bath and bed routine so that I'm not 'hangry' when doing bedtime. I'm not in a rush to be anywhere and my belly isn't grumbling! And we don't get too hungry in the evenings when we're working. If we do, we munch on some cheese or nuts and that sorts us out!
5. In your blog, you mention how you have a smart way to online shop and meal plan. Please can you share your top tips with us so we can shop smarter?
Oh yes! I certainly can! This is my big project at the moment! I am an Obliger (look up Gretchen Rubin's Four Tendencies if you want to know why this is relevant) and this means that I need deadlines to get something done. The deadline I have created for myself is a Sunday evening food delivery. It's automated, so all I have to do is go into my basket before the Saturday night order cut-off, and load up what I want.
In my online account, I have a pre-built list of everything we want every week e.g. nappies, cat food, milk, eggs, hummus etc. so I load that up, then I sit down and I do a meal plan. BUT here's the really genius bit – I only need to plan 3 meals each week.
As I said earlier, two nights a week I defrost last week's meals from the freezer, two nights a week I batch cook and add meals to the freezer and one night a week is a rapid recipe which I can whip up in a about 15 minutes. So each week only have to buy the ingredients for three meals. Meal planning now takes me half an hour! This saves time, money, energy and stress! Winner! I've created a free 8-week MasterPlan that people can join to kick start themselves into doing this! I send the meal plan, shopping list and recipes to your inbox every Thursday for 8 weeks with no meal repeats and a lovely variety of meals. Sign up through my Facebook Page and website.
6. Christmas day spent in someone else's house can sometimes be a challenge if your little ones are refusing to eat. What is your advice for enjoying Christmas dinner away for even the fussiest of eaters?
I adore Christmas. We got married on Christmas Eve that's how much we love Christmas. It's such a shame when family stress can spoil what's supposed to be a joyous occasion!
Preparation is key: Talk to the hosts and see what their plans are. I prefer to eat with the children on almost every occasion, but often Christmas lunch is too much of a squeeze for everyone. Plus Christmas lunch is a high stakes meal that you're there to enjoy with people you rarely see, so it could be easy for tension to mount if the meal is deemed a disaster due to your children's unruly behaviour at the table! Last Christmas, we were hosting eight children and ten adults – my dining table can't take that many people! The only sensible thing to do was to provide food in separate sittings for the adults and the children.
Like I said, I'm not a fan of this usually, but it made so much sense with these numbers and I remembered the stress from the previous year when fussy eating created a huge distraction during the much awaited feast. Another added consideration was that we could keep the children on the usual Breakfast, Lunch, Tea schedule whilst the adults had brunch and 2pm roast. For the kids' sittings, we made it a super special occasion by laying the table with loads of really fun Christmas napkins and party hats and ensured that we had minimal adults hovering.
They had Santa pancakes for breakfast, cheesy pasta for lunch to fill them up and get them through the day and the Christmas roast for tea. The other AMAZING thing about this was the relaxation it brought to the adults' Christmas lunch. Like I say, I'm always a fan of eating with the children, but on this rare occasion, it was a great solution to the problem of Christmas lunch! I think the children watched a film whilst we ate our roast to reduce interruptions and allow for adult conversation to flow freely. This is my favourite element of a Christmas lunch and since having children, I noticed it's always been a missing element in any roast dinner!
I would suggest that if you are going to friends or family for Christmas lunch, offer to take on the organisation of this? You could even offer to make the lunch in advance so that the kitchen isn't clogged up – the chef won't thank you for getting in the way when they're prepping the Christmas feast!
Having said all this, we're having a much quieter Christmas this year with our best friends and godchildren, so we'll definitely eat together with the children!
7. Can you share some ideas for fun, festive kids' canapés we could make?
Well, my style is minimal fuss in the kitchen. My food is almost always universal so that adults and children can both partake. But children obviously love anything cut into shapes or made to look like something funny and if it tastes good, adults will always come back for more! Using cutters shaped like trees, stars, snowmen and stockings, you can cut anything in sight! You can cut shapes out of pancakes, sandwiches, pastry, toast or pizza.
We're planning a seafood themed set of canapés for Christmas day this year, so I'm hoping the likes of smoked salmon and mackerel pate on blinis and toasty bits will go down well with the whole family! I got a bit carried away last year with the squirty cream and strawberries added to pancakes to make Santa faces… I'm a sucker for squirty cream!
8. Whilst Christmas parties can be a lot of fun, they can pose some problems when it comes to feeding children. What are your top tips?
Well, this can apply to any party really, but I like to make sure that I feed the kids up really well before a party to try to prevent a sugar crash after all the sweets and sugary drinks. Once they're at the party, I allow them complete freedom to enjoy the party food without helicoptering. I am confident that they have a fantastically healthy diet in everyday life, so they should enjoy the pleasure of party food on the odd occasion just like the rest of us.
I recently went to a party with my middle son who is currently dairy intolerant. I made the error of completely forgetting to bring an alternative lunch for him – almost all party food contains dairy, I have discovered. He's only 4, so he had a hard time accepting that he couldn't enjoy much of the party food at all. I felt terrible. So, this party season, I shall be keeping a stash of dairy-free alternatives in my handbag just in case – a little mini-bag of Haribo is usually a treat enough for him to be happy if he's missed out on cake.
When it comes to drinks, my real bugbear is sugary drinks. We no longer keep squash or juice in the house, but we've learned the hard way that being too strict with these pleasures can result in binging when they get some on rare occasions. So, now we allow them to have squash or diluted juice more frequently when we are out and about in order to satiate their desires and ensure they can learn to self-regulate portion control.
Giving children the freedom to choose what they eat is something that will pay you back massively in the long-term. Food at a party may feel like a game of jeopardy, but if you feed them up beforehand and relax at the party, you'll be able to enjoy yourselves. Maybe keep a banana hidden away in your handbag in case of a meltdown later.

9. And finally, favourite Christmas tipple?
It's got to be mulled wine – but only if Bing Crosby accompanies it! Ooooo, I do love Christmas!
Feed the Brood – Courses, classes and Events inspiring happy family mealtimes