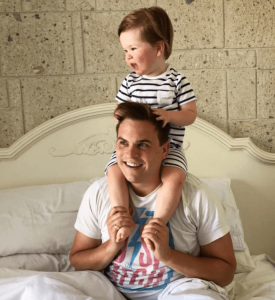 In this week's inspiring interview, I caught up with fellow parenting blogger, Giles, also known as YOU THE DADDY. I first met Giles at a Mercedes Benz PR event a year and a half ago when we took a Mercedes Benz E class out on the track. I personally thought my driving skills were pretty epic. Giles on the other hand told me he was trying not to be sick as I handled the corners! It was all very good fun!
Since then, I have been so pleased to watch Giles' blog grow and we have kept in touch through the wonders of the wide wide web. As part of my inspiring interviews, it was really important to me that you see a balanced view of men and women on the series, who all have fantastic stories to share. I love Giles for his honest view on parenting, being a hands on dad, husband to Rosie whilst juggling life in the city, not to mention his award winning blog.
We all know the juggle is real! He gives a guy's perspective on pregnancy, babies and parenthood, from dealing with your pregnant other half, what experiences to expect along with how to survive pregnancy and parenthood.
1. Giles! Congratulations on the arrival of Baby Hugh! What was it like to become a dad again and did it feel any different from the first time with Teddy?
Oh Jo, it was amazing. While Teddy was born in the hospital, this time around Rosie had her heart set on a home birth. I've got to admit, I was nervous about it at first, just in case something went wrong, but I soon got with the programme as it was only going to work if we were both 100% committed.
And I'm so pleased we did…Rosie amazed me yet again with her strength and bravery, delivering Hugh (on our sofa!!) in under four hours with no pain relief whatsoever, not even paracetamol, all while our Teddy slept upstairs!
Holding Hugh for the first time, all the memories of Teddy's birth came flooding back, and I just couldn't stop smiling. After waiting nine months to meet this little person, there really is no feeling like it.
2. What was it that triggered you to become a blogger and what was your main purpose for wanting to write it?
When we got pregnant for the first time in early 2016, I could hardly contain my excitement and wanted to shout our news from the rooftops! But being just a few weeks into the process, of course I couldn't…at least, not yet.
So I poured my attention into finding out as much as I could about pregnancy and what to expect week by week. But after scouring the internet and downloading all the pregnancy Apps I could find, I quickly realised how crap the online resources were for new dads. While there were, of course, loads of awesome, well-established dad blogs already out there, almost everything pregnancy-related was targeted specifically at new mums; which is kind of understandable given that they are the ones going through the most intense physical and emotional changes.
But of course, finding out I was going to be a father was, for me, probably the most emotional moment of my life. So I decided to set up my own dad-to-be blog, partly so that I could share my excitement about my impending fatherhood (albeit anonymously at that stage), but also to act as a source of information and real life stories for expectant and first time parents.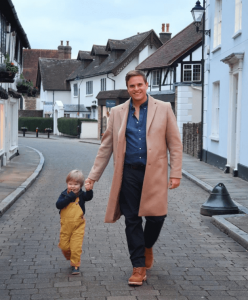 3. I love the photographs you share on Instagram as they are a true reflection of life and beautiful chaos with a toddler! What do you love to share with your followers the most and why?
Ah, thanks Jo! I try not to take the whole Instagram thing too seriously, with a really curated, colour coordinated feed or anything like that. I'm much more comfortable behind the camera than in front of it, so prefer to just use Instagram more like my family scrap book, sharing the highs and lows of daily family life, with photos and funny videos that I want to look back on in years to come. Nothing too posed or heavily edited. Just us!
4. How do you juggle your career in London, being a blogger and of course, being a very hands on dad. Or is it just good time management?
I can't lie…it's a struggle! Working full time, having the blog and trying to be the best husband and dad I can be, well, it's like having four jobs!
When I first started YOU THE DADDY, I put loads of pressure on myself to publish a blog every other day and post on Instagram twice daily, but it kind of took the fun out of it all after the initial buzz wore off. Today, I'm much more relaxed about it, focused on quality, not quantity. Importantly, I only publish articles on my site that I would personally want to read, and photos on my socials that make me smile (not just posting for posting's sake).
I grab time to write when I can, usually while travelling to and from work on the train to London. As much as possible though, I try to stay off social media during the weekend, so it doesn't impact on our family time too much…
5. And how are you finding life as a family of four since Hugh's arrival?!
It's been a pretty full on few weeks, to say the least! I'd say we were managing it pretty well while I was off on paternity leave and we were two on two, but it's definitely been more of a challenge since I went back at work and left Rosie at home holding the baby, officially outnumbered. For us, the biggest challenge hasn't been the newborn, but rather the toddler! While Teddy has been nothing but sweet with his new little brother, he's really been playing up with us, throwing tantrums left, right and centre…something he never really did before.
We briefly introduced the 'naughty step' to try and manage the worst outbursts, but got a lot of advice from a few of my helpful followers on Instagram, who said that he's not being naughty with his tantrums; he's just trying to handle a wave of new emotions which he doesn't know how to process. So, taking their advice, we've been giving Teddy a lot more attention, hugs and one on one time instead, and it seems to be working. This week, he's been much better so, fingers crossed, it was just a temporary phase!
6. You've written on the blog about supporting men and boys to open up and talk about their feelings. Most shockingly, suicide still remains the biggest killer of men under 45. Can you talk to us abut more about why this topic was so important to cover?
We all have our hang-ups, anxieties and inner demons, but as men we are programmed from a young age to hide them away. Big boys don't cry. Man up. Don't be a girl. That's gay. Only girls talk about their feelings. Be a man! It's no wonder that, as guys, we are far less likely than women to talk about our mental health with friends and family, or consider seeking the help and support we might need. This needs to change.
So many people I know, including loads of brilliant dads on Instagram, have suffered from poor mental health in the past or are still battling through depression or anxiety issues even now. But by opening up about it online (you should totally check out Jamie Day's Man Talk podcast if you haven't already), they are normalising the conversation, bringing the topic to the fore and giving other men and dads the confidence to open up about their experiences and support each other.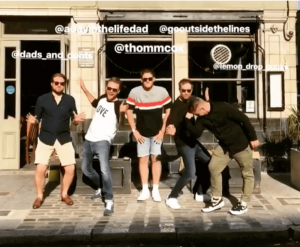 7. What's next for the blog and are there any more exciting collaborations in the pipeline?
As you'll have seen from my Insta Stories, we've been knee deep in builder muck for the past five months doing a major renovation of our house, which I'm pleased/relieved to say is very nearly finished! So keep your eyes peeled for a load of interiors features over on the blog in the coming months to show off our new kitchen, bathroom, etc, as well as a full house tour on my Insta TV channel!
In terms of collabs, as ever they're all a bit hush hush at the moment until they officially launch, but I can reveal I have a big campaign coming up with one of the world's biggest childhood nutrition brands which I'm really excited about, as well as a special Christmas project with the one and only Peppa Pig (Daddy Pig is my spirit animal)!
8. How do you think we can raise confident children? What's important for you in how you both raise your two boys?
I think this is such an important issue, and one that Rosie and I are really aware of in terms of our parenting style. For us, it's about encouraging our boys to be independent and try new things, but not pushing them too hard if they really struggle with something. Teaching them to be kind, to share, to know that they have our support, whatever happens, but most of all, making sure that they know they are loved.
Thank you to Giles for sharing his story with us on the blog. Follow Giles on his brilliant, honest blog – www.youthedaddy.co.uk
Facebook – https://www.facebook.com/youthedaddy
Instagram – https://www.instagram.com/youthedaddy/
Twitter – https://twitter.com/youthedaddy