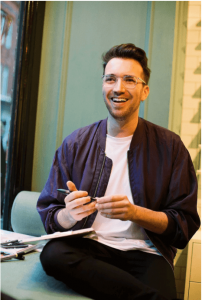 I had the pleasure of interviewing a powerhouse of a man, Dominic Evans, also known as DOM&INK. Dom is a (very talented) freelance illustrator and author. It is not very often that you meet someone that just touches my heart and quite honestly, there is something very endearing about Dom.
Over the years, Dom illustrated the official logo for Emma Watson's 'Our Shared Shelf', drawn at The X-Factor live finals, aswell as doodling the 'tit-tees' for GIRLvsCANCER. He has had his work reposted by JVN, Kylie Minogue, Little Mix, Cheryl, and many more, who all agree his work is truly fabulous! And…if that wasn't enough, Dom has had two books published and there is much more in the pipeline too. What Dom is doing to support others through his books is truly inspiring and I love his motto for life in the final question. So without further ado, let's dig straight into this interview:-
1. Dom, thank you so much for agreeing to be part of mu Inspiring Interviews! Please start by telling us more about yourself?
Thank YOU for having me Jo! I'm a freelance illustrator, part time personal shopper and author from Bolton, living in London and doodling my way through life. I've been here 4 years nearly, and absolutely love it. It's such an amazing city that constantly never fails to inspire and excite me.
2. What was life like for you at school and did you always find yourself using your creative side in classes or doodling on your school text books?
Life at school was very difficult. I actually changed schools twice, was bullied a fair bit and was fairly unpopular. I loved anything creative so always applied myself to those subjects, I was always drawing on notebooks, paper, creating comics, designing posters. Anything!
3. At what point did you decide you wanted to make a career as an illustrator and what was it that made you feel this was your 'calling'?
I originally wanted to do fashion design at Manchester Met but decided on Illustration as I couldn't sew for shit ha! What I love with illustration is that it can be used anywhere – social content, events, music single covers, clothing, homeware. There's a huge scope for it and I love that!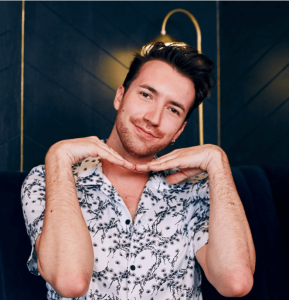 4. Some of us know you for the work you do as a personal shopping at Warehouse, which you have done for fourteen years. You help women from all walks of life; from those who are having a body confidence issues, are disabled and LGBTQ+ women. How do you support them to feel empowered and confident at any size?
I've always prided myself on not lying and trying to sell something for the sake of it. I love to push or even nudge someone outside of their comfort zone to try something different. For me though, it was really listening to these women and their stories and creating outfits for them that didn't need to be 'trendy' or 'for the gram' but for them to feel liberated and empowered consistently and also, understand their self worth.
5. Your styling and illustration work is full of positive energy and a feeling of empowerment. Can you tell me more about the passion behind that message and why that means so much to you?
I've always been a very positive person! ha. I think a lot of it is down to the fact I like making people feel good. I treat everyone equally. Working in retail for so long I have had some amazing connections with customers but also had some of the most disgusting, de-moralising shit said to me. These comments though just made me stronger and enforced the fact that a )I know I'm awesome and b) if they can't relate then you gotta educate. I always try to be the bigger person (I've not always been this way) and I feel if someone is in a mood or rude, instead of being the same back, I just kill 'em with kindness and 90% of the time it works and I get a smile out of them. So I guess my passion is spreading love and rainbows and building people up and I feel it's important as we're all stuck on this earth together so kinda need to support each other. (Maybe not Trump though lol)
6. Why do you think women struggle to getting the right sized clothes? I am always getting clothes which are too big as I think in my head I am a larger size. Do you find that quite often with customers who come to see you?
SO OFTEN! I've had ladies come in who swear down, like, SWEAR DOWN SHOUTING IN MY FACE LIKE I'M STUPID they're a size 20 and I've made them try a 16 and, boom, whaddya know, it fits fine! I do think some of it can be down to high street retailer sizing being off in different departments ie tailoring, knitwear, jersey etc so women constantly have different views on their size and look. But a lot of it, can be in your head. We're all guilty of it. I have days I look at myself and I'm thinking 'is this leopard print shirt too revealing and baggy at a size XL on a Medium guy?" and I think 'but someone may really enjoy seeing a flash of my nipple today on the tube'. It's all about the self – talk!
7. Please can you tell us more about the events side of your personal brand and what you do for clients?
I get asked a lot by retailers or brands or agencies to illustrate at events for them. So normally, I turn up with my paper, postcards, some cute pin badges and whole lotta love and doodle all the guests or VIPS there. It's really fun and something I really enjoy doing, I love hearing people's stories and feeding that into my illustration.
8. What exciting things are in the pipeline for brand DOM & INK?
My biggest thing this year is my book with Penguin Random House Childrens! It's an interactive LGBTQ+ journal called 'Free To Be Me' aimed at 12+ demographic upwards to EVERYONE. It's something very personal to me that I really hope helps people and encourages them to really appreciate and love themselves for the brilliant humans they are. I'm so excited it's with Penguin UK and there's so much I can't reveal yet! It comes out MAY 30th this year, in time for Pride and in time for crop top season (you know I will so be wearing one).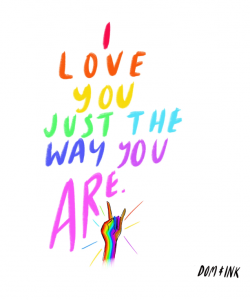 9. And finally, what is your motto for life?
My motto is off my mum and has steered me through so many obstacles.
'Rejection is protection. It happens for a reason'
Thank you Dom. This has been such an inspiring interview! Follow @DOMANDINK on Instagram for your daily dollop of inspiration.
Visit website: http://www.domandink.co.uk/
Pre-Order the Book 'Free to Be Me' here on Amazon. Released May 30, 2019.
All photographs and illustrations are copyright of @DOMANDINK