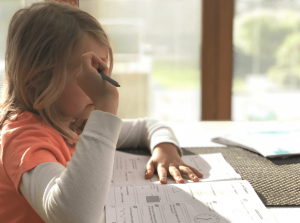 For those of you who know me well; will know that I have a keen interest in how we support our children in school and at home.
We know that every child is different and children will learn at different speeds. As someone who struggled at school academically, I was often the student who needed to pop their hand in the air and ask for help. I was, let's call me, a C grade student. Certain subjects didn't always come naturally to me, but I was a trier. I was someone who always tried my best and some twenty years on, that ethos and mentality to 'give something a go' has always stood me in good stead.
Now I have children of my own, it is, of course, natural that I would want to encourage them to do well at school. But how can we help them? Studies show that a child's academic performance is linked to their home life and the amount of parental support they get. The students who perform best tend to have happy and stable homes and good communication with their parents. Studies show that a child's academic performance is linked to their home life and the amount of parental support. The students who perform best tend to have happy and stable homes and good communication with their parents.
Many of us can relate to the challenges of asking our children to do their homework. Kids will often put it off until the last minute before it needs to be submitted to the teacher which causes stress and anxiety. It is easy to think that it is the job of schools to educate our children but there are plenty of learning opportunities that can be undertaken at home.
When it comes to exams, we can also relate to the focus and support that is required. Especially when children are preparing for SATS and school exams, particularly the 11+, if they decide to 'give it a go'.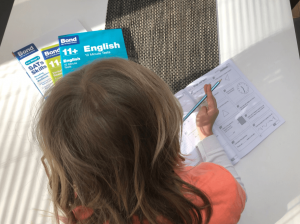 I was really interested to see the range of books and how it might make a positive impact on our daughter, who is nine years old. I was keen to use it was a positive way to spend one to one time with her, under the guidance of these books, focusing on the areas she needs support on; resulting in a great way for us to build her academic confidence in the home.
Our daughter, who is currently in Year 4, we want to support her with her learning at home and building their confidence in her core subjects. This was the reason for trailing the SATs books. These books have an aim to educate and inform parents of primary school children who would like to help their children develop literacy and numeracy skills, whilst also understanding more about Key Stage 2 SATs.
When it comes to tests and exams, we haven't yet made any decisions on whether our daughter will take the 11+ exam. But, I have started to do my own research on understanding what our options are. Most schools will start to develop your child's skills in Year 4 and have a year of focused practice in Year 5, before the 11+ exam is taken at the start of Year 6.
Whether you decide to take your child through taking the 11+ or not, it really is a completely personal family decision. One that you must make with your child, considering their confidence and emotional wellbeing in that decision. Bond is the leading provider of 11+ resources, having provided consolidation, revision and practice materials for the 11+ exam for over 50 years. Their wealth of 11+ publishing offers a comprehensive range of simple to use, affordable resources providing a complete learning programme for a child's 11+ journey.
You may find this article useful:
https://www.bond11plus.co.uk/about-11-plus
Their range of books includes:
Assessment papers – carefully graded practice papers providing essential practice for each question type in a realistic exam style
Test papers – matching the style, content and difficulty of the real 11+ exam these test papers enable realistic mock exam practice at home.
10 Minute Tests – bite-sized tests for quick practice and revision, covering all the core skills plus motivating and fun puzzles
How to Do 11+ – step-by-step guidance for developing core skills with parent tips and practical activities
Parents' Guide to the 11+ – written by an experienced 11+ tutor, this essential manual offers a practical 4-step approach to guide you through the entire process
Bond Online – giving your child unlimited access to thousands of 11+ questions this interactive resource is a fun and engaging way of helping your child prepare for the 11+ exam
I hope this article is helpful. We are definitely on this journey and I am sure that many of you reading this may be on a similar one. If you are looking for more learning support to provide at home, then I would recommend these range of books from Oxford University Press. I have also included some useful links below.
https://blog.oxfordowl.co.uk/year-6-sats-what-you-need-to-know/
https://blog.oxfordowl.co.uk/how-to-support-your-child-through-ks2-sats/
In summary, Bond offers essential practice and support for children aged 5 through to 13 who are sitting the 11+, Common Entrance exams or Key Stage 2 SATs. Thanks for reading.