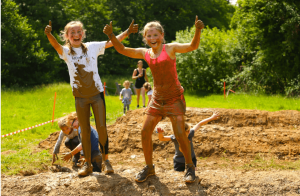 Mud, glorious mud. We all know that most kids love it and if so, The Little Welly could be the event perfect for you! We know that outdoor play is great for our kids and more so than ever, parents are under increasing pressure to drag kids away from too much screen time! We often feel the pinch of parenting guilt for allowing our kids to spend too much time in front of the TV or a tablet device, I know I do! So, on that note, if any of that is relatable, then the Little Welly obstacle course could be just for you and your little ones!
Over the years, The Little Welly was a sell-out success and with its squelchy fun! Having already been enjoyed by thousands of children in Oxfordshire, Hertfordshire and Surrey. Adventurer Ben Fogle, his wife Marina and their two children all completed the course ay Henley-on-Thames last year and loved it. Ben Fogle revealed that 25% of British kids spend less than 30 minutes a week playing outside. These are alarming figures and indicate the immediate need for parents to encourage their kids to get outdoors, enjoy nature and rekindle their sense of adventure. I say a big yes to that!
This is the first year The Little Welly has landed in Kent. New for 2019, The Little Welly will be held at St. Clere Estate, near Sevenoaks in Kent. I have personally been to the St Clere Estate before and must say, it is a stunning private venue.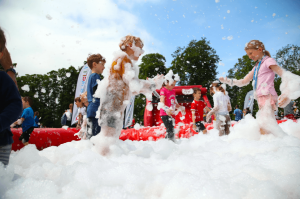 So, if your kids love to get their hands dirty, they will love the 3km obstacle course (approximately 30 obstacles in total) which involves water, foam and of course…MUD!
Kids will take on individual challenges that unfold in the picturesque countryside. Most importantly, this course has been specially designed for children aged between 4 and 12 years by The Little Welly, however parents and carers are welcome to join in the fun.
The obstacle course is reimagined every year and is especially created to challenge kids (and their parents!) in a fun, unique and safe outdoor environment. Scale the towering heights of The Web Frame, conquer the looming Dark Crawl, splash through the Mud & Water Pits, brave the Spider Tunnel, fearlessly face the Three Hump Dragon, balance on the Long Pole Run and slide around in the Foam Pit. And as a reward for all that effort every child can collect their The Little Welly medal as they cross the finishing line.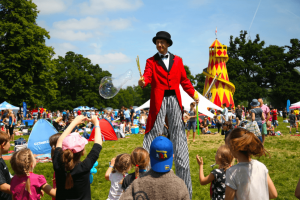 s well as the course activities, there is much more of offer at this festival, as there are plenty of other activities on offer aswell as music, live entertainment and seriously yummy refreshments! The Little Welly Festival Village has something for all the family including The Toddler Course, Laser Tag, Climbing Wall, Pony Rides, Bungee Trampolines and Total Wipeout Sweeper.
Furthermore, the Big Stage will play host to live music and entertainment throughout the day and the Activities Tent will have a full schedule of free workshops and 'have a go' sessions. An array of culinary delights are also available to help satisfy even the biggest appetites including pizzas, artisan coffee, prosecco & pancakes, burgers and vegetarian alternatives, waffles and ice creams.
Quite honestly, what's not to love?
So on that note, let your kids Go Wild, Get Muddy and have the 'Best Day Ever' at The Little Welly. See you there?
Tickets on sale NOW!
Child Course & Festival Ticket £22.50
Adult Assist Course & Festival Ticket £9.50
Festival Only Ticket £6.50
Discounts for group bookings
Under 4yrs Free
Prices subject to VAT & Booking Fee
ADDRESS: St Clere Estate, West Kingsdown, Sevenoaks, Kent, TN15 6FP
Saturday 11th and Sunday 12th May 2019
For more information and tickets, go to www.thelittlewelly.co.uk
This article is brought to you in collaboration with The Little Welly but all opinions are my own.