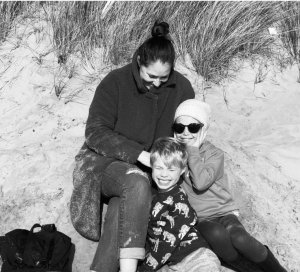 As mothers, we are expected to be busy. A constant world of 'go, go, go'; my best friend and I were desperate for a touch of 'slow, slow, slow'. The constant external pressure to keep it altogether, and our intense need to do this despite how taxing it can be.
When I was young, I recall my mum constantly seeming to be in a hurry. Ferrying three children around from one place to another – constantly – seven days a week. From dropping us off and picking us back up from friends' houses to extra curricula activities, games and matches; I can barely remember saying thank you. Whoops. I'll have to make it up to her and apologise for my years of being an ungrateful teenager.
So, fast forward to 2019 and we are in a world of everything going so fast. A simple request to suddenly go slow seems impossible. Somewhere along the line, I consciously decided to disengage from clock combat. Finding time for a break can sometimes seem hard but my friend and I were determined to pin down a date to go away.
My best friend has three children and I have two. Between us, we craved just a few days away from the norm. An opportunity to slow down. Wouldn't that be amazing? We decided that we didn't want to travel far and we had a plan to avoid getting stuck in the car all day. So, we agreed a date (hurrah) and swiftly decided to go to Camber Sands on the beautiful Sussex coast.
Just over an hour drive away from our respective homes, we agreed this would be an ideal short stay break. Camber Sands is a fabulous stretch of unspoilt sandy beach surrounded by some quaint villages and farm shops. What's not to love?
Camber Sands features one of the purest and longest dune systems on the South Coast, and the only one to be found in East Sussex. It is one of the region's stand-out beaches as it's one of the few to have a sandy beach, with many of its neighbours being stone and shingle beaches. It stretches on for almost 5 miles, with the most popular section being the western end, by the mouth of the River Rother.
When partnered with Camber Holiday Cottages, who were only too happy to find the perfect getaway spot for us.
They recommended that we stay at Samphire, which was family friendly with four bedrooms, an enclosed garden for outdoor play and plenty of quirky features to keep the children happy. On arrival, the property did not disappoint. Boy oh boy, it was fantastic!
Samphire is a beautiful property from Camber Holiday Cottages. It was totally redesigned and renovated in 2013 to create a home away from home by the sea. The owners have created a stunning home which is modern, fun, comfortable and an ideal space for socialising. Even better, the property is less than five minutes' walk from the glorious Camber Sands beach. The kids were pleased as punch!
At Camber Sands, it is easy to see why so many people flock here every year. The beach draws in sun seekers from all over the country, so whether you are looking to relax or partake in some adventurous water sport activities, it is the place to be. If you like kitesurfing, or you'd like to learn, then Camber Sands is one of the best places to buy lessons in the south. The Kitesurf Centre offers tutorials, kit hire and a shop. Rye Watersports also offers kitesurfing tuition alongside windsurfing and sailing lessons. Beachcombing is another popular activity on Camber Sands.
The pretty town of Rye is just a short 4-mile drive and is situated at the top of a hill with stunning views across the Romney Marshes. Here you can explore the cobbled streets, browsing the many shops and relax in the quaint cafes. Many annual events take place in Rye – try the Rye Arts Festival in September, the Rye Bonfire in November, the Rye Society of Artist's Summer Exhibition, the Rye Jazz Festival and Rye Bay Scallops Week. There's plenty to keep the whole family entertained! Amongst the many hours spent playing in the sand dunes, there was always plenty for us to do, including a brilliant day trip to Battle Abbey and an amazing family friendly lunch at The Gallivant.
In summary, it is amazing how just a couple of days at Camber Sands completely changed our mood and restored our patience with our kids. No shouting of 'teeth or shoes' for at least two days! If felt as if we were truly winning at parenting.
This was our first-time visiting Camber Sands and we loved it. Not only did we love the house we stayed in too, we loved the opportunity to appreciate our cherished friendship. Old friends know everything about you – they are aware of your flaws and they accept you for who you are. Over the years, it is fair to say that we all change a lot but the most loyal of friends know this and stick with you.
So, to all the amazing mothers out there, wishing you all a fantastic mothers' day. I think we all know a mother, whether it be your own, a friend or a relative, who we would like to say thank you to.
Mothering Sunday is a time to give every mother a hug and remind them that they are doing an awesome job. And to all those who are missing their mothers this Sunday, we will be thinking of you too.
This blog post is in collaboration with Camber Holiday Cottages who kindly gave us a discounted stay in exchange for some impartial blog coverage. All opinions are honest and my own.