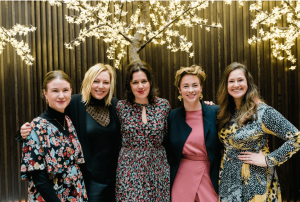 On a sunny Tuesday morning, personal stylist, Victoria Genevieve and I hosted our first ever Wonder Women Tea Party for mothers2mothers.
Victoria and I had met mothers2mothers (m2m) Global Development and Strategic Engagement Director, Emma France a number of times at a variety of social events, including the Red Magazine's 20th birthday party. We had been so inspired by her passion and commitment to the charity that we promised her we wanted to get involved. She recommended that we host our own Wonder Women Tea – which we swiftly organised and hosted last month!
Victoria and I gathered a group of likeminded women at a Kent hotel for a breakfast morning. A time to celebrate people who make big things happen. We were joined by the lovely Emma France and Róisín McGovern of m2m who had travelled down from London especially that morning to join us. Our event was kindly sponsored by Micro Scooters and hosted at One Warwick Park in Tunbridge Wells.
To open our event, we asked jewellery entrepreneur and all round wonder woman, Catherine de Crèvecoeur to talk about how she started her business and how she runs her growing brand around her family. Catherine offers beautiful earrings perfect for making a statement. The bold drop earrings are crafted in highest quality leather and suede to create unique accessories that add luxury to any ensemble.
Catherine began as a stylist, fashion and image consultant and spent years making women feel beautiful in fashion, making her the perfect speaker to join our event. Catherine also kindly donated a portion of her sales at the event to m2m and I must say, her jewellery stall was buzzing with purchases all morning. Even I couldn't resist and bought two pairs!
We then heard from Emma France who talked to us so movingly about mother-to-child HIV transmission. We generally think of ourselves as (relatively) well informed, but Emma's powerful talk reminded us how little we know about so many things, not least that – with the right tools and education – mother-to-child HIV transmission is utterly preventable.
While tremendous progress has been made over the last decade to eliminate paediatric AIDS, every single day in sub-Saharan Africa, over 400 children contract HIV. mothers2mothers (m2m) trains and employs local mothers living with HIV, called Mentor Mothers, as frontline healthcare workers.
Mentor Mothers provide essential health education and support to women on how they can protect their babies from HIV infection, and keep themselves and their families healthy. Not only do m2m's programmes have the power to virtually eliminate mother-to-child transmission of HIV, they also have a hugely positive impact on the Mentor Mothers themselves, both financially and psychologically.
All our guests left the event feeling inspired and motivated to want to do their 'little bit' for the charity. It really is quite an incredible sight when women come together to make a difference like this. We had such a wonderful, morning and all for a very worthy cause.
A huge thank you to all the individuals and organisations who kindly donated gifts for our silent auction which raised over £500 for mothers2mothers. A final thank you to Leana Catherine for the professional photography.
Host your own Wonder Women Tea
If you would like to host your own Wonder Women tea, it's really easy to get involved and honour Wonder Women across the globe! Whether it's around a cup of tea, cocktails or muffins and cakes, you can join a global movement to support m2m Mentor Mothers. Simply download the information leaflet, invite your Wonder Women (and men!)…and be part of an amazing charity, mothers2mothers. After reading this, we really hope you'll feel inspired to join in. We sure do and want to host another one!
For more information and to sign up to host, please email [email protected].