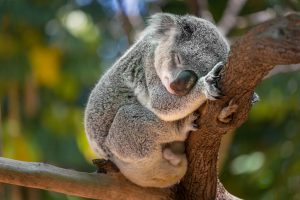 For the first time ever at Longleat, you will soon have the chance to discover the wonderful world of Koala Creek. It is home to our newest (and furthest travelled) residents; a group of iconic Southern koalas and two endearing hairy nosed wombats. They share their brand new antipodean abode with long-nosed potoroos; rabbit-sized, kangaroo-like, marvellous marsupials.
The new exhibit, located just next to Giant Otters & Crocodiles, will take you on a journey through indoor and outdoor habitats with many opportunities to observe the wonderful and iconic Australian animals.
Interactive interpretation dotted around the spaces allows you to discover the down-under lowdown of the fascinating adaptations of the marsupials in the area. Having teamed up with the Southern Australian Government and Cleland Wildlife Park, and Singapore Airlines, Longleat are the only animal collection in England exhibiting koalas and the only animal collection in Europe exhibiting southern koalas. They are now able to act as an European hub for the newly-created International Koala Centre of Excellence (IKCE).
About Longleat
Longleat Safari & Adventure Park has been one of the UK's top wildlife attractions for many years. Longleat features an extensive Safari Park and also has over 15 fabulous attractions, including the new multi million pound Jungle Kingdom and Longleat House, one of the most stunning stately homes in Britain.
Longleat Safari Park first opened to the public in April 1966, it was the first of it's kind outside Africa and was to prove the beginning of zoological collections spreading all over the world.
At Longleat wild animals are able to move freely within large enclosures or sections of Longleat park. In the early days this caused some public concern when Longleat announced it's plans for the initial 100-acre lion reserve. Fears of big cats running wild across the Wiltshire countryside caused local concern and lead to questions as high as the Houses of Parliament.
What Other Animals are Featured at Longleat Safari Park?
Animals featured at Longleat Safari Park include; Amur Tigers, Ankole Cattle, Brazilian Tapirs, Californian Sea Lions, Camels, Chilean Flamingos, Egyptian Fruit Bats, Elands, Gorillas, Grants Zebras, Green Iguanas, Grey Wolves, Guinea Pigs, Hippopotamus, Lions, Llamas, Parrots, Pere David's Deer, Rhesus Monkeys, Rothschild Giraffe, Royal Python, Scimitar Horned Oryx, Tarantulas, Tortoise, Water Buffalo, White Rhino and of course now…Koalas!
Visit Longleat for a superb adventure for the whole family. Location wise, Longleat is 100 miles from London, 30 miles from Bristol, 45 miles from Poole and Bournemouth and 26 miles from Salisbury.
Keen to Explore Koala Creek at Longleat?
To celebrate the opening of Longleat's brand new exhibit, Koala Creek, we've teamed up with them to give away a Family Ticket for up to four people to use this Easter! For your chance to win, just comment on the Guilty Mother Facebook competition link on who you'd take with you and why. Competition closes at 6pm on 17 April 2019. A winner will be drawn randomly and announced on 18th April 2019. Good Luck!
Check out the terms and conditions here.
For more information, visit www.longleat.co.uk