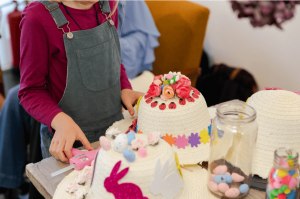 Spring is finally here and it is the perfect time for some Easter crafts! Yes, that's right, it is time to dust off the craft box. Being Guilty Mother myself, I will freely admit that I am not very good at craft and I would often try to avoid it. I mean really…don't we always just get lumbered with clearing up all the mess!
Despite being good at art at school (and I now proudly hang some of my artwork in our home), I am unsure where I lost some of my artistic skills along the way. So it was time to re-kindle my love for craft.
My daughter and I were invited along to an Easter craft event in beautiful Marylebone in London this week…and we loved it. It was a great opportunity for me to crawl out of my comfort zone and re-gain my craft confidence. As soon as I told my daughter it was a craft event she was already super excited and a brilliant excuse for a day out with mummy.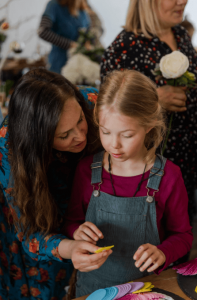 The adult guests were invited to make their own Easter wreath (which I have never made in my life) and the children would be making pretty Easter bonnets. The room was abuzz with lots of lovely ladies, so I had a good impromptu catch up with some familiar faces on the blogger scene. These included Elle (Feathering an Empty Nest), Nicola Lewis (This Girl Can Organise), Vickie Neave (Inpolife) and Sally Hurman (Getting Stuff Done in Heels) – all of which I have met before at various events but never all at the same time! What a Easter treat if ever there was one! Nicola Lewis and Vickie (Inpolife) do make me giggle I tell you!
We were each given a Rattan Grapevine Wreath which was then ready to be decorated with ribbons, artificial flowers, berries and more. All the Hobbycraft goodies were carefully laid out on a table, so you could help yourself and use your imagination to create whatever you wanted! I picked out some artificial flowers, foliage and little coloured eggs which I then glued on.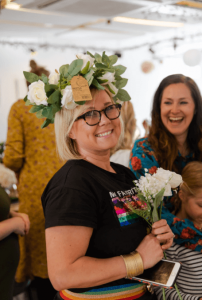 Whilst busy bumbling along with my own creation, I peered across the table to see how my daughter was getting on with her Easter bonnet. She was working quietly and creatively. It would seem that she didn't need any help at all and was having so much fun creating her Easter bonnet.
I loved the way she made a circle of ladybirds around the top and made a heart on the side of the bonnet using little flowers. It was so creative all the Hobbycraft team came over to say how much they loved it! It was a huge confidence boost for her and lovely to witness.
Once I had finally finished my wreath – I held it up. My daughter stood up and said 'Wow mummy. That looks so good'. I went for a 'rustic chic' design, shall we call it, but whatever anyone wants to describe it, I made it with my own hands which makes me a happy Guilty Mother!
As soon as I showed a picture to my friend on my iPhone later that afternoon, she promptly replied with 'there is no way you made that!" Hell yes I did. Can we just have a little internal whoop whoop please?
In summary, I never used to have any Easter traditions when I was young but I am now feeling like Hobbycraft could just be bringing out the best in me. In fact, perhaps that sums up what craft is all about. It is meant to be fun. A chance to get away from the busyness of life and screen-time and find your creative side. Some people get mixed up with what it means to be artistic and might say that 'I'm not that creative', but I think creativity lies in all of us. Sometimes we have just to dig a bit deeper to find it.
Hobbycraft have so many great DIY ideas for Easter for the children which are inexpensive and fun—plus, the finished products make cute Easter decor! What's not to love?
To get inspired, skip down to your local Hobbycraft or hop on to www.hobbycraft.co.uk
Note: Brought to you in collaboration with Hobbycraft and One Roof Social. All thoughts and opinions are, as always, my own.