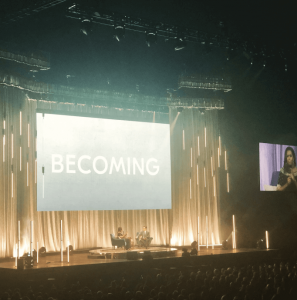 "Lead by example with hope – and when they go low, we go high," former First Lady Michelle Obama told Stephen Colbert and 15,000 others at London's O2 Arena.
When I heard Michelle Obama was coming to London, the first thing I did was to text my friend, Olympic triple jump athlete, Michelle Robinson and tell her that I had got us two VIP tickets. She was absolutely thrilled! When Mrs Obama hits London…we know it's a big deal.
On Sunday 14th April 2019, the former first lady made her appearance for the amazing 15,000 people who packed into London's O2 Arena in the heart of the city to hear the former First Lady 'in conversation' with The Late Show host Stephen Colbert. Luckily, we had VIP tickets, but the queues inside the arena went almost to the front doors! We were all here for one reason which was to hear Mrs Obama discussing her best selling book, Becoming.
On arrival, we headed to the InterContinental at The O2 for drinks and lunch. A great opportunity and excuse for a proper catch up before the main event. The book, which was released just before Christmas, somewhat unsurprisingly topped bestseller charts across the globe and brought in an eye-watering £7.7m in sales in the UK. And in the US last winter, Becoming publishers Penguin Random House reported the book sold more than 2 million units "across all formats and editions in the U.S. and Canada" during its first 15 days. I had heard rumblings that 'Becoming', could be set to become the best selling memoir of all time.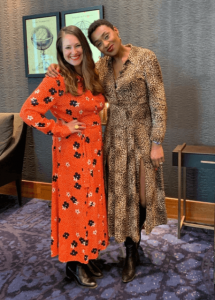 When Obama talked about the barrage of negative press she received in 2008 during the campaign trail, she simply replied, "when they go low, we go high. Lead by example with hope, never fear." The former First Lady added: "I had to sit with negativity and experience what that did to me and what it meant. I had to steady myself in it. I had to learn to adjust my voice. If you don't take control of your message and your image and your voice – someone will do that. It was an important lesson for me to learn. I could've rolled up my matt and gone home – but it was another challenge."
Michelle Obama described the struggle to give her two daughters a "normal" upbringing during the eight years when they were living at the White House. Such was the intimacy of the evening, Obama even joked about her family's security unit teaching her daughter to "floor it" on her first driving lesson – at Secret Service HQ, no less.
She told 15,000 fans at a sold-out O2 Arena talk to promote memoir Becoming: "Imagine the first time you invite Sasha Obama over for a play date." Mrs Obama said sniffer dogs would be brought in and parents of her daughters' friends would be asked to be open about any guns or drugs in the house. "I would just have to tell parents – don't lie!" she said "So, imagine having that conversation and then you're like 'thank you for inviting Sasha over and by the way, there's going to be a man sleeping outside of your door with a gun, can you let him come in and use the bathroom every now and then?"' she said, sparking laughter around the arena.
It was an uplifting and positive evening with Michelle Obama. She spoke with passion, grit and honesty. She spoke fondly of her late father – whom she cites as one of the biggest influences on her life, her hopes for her two daughters and finally, what legacy she hopes to leave behind in this world. Michelle Obama encouraged us to look within ourselves, to find our authentic self and to look deeper into what we are all…becoming.
If you haven't got your hands on a copy, you can pick one up from Amazon or all good book stores.