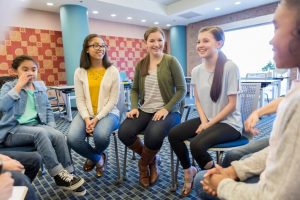 I don't have any teenagers yet. I have a nine-year-old daughter. But, I have plenty of friends who have teenager children you like to remind me that the younger years are the 'easy bit'. I suppose it is fair to say that every stage of childhood brings different challenges. The first few years where we can barely remember what 1 full nights sleep . felt like. Then the toddler tantrums followed by school life and loads of after school clubs. By the time my children become teenagers, I will do my best to embrace it just as another stage of their journey, but I am realistic that it may be challenging (for both of us) at times.
I was recently reading an article and I wanted to share it with you. Therapist Jennifer Udler was in the middle of a 50-minute session with a patient when it started to rain. Instead of being in her office, however, she and her teenage patient were outside, walking and talking about anxiety and stress, her patient's anxiety started to subside.
So why is this important?
According to a recent article published in Time.com, depression and Suicide Rates Are Rising Sharply in Young Americans. Since the late 2000s, the mental health of teens and young adults in the U.S. has declined dramatically. That's the broad conclusion of a new study published in the Journal of Abnormal Psychology.
Between 2009 and 2017, rates of depression among kids ages 14 to 17 increased by more than 60%, the study found. The increases were nearly as steep among those ages 12 to 13 (47%) and 18 to 21 (46%), and rates roughly doubled among those ages 20 to 21. In 2017—the latest year for which federal data are available—more than one in eight Americans ages 12 to 25 experienced a major depressive episode, the study found.
Here in the UK, according to research from YoungMinds, more than a third (36%) of 16-25 year-olds in Britain have self-harmed at some point in their lives, according to a new survey commissioned by Self-Harm UK, The Mix and YoungMinds. The survey defined self-harm as "when someone intentionally damages or injures their body", which could include a wide range of behaviours. When asked who a young person should talk to if they are currently self-harming, more than two-thirds of respondents (68%) said that they should talk to friends. But, worryingly, less than half of young people (49%) would be confident knowing what action to take if a friend did open up to them about their self-harm.
Despite the lack of formal research, Therapist Jennifer Udler believes strongly in the benefits of walk-and-talk therapy for teens. She finds that teens are more comfortable walking alongside her rather than sitting face-to-face. (Having face-to-face conversations with teens can be awkward in any situation, she added, noting that many parents find that they have better talks side by side in the car, while the parent is driving.) And, she said, being in a park or in nature helps in other ways: "With teenagers, it's helpful to have visuals."
Tammie Singer Rosenbloom, who practices at Minnetonka Counseling in Minnetonka and is the founder of Walk Talk Therapy, also said she finds that side-by-side communication is especially effective for teens, many of whom bring their dogs with them for their session. "Teens that have trouble sitting still, and those that are anxious and depressed, find they feel better after walking and talking," she wrote to me. "The movement helps them process feelings and thoughts more clearly."
Amanda Stemen, who works as an outdoor and mindful movement therapist in Los Angeles, wrote that although she hasn't conducted research, "I've noticed a significant reduction in symptoms in terms of intensity and duration when comparing my outdoor clients versus in office/video conference clients. Teenagers seem to have an easier time opening up in a more organic way being outdoors and moving as well. "
Udler said that when a teen is seeking strategies to manage stress and anxiety, walking — literally "moving forward" — as the teen sheds anxiety can be helpful. "We'll be talking about 'moving forward' as we are actually moving forward on the path, building muscle memory of how they can move forward and leave the anxiety behind."
For example, Udler was treating a teen who was struggling with the death of his father along with feelings of rejection and trauma. "He'd use our therapy session to talk about his memories, and then he'd say, 'I'm going to leave the difficult ones on the path behind us.' Using the path, or the woods next to the path, as a place to put the unpleasant memories allowed him to let go of them. He felt a sense of relief after doing this."
Of course, walk-and-talk therapy might not be right for every teen or remain the right approach, but it may be something to consider. We know that outdoor walking helps everybody, no matter what our age. So, if we can practice walking and talking with our teens, who knows where it may lead?