As much as we love to complain about the British weather, I think we can all agree…it is uncomfortably hot. The United Kingdom has been breaking records with July temperatures and many of us have flocked to paddling pools, beaches and rivers to cool down.
In part, of course, we love the summer weather but many of us are struggling to keep our families cool. So, if you are wondering how to survive the heatwave, I have compiled a few top tips on keeping the kids cool and happy (avoiding heat meltdowns) throughout these summer months…
During the day
Kids of all ages absolutely love to be outside when the sun is shining, and school is out! A paddling pool in the shade is a perfect way to get them outside and cool, avoiding that direct sunlight. We have got the sprinkler out every day this week which has been such a joy to run through – and equally makes for some excellent family giggles.
Sun cream is an obvious must with both a UV and SPF rating. Apply this regularly throughout the day, especially if your little ones are in the pool or playing out. I always try to cover them before we put clothes on in the morning as I find it easier to make sure they are covered! Just because the clouds may be out doesn't mean the sun's staying in so keep the kids in the shade sun creamed up too. A sunhat can stop the head getting too warm and keep the sun off the face and neck for extra protection. I also try and remember to put suncream on my kids ears and the back of the neck!
Dehydration is nasty, and though most kids can get bored with drinking water there are fun ways to keep them getting the fluids they need. Try making your own ice lollies with diluted fruit juice, you can even pop some berries and chopped up fruit in for added flavour, since most fruits are actually very hydrating themselves. Handfuls of ice cold watermelon has been very welcomed this week.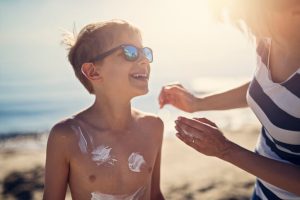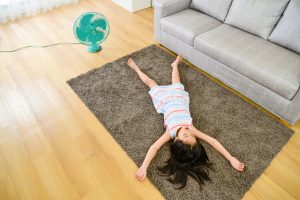 At bedtime
Bedtime may be the hardest part of the day during these summer months. We all know how difficult it is to sleep when its warm out, and your kids are no exception to this rule! Try keeping their bedrooms cool throughout the day, especially if it sees a lot of sun. An easy way to do this is by keeping the windows open and the curtains and blinds closed. Blackout blinds are a perfect option since they also keep out the heat in addition to the light. If all else fails, an electric fan will work wonders. Placing a frozen water bottle in front of the fan will help to cool the air around the room too!
Getting into the summer bedtime routine may help the kids settle into a cooler and calmer sleep. A cool bath or shower before bedtime will help cool the little ones down and dressing them for bed in as little and loose cotton clothing as possible will keep them comfortable. Cotton sleepwear and sheets are favoured where possible since other, unnatural fabrics may retain the heat. Scrap the duvet and a sheet over the bed will do just fine.
Most importantly, healthy kids are happy kids! Have fun in the sun while it lasts. It won't be long until we are all moaning that the rain is returning.
Read more advice on the NHS website – click here