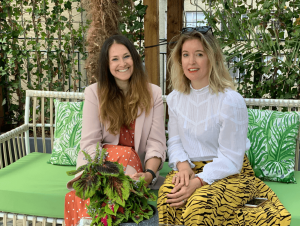 When former children's fashion designer Watts moved to India with her husband over a decade ago, she was drawn to its vivid and colourful textiles and the skilled craftspeople who create them. Now living back in London, Lulu took all her inspiration from India to create her company, Lulu&Nat. The result is a beautiful selection of hand-printed bedlinen, embroidered wall hangings and embellished cushions – all in Lulu&Nat's signature Anglo-Indian style. After attending the launch of her Pop-Up shop in Notting Hill in 2017 (where does the time go!), I couldn't wait to see her again in person for this inspiring interview.
Lulu, please start by telling us a little bit about yourself?
I'm Lulu Watts the founder and creative director of Lulu&Nat which is a colourful British homewares & lifestyle store for the family. My husband Nathan is a Creative Director for a retail & branding agency and together we have two daughters Eva,6 yrs & Zoe, 4 yrs. Prior to starting Lulu&Nat, I trained and then worked in fashion, designing both adult and children ranges for brands such as Liberty, The Little White Company & Gap. We live in Highgate, North London.
What was the inspiration for founding your business and how did you get started?
My husband and I lived in India from 2007 until 2010. I fell in love with the colours and vibrancy of the country, the way light affects the landscapes, the beautiful crafts and the people behind them. Feeling inspired, I then spotted a gap in the UK market for tasteful & fun kids bed linen. Lulu&Nat was born with the ambition to create an Anglo-Indian collection, working with artisan block printers & embroiderers. As a female small business owner, I've found India to be a truly liberating place to operate and a wonderful place to visit, time & time again.
Describe a typical day?
We're a small team with countless tasks to manage, meaning every day brings different challenges. Some tasks require constant attention, such as social media and online fulfilment. Others are cyclical, such as product development, which is generally twice a year, involving several steps including design, production, & photography before they are ready for launch. The design stage can take a few weeks and involves quite a bit of inspiration gathering and print development.
Production often involves lots of emailing, phone calls and visits to our makers in India. When products are ready, we make the next exciting step to capture them for our website. As an online retailer, choosing locations and setting up the shoot is so important to express our brand and lifestyle. It's a really fun creative part of the process and very fulfilling as we see the results of our efforts all coming together.
How do you juggle business and home-life? Do you have a good work life balance?
Running your own business means on the one hand I'm never off-duty from work; I'm constantly responding to customers or tracking social media, on the other hand I'm granted a certain flexibility I wouldn't manage in a full-time job. The trick is to create firm family timelines in the sand – a trick I'm still trying to master.
Weekends are sacred when you have a young family. How do you untangle yourself from work and relax?
We spend lots of time with family and friends, eating & drinking, going for walks on Hampstead Heath. Children's parties seem to take a disproportionate amount of time, so the ones that cater to the parents as well are usually the ones we'll look forward to most!
Lulu & Nat is all about bold, bright, vibrant colours and designs! Where do you get your inspiration from?
When looking for inspiration, I'm searching for the beautifully simple and vibrant, whether vintage or modern, it's the bold iconic patterns that stand out to me. A lot of it is found on my trips to India…the beautiful colours of the antique textiles I pick up, such as the beautiful kantha throws made from recycled sarrees. I also love going to Portobello market to search for Vintage prints!
What are some of your favourite pieces in the Lulu & Nat collection?
My personal favourite piece is the original floral printed bed linen set from our new adult bed linen collection. In a drive to be plastic-free, the sets were part of the first collection to be packaged in beautiful printed cottons drawstring bags.
From our kids collection I love both the new monkey single bed linen set & our sleepy safari kids pjs available in size 2-9yrs. All are linked below –
https://luluandnat.com/collections/original-floral-collection/products/copy-of-grey-stripe-gift-bundle
https://luluandnat.com/collections/kids-duvet-set/products/monkey-single-duvet-set
https://luluandnat.com/collections/kids-pyjamas/products/sleepy-safari-head-kids-pyjamas
What is your advice for women who have an idea and want to start their business?
Be prepared for hard work! Run your ideas by trusted friends and family. Starting your own business is not for the faint hearted or work shy, so don't enter into lightly but with the knowledge that you'll need to work at it constantly. Make sure you've thought through the idea fully, look at what the competition is up to & ensure the idea has room to grow beyond the initial idea.
Once you are feeling confident that you've got all aspects of the business strategy covered, launch into it with fierce determination! If you have a burning desire to do your own thing, then go for it and don't let anyone try to stop you.
What's coming next for Lulu & Nat?
We will be launching a tropical theme for our upcoming Christmas limited edition, featuring 4 new exotic prints for adult and kids pyjamas. Watch this space.
What is the best piece of advice you have ever been given?
Be yourself. Be cheerful. Strive to be happy.​
I adore the fun mix of patterns and vibrant colours or the bed linen, cushions and pyjamas! Bed Linen has never been so beautiful or so fun!
Find out more at https://luluandnat.com/