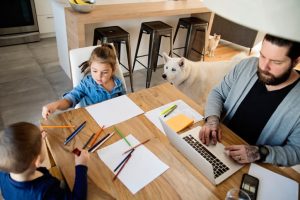 According to an article published in Forbes earlier this year, women are now making up 40% of new entrepreneurs, it's clear that more women are turning to entrepreneurship. We know women are not declining. We are getting stronger and more engaged in careers they love.
Many are starting businesses. Over the past 20 years (1997–2017), the number of women-owned businesses has grown 114% compared to the overall national growth rate of 44% for all businesses. Women-owned businesses now account for 39% of all U.S. firms, employ 8% of the total private sector workforce and contribute 4.2% of total business revenues.
Even more powerful, many of us are creating our business around the needs of our family. Finding it easier to go and set up their own business around the needs or their children rather than waiting for their old fashioned company to introduce better access to flexible working.
In 2019, women want more choices. We are becoming leaders of new movements. Perhaps some UK organisations could take some advice from Finland who leads the way in flexible work. For many companies, flexible working is still being seen as a perk rather than being a right, such as how it has been embedded in Finland's working culture for more than two decades. The Nordic nation style of work is well suited to the country's deep-rooted culture of trust, equality and family values.
Finland is way ahead of the curve thanks to a new Working Hours Act. Due to come into force in 2020, it will give the majority of full-time employees the right to decide when and where they work for at least half of their working hours. "It is about adapting to the modern world," says Tarja Kröger, a senior civil servant and advisor at Finland's Ministry of Employment and the Economy, who helped to draft the law.
She explains that under the new legislation, workers will still be expected to put in an average of 40 hours a week, but this could include a multitude of different arrangements from regularly choosing fixed days to be based "at your summer cottage or your favourite coffee shop", to starting and finishing early in order to manage childcare or be able to exercise outdoors while it's still light. Some younger workers, she argues, are likely to ask to work longer hours for a fixed period to "bank" time off for long-haul travel.
Employees and their managers will be asked to discuss their expectations in advance and draw up a contract for any new arrangements. She says there are also major benefits to flexible working for employers too, which often see increased efficiency and output from staff. "People are more productive when the working time arrangements are such that they can cope with life at work and home, and reconcile the different demands," she argues.
Stanford University economics professor Nicholas Bloom found similar results in a study of more than 16,000 staff at a Chinese call centre, with those allowed to work flexibly from home boosting their productivity by 13% and taking less sick leaven. Meanwhile research for US employee engagement firm TINYpulse in 2016 found that remote workers also felt happier and more valued than those in traditional office jobs.
In recent news, Conservative MP Helen Whately introduced a flexible working bill in Parliament. It would help close the gender pay gap, assist parents to share childcare, and help businesses keep staff, she said. Introducing her bill, she argued that unless employers had a sound business reason for having specific working hours, firms should introduce flexibility to every job. "The 40-hour, five-day working week made sense in an era of single-earner households and stay-at-home mums, but it no longer reflects the reality of how many modern families want to live their lives," she said. Anna Whitehouse (fondly known as Mother Pukka), founder of the campaign Flex Appeal, said it was "a huge moment".
Hopefully this is all the proof you need that whether you are running your own business or you are working for someone else, the information provided in this article proves again that flexibility is key for everyone. Regardless of gender, this proves that we all want flexibility and balance. It's called life.