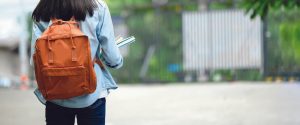 Saying goodbye to your teenager as they head into university campus on move-in day can be one of the hardest things you'll do. For the first time, many students will live away from home and be self-sufficient. That doesn't mean you disappear from their lives; but it's unlikely you'll be down the road to pick up the pieces when things go wrong, and for the first time, many will have to stand on their own two feet. As a parent, we are never far away and often just at the end of the phone, but from now onwards, parents will play a slightly different role.
Here's what I've learned, from friends who have been through the University drop-off, the most important thing being the confidence to help navigate this change in relationship.
1. Give them space to grow
University students need a grace period to meet people, get involved in campus life and focus on their new environment without constant reminders of home. No matter how eager they are, it's not easy to get used to new surroundings and sleeping in a new bed. Give them the space to figure it out. That doesn't mean you don't call for weeks but follow their lead. My friend set up a 'no coming home for 5 weeks' rule to encourage her daughter to engage in uni life, and it worked a treat!
2. Be on hand to listen
Some students call or text home when they're feeling low, and trust me, you'll hear about the roommate drama, the rotten exam and the complaints of ever-growing mountains of dishes left in the kitchen. But once kids have off loaded to you hopefully, they can learn it's all part of the journey! Be there to listen and let them know that you went through the same thing moving out for the first time.
3. Offer guidance when they need it
If your teenager is struggling with a normal issue, such as not finding people they like, hear them out (see above), because a sympathetic ear is helpful. But don't leap to offer a fix, such as contacting a resident adviser on their behalf. We want our kids to become competent and independent, and they need to develop problem-solving skills. They also won't learn to get comfortable with discomfort if we handle things for them. At my son's recent transfer student orientation, the student health center director told parents the staff has noticed that today's students have a tougher time regulating emotion. But uncomfortable emotions are part of being human, and students need to sit with them and learn how to move through them. Gaining confidence in a new setting takes time. Let them know all their feelings are normal.
4. Point them to resources
When your student complains about homework or a coursework challenge, ask them about resources on campus, and nudge them to pursue those avenues. Colleges have staff ready to help students. Resist the urge to micromanage. If students don't know where to start, suggest they check with their resident adviser. Engaging with other students and professional staff is the best way to adjust. Keep pointing them back to campus.
5. Check in on their Mental Health
You know your child best, and no one is paying attention like you are. If you suspect a mental-health condition is sending your student into a tailspin, or if they're experiencing a recurring illness or unfamiliar allergy that doesn't sound normal, it's okay to ask questions and follow up. When a health or safety issue isn't being addressed in a timely way, a phone call from a parent can make a difference. You cold consider giving your teenager a book about coping with mental health- just for advice, in case the situation arises.
Try out this Usborne one, 'Looking after your mental health':
https://usborne.com/browse-books/catalogue/product/1/13234/looking-after-your-mental-health/
In summary, your student will experience bumps and hurdles at university, but most of the time those challenges will be part of our personal growth. Have faith. Give them the space to problem-solve, to experience change and you'll be amazed how they grow as individuals within the first year. You got them to university in the first place and so you should be proud of that in itself.
For information for your students on dealing with mental health, check out:
https://www.savethestudent.org/save-money/health/mental-health-at-university.html
https://www.studentminds.org.uk/
For confidential online mental health help, advice lines, support groups and counselling visit:
– Betterhelp.com
– Silvercloudhealth
– Turn2me (support group)
– 7cups.com
Thank you to university student and friend Bethan Sutton who co-wrote this piece.