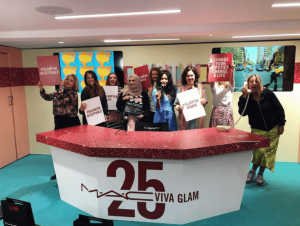 A few months ago, I was delighted to be invited to an exclusive event with MAC cosmetics to hear about the fantastic work they do under their VIVA GLAM campaign. The event was to celebrate and reflect on 25 years since MAC. started its fight against HIV and AIDS with the launch of the iconic Viva Glam Lipstick.
At the event, hosted at MAC was chaired by the wonderful Emma France of the charity mothers2mothers (m2m). If you're unfamiliar with the organisation; m2m is an inspiring and totally amazing non-profit African-based charity that is at the forefront of global efforts to eradicate paediatric AIDS. Their goal is to create healthy futures for mothers, their families, and communities and much of their success is down to mothers working as mentors in health centres in Africa.
This wonderful organisation, and generous mothers, are helping to eliminate transmission of HIV from mothers to their babies while also helping to make HIV treatment more affordable. And if that's not inspiring I don't know what is. Since 1994, the passionate red VIVA GLAM Lipstick has raised money and awareness for HIV/AIDS.
VIVA GLAM was created at the height of the HIV epidemic to make a meaningful difference in the lives of people living with and affected by HIV/AIDS. Combining glamour with a rigorous funding approach, MAC Cosmetics has worked with provocative powerhouse talent, including Sia, Miley Cyrus, Elton John, Mary J. Blige and Ricky Martin to drive sales of VIVA GLAM lip products, with the full RRP (less VAT) going toward the funding of HIV/AIDS programs around the world.
Twenty-five years later, VIVA GLAM has raised over $500 million for 1,800 organisations, helping over 19 million people last year alone. The UK and Ireland have given 540 grants to over 100 charities including Positive East, HIV Ireland (formerly Dublin AIDS Alliance), National AIDS Trust, Terrence Higgins Trust and George House Trust.
But this year it gets even better: For the first time, the brand is broadening its mission to help those impacted by HIV and AIDS and will also support charities specific to women and girls and the LGBTQ+ community under the newly named VIVA GLAM Fund. The organisations include Planned Parenthood, GLAAD, and Girls, Inc.
"VIVA GLAM is truly the heart and soul of M·A·C Cosmetics and it all started with a lipstick and focused mission to end HIV/AIDS," said John Demsey, Chairman of the M·A·C AIDS FUND & Executive Group President, The Estée Lauder Companies. "This year represents 25 disruptive campaigns, led by 28 outspoken celebrity talent and over $500 million raised, but it also marks a quarter century of unmatched purpose and passion for our employees, artists and partners around the world. Our 100% giving model is among the first in the world and allowed us to create change at a scale we never could have imagined."
As if one lipstick isn't enough, MAC will also be selling its Viva Glam II (a creamy muted mauve) and III (a rich brown-plum) lipsticks, too, with all proceeds donated to the VIVA GLAM Fund. Each lipstick can be purchased at any MAC counter or store, and on https://www.maccosmetics.co.uk/viva-glam
I had never really thought about what positive impact I could have when I purchased a lipstick from MAC Cosmetics but I have been so humbled by how something small can make such a big impact. Long reign the red lipstick and what VIVA GLAM stands for. Congratulations to MAC on its amazing work and 25 years of helping those affected by HIV and AIDS.