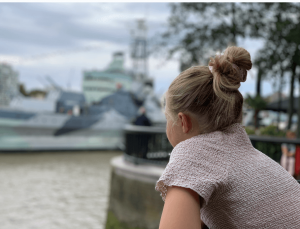 A few times a week I walk over London Bridge for work meetings, but it is not that often that I stop and think about what I could do if I bring my family up here for the afternoon. Especially as the summer holidays started to draw to a close, it seemed like the perfect way to end a great summer.
I have a special place in my heart for London Bridge. Perhaps it is because I have so many clients in this area, or the site of St Pauls in the background continues to inspire me with his historic beauty.
So instead of visiting the busier areas of the West End, why not see what London Bridge has to offer with its mix of historic and modern attractions, food markets and cultural venues to explore? Last week, I did just that. I walked out of London Bridge train station onto Tooley Street, and went off to explore. I had come up to London with a friend and my two kids and our first point of interest was Hay's Galleria. It is somewhere I often go to on my own for a walk or a coffee. Only this time, I had my family with me, which was really lovely.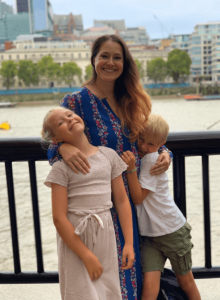 So, here are some of the highlights we did that afternoon and we hope it might inspire you to take your family to see the sights of London Bridge too.
Hay's Galleria
Hay's Galleria is a shopping area covered with a beautiful atrium in an old wharf area near City Hall. Here you'll find lots of shops including Riverside Bookshop, Boots, Next. We can never resist a trip to a bookshop and we can often spend up to twenty minutes looking at new books!
There is an array of restaurants and cafes including Cafe Rouge, Starbucks, Costa Coffee and Cote Brasserie. It is a great start to the walk along the river banks and is nice to see London being revamped in perhaps otherwise derelict areas. The architecture alone is worth checking it out and it is a perfect area for kids to explore!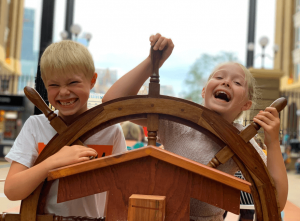 HMS Belfast
We then wandered along by the the Thames until we reached HMS Belfast. HMS Belfast is a Town-class light cruiser that was built for the Royal Navy. She is now permanently moored as a museum ship on the River Thames in London and is operated by the Imperial War Museum. It is a real walk through history for the children as they can walk the same decks as British sailors supporting troops during D-Day.
Children in Year 3 and above will be tall enough to go down into the boiler and engine rooms, so I'll be returning with my son in a couple of years as he was really keen to see those very complex and important lower parts of the ship. KS2 children also might want to take advantage of the audio tour, but if not there are plenty of signs that explain more about what you're looking at.
The HMS Belfast is less than 10 minutes' walk (even with little ones in tow) from London Bridge station and if you walk towards the river, you can't miss it! Entry is £18 for adults and £9.00 for 5-15-year-olds. Book online for 10% off all ticket prices. Under 5s are free.
Dinner at Strada
We booked a table in advance at Strada through their website, which is conveniently located just a stone throw from HMS Belfast with great views across to the city. Strada did a great job of catering for the children with kids menus, colouring and a word search, which managed to keep them entertained!
After an early dinner, we made our way towards City Hall which is a beautiful building in itself. If the design features on City Hall seem to mirror the Gherkin, that's no coincidence. Architect Norman Foster designed both buildings and is very fond of using glass in his designs. We explained to the kids that this was the office of the Major of London and they seems very impressed! We spent some time playing in the small water fountains of More London, which was full of children laughing and giggling.

Viewing London Landmarks
Before we headed home, we pointed out some famous London landmarks to the children. They seem to be in constant wonder of our capital city and it is also great to see how much interest they take in exploring new areas of our capital.
Another great way to get a fantastic view of the city is from London's tallest building at The View from The Shard, where you can see up to 40 miles (64 km) from its 72nd floor viewpoint. Our kids have been up to The Shard before and they loved it. "I can see daddy's work!" our son exclaimed as he started waving out the window.
London Bridge is one of our favourite places to explore in the city and we hope you enjoy it too. The spending money was gifted by www.hotels.com, but all views are my own.
Need a hotel near London Bridge – click here