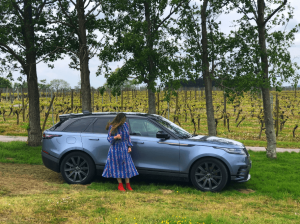 Introduced in 2018, the Range Rover Velar follows a fresh design path with a gorgeous shape revealing a long hood, sloping roofline, and big open wheel arches. Its designer even omitted door handles, which might detract visually from the gracious body lines. In fact, when I think of luxurious yachts and sailing boats, I now think of the Velar with its sleek and gracious body lines.
Velar is a Latin word meaning sail or veiled, which was the badging on all 26 prototypes of the original 1970 Range Rover – a clever way to revive the name. So, could this be the most beautiful car Land Rover have ever built?
With an intriguing and handsome design, the Velar seems to put some other SUVs in the shade. Test driving the beautiful Range Rover Velar for just a week made me feel like the family and I should be cruising down to France (St Tropez in the summer, the Alps for winter of course).
Beautifully Styled
The Velar is all about style.
Simply stunning, the Range Rover Velar sets a new benchmark for design of a modern SUV. Few would deny that it's one of the best-looking SUVs; if not Number One. Its stunning aluminium body is cleverly positioned to squeeze in between the Evoque and an entry level Range Rover Sport. It's lower and longer than its Range Rover family, with a lower roof height and longer wheelbase relative to its 4.8-metre length.
Evolved from Jaguar's F-Pace, the cleanly profiled Velar shies away from superfluous curves, omits door handles, and holds back on decoration. Up front, the hood seems unusually long. An uninterrupted character line extends back from the headlights.
Like many things with style, we pay more to get the real thing. You can always spot those fake Gucci belts a mile off, so if you want real style, the Velar is the one. No imitations here but it comes at a price. With four engine types available, the Land Rover Velar starting price is around £45,260.

Interior Style
If the Velar's exterior represents a narrowed focus, its cabin takes an opposing path, emphasizing expressive lines, colours, and detail work. Sleekly modern, it's one of Range Rover's prime examples of interior opulence.
Leather covers most Velar seats, but optional premium grey textile (cloth) upholstery exudes an even greater sense of refined quality. Brushed aluminium accents and a leather-covered upper dashboard add to the premium aura. The base model uses synthetic leather and suede, but every Velar feels expensive. Otherwise understated, the central console holds twin 10-inch infotainment touchscreens. Upper trim levels add a 12.3-inch digital instrument cluster. The infotainment system not only looks great, it responds well, despite lacking Apple CarPlay and Android Auto. Front seats promise comfort during the longest drives. Rear seats are reasonably comfortable for most riders, but short on legroom for taller passengers. With rear seatbacks upright, cargo volume totals 34.4 cubic feet, expanding to 70.1 cubic feet with those seats folded down.
We tested the Range Rover Velar R-Dynamic HSE 300 at £70,530 as it had almost every possible 'extra' on it we could think of. I must say, it looked stunning in Bryon Blue. A colour I would consider for future Land Rovers instead of the traditional silver or grey. Much like the interior of a luxury liner, the Velar has beautiful sleek lines, a modern entertainment system and driving functionality screens. If you go for SE models and above you will get a 12.3-inch screen to replace the analogue dials, which are all touchscreen. The second screen is for adjusting the air conditioning and various off road driving modes.
The new high-quality fabric upholstery option is a first from furniture company Kavadrat, providing a novel and comfortable seating feel. However, as luxurious as it looked, I was already concerned about how the cream interior cloth might survive long term with young kids. I wouldn't have chosen the cream interior for myself, primarily, just because of the children. They are not completely feral these days, but you wouldn't want a Robinsons Fruit Shoot in sight in the Velar. First world problems, I hear you say.
On the road, the drive is smooth and effortless. I can tackle most surfaces with ease and in this respect, it feels much more like the Range Rover we have come to love. The steering is light but accurate, which gives a feeling of confidence.
In the back seats, there is a plenty of space for the children who said it was a "comfortable and relaxing ride". There are some USB ports in the arm seat in the back seat which is handy so the children can charge their tablet devices on long journeys. The back seats also recline which is fantastic if the kids want a little snooze.
The boot capacity is equally generous and you'll easily find space for family luggage. It's boot space is quoted at 632 litres which is bigger than the Porsche Macan. The rear seats can also go flat when you need that extra space after a dash to B&Q! As well as boost space, when it comes to family safety, the Velar picked up a full five stars from Euro NCAP for safety in the event of a crash. As a parent who does a fair amount of driving, that information is important, so I'm already sold.
In summary, the Velar is practically perfect. Range Rover offers five trim levels: standard, S, SE, HSE, and the limited-production First Edition. All three engines are available in S, SE, and HSE trim, but that standard version comes only with the gasoline four-cylinder and the First Edition is V6-only. All Velars come with automatic emergency braking, a rearview camera, and lane-departure warning. R-Dynamic trim levels add blind-spot monitoring, drowsy driver monitoring, traffic sign detection, and adaptive speed limiter. R-Dynamic HSE includes adaptive cruise control, blind-spot assist, and lane-keep assist.
Front seats are superior, cargo space excellent, materials exceptional. Technology is admirable, though active-safety features come mainly on upper trim levels. Multi-screen infotainment ranks as remarkable.
For an SUV, the Range Rover Velar is a family car with an edge. It feels more like I'm getting a drivers' car back. I suddenly feel like a cool mum, not just a slightly stressed school mum. The Velar is an incredibly handsome and stylish car to look at. I feel slightly smug when I drive it into the school gates as it is abit of a head turner for all the right reasons. When I park up and walk away, it's hard not to be tempted to turn around and just look at it one more time. I dare you to turn away…
For more information, visit www.landrover.co.uk
N.B – This post was brought to you in collaboration with the Land Rover PR Team but all opinions are honest and my own.