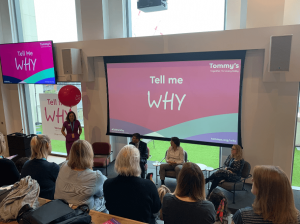 On 9th September 2019, I was humbled to be invited to the launch of Tommy's new campaign- TELL ME WHY in London. The new campaign calls for more research into loss and complications in pregnancy and we heard from a number of experts to explain the progress that has been made in understanding 'why' and what more needs to be done.
Although one in four pregnancies end in miscarriage, stillbirth or premature birth, the majority of parents never find out why it has happened. In most cases healthcare professionals simply do no know why a pregnancy loss or preterm birth has happened.
In a survey, I read that 82% of parents said they blamed themselves for something they have done and equally, 77% felt guilty for what had happened. Reasons for mothers feeling this guilt can range from physical reasons including hot showers, flying or running too much, to psychological reasons such as 'we argued last week' .With widespread public opinions over accepting miscarriages as 'it just wasn't meant to be'- the failure to bring about change and research is ever increasing. Tommy's TELL ME WHY campaign aims to find out why miscarriage, stillbirth and premature births occur still, and why this knowledge can help bring about care improvements.
Upon searching the internet for miscarriages it seemed clear to me that in from the conversations I have been reading, over 70% of miscarriage and still-birth cases are never given answers. In bold at the top of the NHS page stand the words 'the cause is often not identified'- and with three of four miscarriages occurring in the first trimester, there is still no treatment to prevent early miscarriage. Tommy's belief is that pregnancy complications and baby loss are neither acceptable nor inevitable. They believe that with the right research prevention of death can occur. But this requires funding into reproductive health.
Sharing an inside story, Ellie Robson-Grice, Ambassador for Tommy's says: "I was left feeling confused and frustrated by the lack of answers and blamed myself. I wondered if it was because I was unable to carry male pregnancies or even if it was because I went to a gig or bought a babygrow too early. Even after 12 losses the advice was just to keep trying. I'd lost all hope but felt so strongly that there had to be answers, I decided to participate in research. I wanted to help others and try to stop miscarriage from happening. This decision changed everything for us, we are now proud parents to two amazing rainbow children. Research is just so important."
As parents, we deserve to know what has happened. Pregnancy loss isn't 'just one of those things'.1 in 4 people will lose a baby during pregnancy or have a premature birth. It's not OK that so many parents cannot be told why their baby died. It's simply not good enough to say 'It wasn't meant to be'.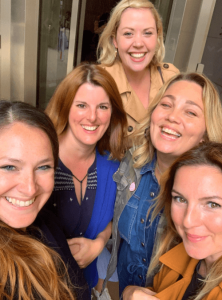 I was so grateful to be invited to this event and to be able to listen to the incredibly important research that Tommy's are doing. Prof Quenby gave the most incredible talk at the event, highlighting some of the key developments and innovations being developed out of her clinic, which are already saving babies lives.
Please check out Tommy's #TellMeWhy campaign hub, watch the films, share the message, and talk about miscarriage, so we can challenge these misconceptions and fight for more research.
#TOGETHERFORCHANGE