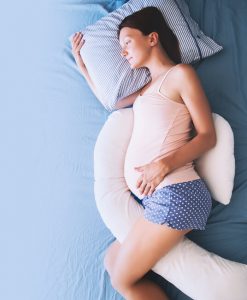 With 80% of women finding it difficult to get comfy at night, it's to no surprise that over 60% of women in pregnancy report insomnia. In a study of over 2400 women, all of them reported waking at night during pregnancy- and with most pregnant women experiencing sleep problems, I looked into the reasons behind this, and what we can do to help ourselves?
Certain hormonal changes, along with other pregnancy-related discomforts can sink a good night's sleep- a tough reality when sleep is something most pregnant women desire. Pregnancy-related discomforts such as nausea, back pain, heartburn, leg cramps and frequent bathroom trips, are some of the many problems keeping you up all night. Between morning sickness, kicking and all the other discomforts the lack of sleep suffered by women throughout pregnancy can become quite intense.
So, what can we do to prevent being up all night? My five top tips include:
Try to get regular, gentle exercise, which can be really beneficial for sleep. Even a walk outside can be a great way to make yourself feel better from the inside out.
It is important to drink plenty of fluids when pregnant, but hot drinks before bed can mean you end up peeing all night! Avoid caffeinated tea at night, and switch to decaf which reduces the need to use the bathroom quite so much, Maybe set yourself a rule of not drinking for an hour before you go to bed- that way getting up for the bathroom might be one less worry at night. It works for me!
Finding a good evening routine that works for you is important. Whether that's a soak in the tub, followed by listening to a relaxation app or a chilled podcast to help you to unwind. Try slowing down at night and many experts recommend less or no screen time after 9pm.
Where possible, avoid over-the-counter and prescription sleep aids and use tips one and three to help you get into a more relaxed sleeping routine.
Many pregnant women find themselves tossing and turning some of the night to get comfortable. I know I do! Find the best position that works for you. Research has shown that most pregnant women feel more comfortable sleeping with an extra pillow under their head and another at their knees to sleep. Additionally, sleeping on your side is the best way for both you and your baby to rest safely as recommended by charity, Tommy's.
Sleeping Safely during Pregnancy
In response to yet more research confirming sleeping flat in late pregnancy and its link to still birth, Tommy's in 2017 launched their Sleep On Side campaign. With evidence confirming that sleeping on your back in the third trimester doubles the risk of stillbirth, Tommy's Sleep On Side campaign aims to educate women and eliminate the cause of so many stillbirths.
If all pregnant women in the UK went to sleep on their side in the third trimester, MiNESS estimates a 3.7% decrease in stillbirth, saving around 130 babies' lives a year. Internationally, this advice has the potential to save up to 100,000 babies a year.
Making your Sleep more Comfortable
As your pregnancy bump grows, you may find that it can often become more difficult to get comfortable. By around twenty weeks, half way through my own pregnancy, not only was I getting up for the toilet two or three times a night, I also started to find it harder to get comfortable.
If you are feeling the same, you could try investing in a pregnancy pillow or asking a friend if they have one you can borrow. Pregnancy pillows are designed to maximise comfort during pregnancy and contour to your body, relieving tension and/or supporting your bump. Try this one I love myself for a reasonable £49.99 from John Lewis.
If you would like to find out more about Tommy's #SleeponSide campaign, please click here to read the press release and share with friends who might need this useful advice during their pregnancy.