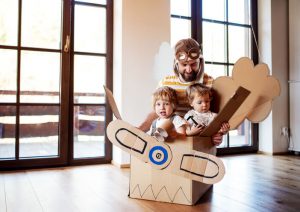 If you're flying somewhere with young kids for October half term, we know flying with toddlers is often tricky. In fact, according to surveys done by Expedia.com, seat kickers and inattentive parents rank up there with aromatic passengers (those who lack in hygiene or overindulge in perfume) as the most annoying kind of airline traveller. Whoops!
I clearly remember what is was like. Rocking my baby in my arms as I walked up and down the plane aisle over and over again. Desperately trying to hold onto a strong willed baby and subsequently apologising to every passenger as I paced up and down. Guilty Mother you see! Some women looked at me with sympathy (we've all been there – they were thinking). Others simply ruffled their newspapers or rolled their eyes. Quite honestly, it felt like the longest flight to Lanzarote I had ever taken!
But, we know they are not toddlers forever and for us, our children are now seven and nine. Now when we fly, they barely talk to me at all (only when they want snacks). Charming. How times have changed! But, with another baby now on the way, I am bracing myself to start the flying adventures with a little one all over again. Send help.
Here are some great questions I always get asked when flying with young ones in tow:-
Q: I'm flying with my baby for the first time. Will I be able to get breast milk through security?
A: Yes. You may carry enough baby milk or baby food for your journey in your hand luggage, but you should pack the rest in your checked-in baggage. You'll need to remove the milk from your carry-on for a separate screening, but most of these screenings are routine and go off without a hitch. At London Gatwick Airport (for example), they are proud to be the first Family Friendly accredited airport and want to help you making your travel with children as stress free as possible. Can I hear a little whoop whoop for that! They have created special Assistance and family lanes in security for departing families to give your family extra time and help to get through security. Young kids don't have to go through full body scanners, and screeners often wave one or both parents through the screening area. Without fail, we always use this when we travel from London Gatwick.
Q: What will happen to our stroller once we get on the plane?
A: Flight crews will gate-check a larger stroller. Some smaller strollers can fit in the overhead bins. I've got y eye on the BABYZEN YOYO+ which is transforming family travel and eliminates the need for multiple strollers. From city living and everyday errands to car, bus, train or airplane, it's suitable for children from 6 months and up to a maximum weight of 18kg. This clever stroller can fold up and fits into most overhead plane storage, (H52 x W44 x D18cm). I'm sold!
For larger strollers, ask a gate agent to tag your stroller when you check in. You can have your child in the stroller all the way to the door of the plane. But remember, after that, you'll have to carry baby and luggage to your seat, so prepare accordingly.
Q: Where can I change a diaper on an airplane?
A: Not on the seat. Also, not on the tray table, not on the floor, not in the galley.
There's only one place for a diaper change: the bathroom. Though not every airplane lavatory is equipped with a changing table, there's usually one on every plane. (Check with a flight attendant if you need assistance.)
Q: What can I do to help my child with air pressure discomfort?
A: Swallowing will help with equalising the air pressure. Always pay close attention to your children during takeoff and landing as it can be important they are drinking or eating during this time. The swallow motion will help equalise the pressure in their ears. For little ones (three or under), I used to always give them a bottle (milk or juice) at take off and landing. For the older children (seven and nine), I would make sure they are chewing on a sweet or lollipop for take off and landing.
I wrote more great top tips on Huff Post Parents and you can read them here.
Safe travels folks!