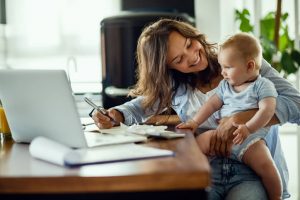 Firstly, I must start by getting something off my chest. There are bundles of talented women out there – and I mean bundles.
On every corner of every town or city, there is a talented woman who might be looking for an opportunity to have a career around the demands of her home and family life. Many of us are striving for balance but most of all, many parents (men and women) are often denied the request for flexible working that works around their life. But why?
Earlier in the year, I delivered a talk with my friend, Olympic athlete, Michelle Robinson. The event, organised by 'Head of People' at Ann Summers. Together, we addressed the hot topics of what is happening in the workplace. As you can imagine, we talked about employee wellbeing, confidence, career opportunities and of course…parenthood. Michelle juggles her work commitments around her three children whilst I own two companies whilst 'trying' to be present for my children.
Many of us in the room that day agreed, finding the balance is tough.
I recently read an article in The Times about the reality of working mothers. Something I've written about very honestly in my blog before. The honest picture of a thriving career and a happy family is difficult. It's hard to 'have it all' without the feeling that we are dropping balls everywhere. With more parents in a household both working, the juggle of work, home life, homework and after clubs requires ongoing military style organisation.
What does the UK workplace look like in today?
Around 427,000 female professionals, including directors, engineers, scientists, researchers, doctors, lawyers and accountants, who are currently on career break want to return to the workforce in the future. 29,000 women who return to the workforce on a part-time basis will be underemployed, meaning that they would prefer to work more hours if flexible working opportunities were made more widely available.
In the past few years, there has been some progress in changing UK business attitudes to women returners through the development of 'return-ships'. Pioneered by investment banks, these programmes have demonstrated that talented women are perfectly capable of coming back into senior jobs in the most demanding corporate environments. However, it seems there is still a lot more work to do. In fact, new research shows that addressing the career break penalty could deliver gains of £1.7 billion to the UK economy.
When it comes to encouraging more people back to work, PWC are trying something different. As quoted in The Times, Laura Hinton, chief people in officer at PWC said "people assume that to work at a big firm they need to follow traditional working patterns. We want to make it clear that this isn't the case. In order to recruit the best people, we recognise that we need to offer greater flexibility, different working opportunities and a route back in for those looking to restart their careers." Read the report from PWC as quoted in The Times.
Whatever your current situation, whether you are thinking of taking a career break or worried about what lies ahead once you've had a baby. Don't worry. There is plenty of help and support out there to get you back to work (if you need/want to). If you've been out of the workplace for a few years, please don't fret that you are not valuable or useful. You are and your skills have not disappeared. It can be natural for women to sometimes feel a dip in confidence after having a baby and this is me telling you that it's OK. It's normal.
There are many organisations out there ready to extend their hand to support you and help you get your mojo back. Here are some links you may find useful:
Visit the Women Returners website for help and support
Read about Flex Appeal from Mother Pukka
Check out Selfish Mother's new digital Masterclasses from Molly Gunn (all online)
Get help re-writing your CV and updating your LinkedIn page with City CV
So on that note, this is Guilty Mother reminding you that you are smart. You are capable. You are amazing. We can help you get your Mojo back and find flexible working that works for you.