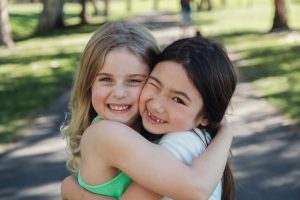 If you think that bullying is just a part of everyday school life, you're wrong. No-one deserves to be bullied and the problem should not be ignored. According to Young Minds, bullying affects over one million young people every year, and anyone can be bullied. Bullying can have upsetting and devastating effects on peoples lives.
Many websites offer advice and information for young people and parents on how to combat bullying. Furthermore, this annual campaign from Smiggle helps to share the importance of simply being kind to others. Being nice doesn't mean you can't make hard decisions or stand up to difficult people, it just means you are respectful, kind, and show empathy to others.
When kindness isn't given, we find ourselves in an environment that is unhealthy and at worst, toxic. The Smiggle #BeKind wristbands are saying no to toxic behaviour and yes to stopping bullying.
You may have heard the news as Smiggle are collaborating with ITV's This Morning for the second time regarding their BEKIND anti-bullying campaign and I am here to tell you How to get a free Smiggle Be Kind Keyring
Children across the country will be able to pick up the bands FREE from high street stationery store Smiggle to show their support for the campaign. A total of 100,0000 limited edition key-rings have been produced and they can be collected from Smiggle stores nationwide.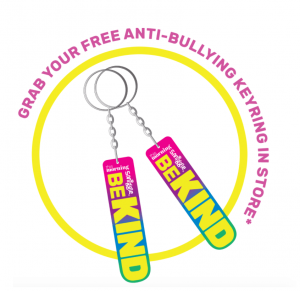 If you wear your #BeKind wristband and post a pic on social media with #BeKind, you can inspire others to Speak Out, Stand Up, and #BeKind. Anyone under the age of 16 uploading a #BeKind snap to their social channels must ask for their parent/guardian's consent. Here are 5 ways to encourage a culture of being kind to others by carrying out random acts of kindness during your day:-
1. Be considerate: notice if someone needs help and offer your support. It might be to help them carry some bags or open a door for them.
2. Smile: When you make eye contact and smile at someone you are showing that they matter, which gives them a boost of happiness.
3. Mind your manners. Say "Good morning" or "Hello" to others more often.
4. Show appreciation: Be more vocal in your praise. Acknowledge the contribution and efforts of others.
5. Listen more. Learn to listen with the intent to understand. Don't just dismiss or ridicule others' viewpoints. Listening shows that you care.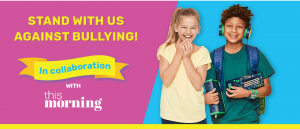 And finally, treat everyone with respect. Be kind; always.
Share your snaps with the #BeKind hashtag!
How to get help with Bullying
To find out more and the fabulous Be Kind campaign or if someone you know is being bullied please head to https://www.itv.com/thismorning/be-kind/bullying-helplines