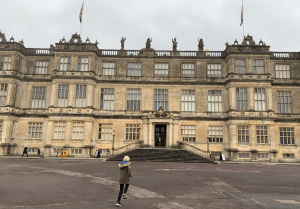 I had wanted to visit Longleat for ages and when I was offered a free family day pass over the October half term to visit, we jumped at the chance to go. You may know this already, but Longleat is rich with history and charm. They have been welcoming visitors since the late 1940s. The house an outstanding example of High Elizabethan architecture in England, was the first stately home ever opened to the public on a commercial basis. In a way, Henry, the 6th Marquess, father of the current Marquess of Bath, pioneered the tourism genre of stately homes as multiple activity attractions.
In 1966, Longleat opened the first drive-through Safari Park outside of Africa. Today, Longleat is set within 900 acres of Capability Brown landscaped park and 8,000 acres of woodland, lakes and farmland, is crammed with family activities and attractions. In fact, there's always something exciting going on at Longleat, so do check the website before your visit!
On arrival, on a slightly damp day, we headed straight for the Safari drive through, where you can see wolves, giraffes, lions and, if you are lucky, some Siberian tigers. After a few selfies with the giraffes, we decided to brave the Monkey drive through. Here, the monkeys will jump on your car and have a little tug at your back-windscreen wiper (but in our case…no harm done)! The children roared with laughter as they watched the monkeys jump from car to car. It was the perfect way to kickstart our morning at Longleat!
The Safari drive through takes between 2-3 hours depending how busy it is and how long you want to spend in each area. If you don't fancy driving around the Safari you can book a safari bus service at Guest Services daily, these are subject to availability. There are also lots of areas near Longleat House which you can walk around instead of doing the safari.
Also, if you decide to take a boat ride on the park's lake, you may spot members of the new colony of lowland gorillas on the island in the middle. This was once the home of Nico, the park's Silverback gorilla who was one of the world's oldest known Silverbacks and a widower. Sadly, Nico died at 56 years of age in 2018.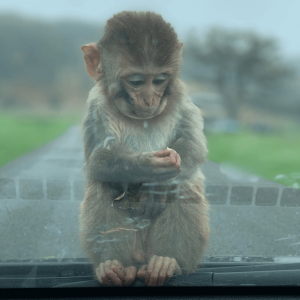 Once we completed the Safari, we parked up in the main car park and had a walk around the other attractions, including plenty more animals. First up was my daughter's favourite…Meercats followed by a walk around to the new Koala Creek!
Koala Creek is a relatively new exhibit, located just next to Giant Otters & Crocodiles, will take you on a journey through indoor and outdoor habitats with many opportunities to observe the wonderful and iconic Australian animals. Having teamed up with the Southern Australian Government and Cleland Wildlife Park, and Singapore Airlines, Longleat are the only animal collection in England exhibiting koalas and the only animal collection in Europe exhibiting southern koalas. They are now able to act as an European hub for the newly-created International Koala Centre of Excellence (IKCE). What simply wonderful animals they are! If you are a Koala lover and live in the UK, this really is the best place it visit.
Where to Eat?
There are plenty of food options such as pizzas, burgers, sandwiches or snacks. You can eat at The Watering Hole Café, The Chameleon Tree Restaurant and Coffee House, The Orangery, Cellar Café or Pizza Piazza. We opted for lunch at The Chameleon Tree which is open everyday and serving up a fantastic selection on homemade treats and meals for you to enjoy.
Their hot food buffet offers a vast selection of freshly made meals, including rotisserie chicken as well as classic favourites such as jacket potatoes, salads and more. After lunch, we couldn't resist a visit to the old sweet shop, a bag of fresh doughnuts followed by a walk around Longleat House.
Wow, Longleat House is a truly fascinating property rich with history. The children were mesmerised by it's sheer size. Much to my amusement, they couldn't resist showing me some of their best strictly come dancing moves outside the front of the house in aid of Emma and Aljaz whilst humming the theme tune!
What's On?
Festival of Light – Runs on selected dates from 9th November 2019 to 5th January 2020 whereby Longleat will illuminate once more!
The Santa Train – A trip on the Santa Train is the perfect way to make this Christmas extra magical. Journey past the stunning Half-Mile Lake before disembarking at North Pole Halt; an enchanting snow-covered winter wonderland. But don't linger too long, Father Christmas will be waiting for you in his grotto and his elves may even have a gift waiting for your little ones. The Santa Train runs daily on Festival of Light opening dates through to 29th December. You must have a valid Festival of Light Ticket or Annual Pass to book onto the Santa Train.
We had such a fun day at Longleat, make sure you arrive early as there's so much to do and so many different areas to explore.
Location
Visit Longleat for a superb adventure for the whole family. Location wise, Longleat is 100 miles from London, 30 miles from Bristol, 45 miles from Poole and Bournemouth and 26 miles from Salisbury.
Open: Longleat House, the Safari Park and the Adventure Park (with a superb Maze) are open from late March to November 1, from November 13 to December 6 and from December 11 to January 3, except for Christmas Day. Last admission and closing times vary based on daylight hours. Check the website for dates and times because opening days and hours vary slightly from year to year.
Our family trip to Longleat was complimentary in exchange for this review. However, all views and opinions are my own.