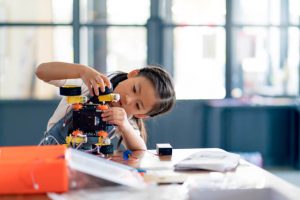 Research shows that using next generation tech in the right ways can make students smarter, more engaged and more creative inside and outside of the classroom. The challenge for educators is not to dismiss or keep up with students' latest technological know-how, but to create meaningful learning experiences in which students are taught how to apply their knowledge to solve real-world problems.
Inside the pages of TIME magazine, amid 3-D printers and touchscreen chalkboards, a toy for empathy holds its ground as one of "six new technologies that are shaping the classrooms of the future." Teachers and students alike are embracing toys and play as powerful tools to develop empathic leadership. As education moves from a transfer of information to collaborative participation, the Empathy Toy™ is being used in thousands of classrooms around the world to help students practice this critical 21st Century skill. In fact, you'll find the Empathy Toy™ in the Chinese University of Hong Kong Executive MBA Program and in every public school in Milwaukee. Students are playing and learning in Geneva, Switzerland and Nairobi, Kenya, in Melbourne, Australia and Winnipeg, Canada.
Could the Empathy Toy™ is changing what learning looks like and why is this important? You may or may not be surprised to read that empathy is being recognised as the #1 job skill. Therefore it should be no surprise that hundreds of HR Departments, Training and Development Teams, and Managers are bringing the Empathy Toy™ to work. The Empathy Toy™ proves that play and work are not opposites and that empathy helps teams collaborate better, and achieve better results. You'll find the Empathy Toy™ in small start-up companies and multi-national companies, played by teams in finance, tech, retail, and healthcare. Organizations are making time to play in Auckland, New Zealand and San Francisco, USA, in Seoul, South Korea and Amsterdam, Netherlands. Regardless of industry, job function, seniority, or team size, the Empathy Toy™ is helping businesses remain competitive in the 21st Century.
In other news, a Singapore preschool has accepted their first intake of students aged between two months and six years in a new full-day or half-day program of surviving the digital age. Trehaus preschool offers programs to teach children skills in association to careers, and with over 50% of jobs available to the next generation being too futuristic to even exist today, the school aims to stay ahead of time and provide foundations for students to navigate the future world. Dr. Elaine Kim, founder, claims that the children of today need preparation for their digitally-revolving futures.
Identifying as a 'Silicon Valley-inspired preschool', Trehaus' curriculum was designed to follow the career paths of engineers, athletes, CEO's, philanthropists, creatives and chefs. The 'no failure, only feedback' policy aims to teach grit, and allow children to view mistakes positively. Carolina Sam, Head Teacher, says this grit will encourage determination, toughness and resilience, leading to more success in our children's futures. Alongside this, students will be taught to in either the bilingual English-Manadrin programme, or Mandarin Immersion programme to expand comfort zones, learn emotional skills and take calculated risks.
Teachers are encouraged to act as 'co-parents' in providing supportive and nurturing preschool experiences with the school promising a 1:5 teacher-child ratio throughout the years. In addition, the school's mission is to alleviate pressures faced by parents in leaving their little ones to preschool as they head off to work. The 'Modern Village' grounds of Trehaus include an adult co-working space and business club for parents to work in close proximity to their little ones at school.
Trehaus wants to change education for the children of the world. On their website, they say that they want to build character, and encourage a sense of self-identity in children by incorporating their academics and critical thinking with mindfulness and emotional intelligence. Soft skills of today are being replaced by hard skills, and Trehaus want to remind their students of the importance of our soft skills, of our leadership, our communication, recognising our strengths and weaknesses.
The future may see education moving away from pure knowledge acquisition, to focusing on building integrity and character building. Using education to develop creativity, empathy and resilience. These are such important messages and I love how Trehaus talk about raising a generation of "changemakers".
Just as we have seen the strength of character and determination shown by sixteen year old Greta Thunberg, the conversation has changed from "what do I want to be when I grow up?" to " what do I want to do to make the world a better place?"
It is a powerful thought…