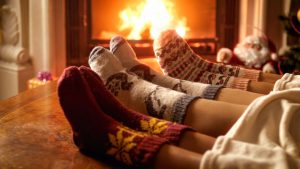 Winter is now in full swing and as our days get shorter and houses get colder, it is almost too easy to settle on the sofa and get cosy in the evenings. And the good news is, new research has revealed this is actually good for us! Dr Becky Spelman, TV Psychologist and Clinical Director of Private Therapy Clinic, has revealed that the content and cosy feeling of being 'snug' in our homes could be crucial for improving our mental states.
Research by Contura published in 2019 found that the word "snug" alone makes two in five people feel happier and content, and building on this, 60% of people believe cosiness is essential to their happiness. Dr Spelman agrees: "As a species we are fundamentally territorial, which means for most people home is very important on an emotional as well as practical level. During the winter months, with the long hours of darkness, it makes sense for us to want to hunker down in our 'den', taking care of ourselves and the people and things we hold dear."
Our positive emotional attachment with our homes, and therefore the comfort of being in one's home is a positive experience for many- especially when time spent at home is relaxing and comforting. In Scandinavian languages, the dictionary actually allows for this concept- with words such as 'mysig' in Swedish, and 'hygge' in Danish, the concepts of togetherness, cosiness, charm and snug are all encompassed into the one word! We can achieve 'hygge' when we spend a cosy night in, whether that's by ourselves or surrounded by loved ones.
When it comes to wellbeing in the home, you might like to try the NEOM Wellbeing Pod. An aromatherapy essential oil diffuser that will release the NEOM 100% natural fragrances at the touch of a button. These natural scents have been expertly blended with the purest possible essential oils.
I recently interviewed NEOM founder, Nicola Elliott Moss who described to me how she uses her NEOM Wellbeing Pods in the entrance hallway to create the right calming ambience when she steps into her home. She also mentioned how she uses the NEOM Wellbeing Pods in her children's bedrooms to help them get a restful nights sleep. It hadn't crossed my mind before to put the Pods in the children's rooms, but actually, it would only seem right that our children are in as much need of a good nights rest as much as we are.
As parents, we are experts at rushing around. In fact, so much so that sometimes we often forget how to stand still. So this is Guilty Mother gently reminding you to slip on those fluffy socks, light a candle, try the Wellbeing Pod and remember to snuggle up in the armchair with a peppermint tea.
Taking a moment for yourself is not selfish. Getting snug is great for boosting your mental mindset.
Click here to read more about the NEOM wellbeing Pod.