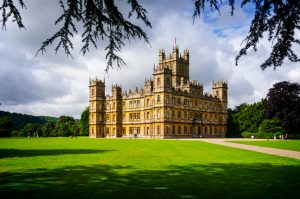 If you were a regular Downton Abbey fan it would not have missed your radar that Downton Abbey came to UK cinemas in September 2019. Filming wrapped on the movie back in 2018 and it was announced in a Facebook post that read: "143 unforgettable scenes, 50 wonderful days, 1 glorious film." The Downton Abbey movie is set in 1927 and focuses on a visit by King George V and Queen Mary. Downton Abbey The Movie from Universal Pictures is available on digital download from 13th January 2020 as well as BLU-RAY & DVD from 27th January 2020 from Universal Pictures Home Entertainment.
Based on Carnival Films' Emmy® award-winning television series, the feature Downton Abbey sees the original cast return, alongside a host of newcomers. The incredible ensemble cast has been applauded by critics as "a sumptuous and satisfying banquet of intrigue, scandal, humour and heartache" (Chris Hunneysett, Daily Mirror). The film chronicles the Crawley family one year after the conclusion of the series, as they prepare for the most important moment of their lives: an impending visit from the Royal Family. Join the glitz, glamour and spectacle as the special visit unleashes scandal, romance and intrigue on the fan-favourite family and its staff members. Lauded as "full of glamour and British charm" (Danielle Southwood, Best) the film comes from the series screenwriter and producer Julian Fellowes, and producers Gareth Neame and Liz Trubridge.
Downton resumes its British aristocratic action in the fall of 1927, just shy of two years after the events of the series finale and makes no attempt to provide exposition or background to anyone who may be unfamiliar with the members of the Crawley family or the staff who serves them. It's a smart, efficient move, and appropriate for a work so fixated on politeness and protocol. Downton Abbey assumes you already know the rules of this society and therefore doesn't need to bother explaining them.
The movie opens with the arrival of a fateful letter from Buckingham Palace announcing that the royals will visit Downton, an occasion that will involve a parade and a dinner. (When you're the King and Queen of England, I guess it's completely fine to invite yourself over to other people's houses?) This news causes much excitement and stress among the downstairs staff, all of whom must determine how to feed and attend to the monarchs. That includes good 'ol Mrs. Patmore (Lesley Nicol), still in charge of the kitchen and working alongside the pleasantly contrary Daisy (Sophie McShera); ultra-practical head housekeeper Mrs. Carson (Phyllis Logan), formerly known as Mrs. Hughes; and Thomas Barrow (Rob James-Collier), who has taken over as butler in the wake of Carson's retirement.#
Story-wise, Downton Abbey reinvents no wheels, but that should be fine with loyal viewers. There is a comfort and a pleasure in simply being with these characters again and marinating in their lives, where everything seems very high stakes but, for the most part, isn't really. Plus, everything looks even more beautiful than it did on television. There are some stunning wide shots of leaves falling on the lush green of the Crawleys' estate and much more. Even the costumes, designed by Anna Robbins, who made the clothes such a signature of the series, pop off the screen with more texture and beading that sparkles a bit more brightly.
Downton Abbey, the series, has only been gone for a little more than three years. But that's just enough time to make its return very welcome, and to make this feel like the right moment to usher it back to our screens again. In summary, think of all the elements you adore about Downton Abbey and bundle into a packed two hours of splendidness. You'll laugh, you'll smile, and you'll possibly cry.
BLU-RAY & DVD BONUS FEATURES:
Deleted Scenes
Cast Conversations – Exclusive roundtable interviews with the cast.
Upstairs Cast
Downstairs Cast
The Royal Visit – A look at how the royal visit proved to be an ambitious event both on and behind the camera.
True to the Twenties – Fans of DOWNTON ABBEY are charmed by the sheer grandeur of the aristocracy in the early 20th century. Learn how DOWNTON ABBEY maintains a reputation of being true to the time period.
Welcome to Downton Abbey – A behind-the-scenes look at the grandeur of Highclere Castle and how it serves as a cornerstone in the Downton Abbey franchise.
The Brilliance of Julian Fellowes – Writer Julian Fellowes has created a story and beloved characters that resonate with people across the world. This piece celebrates Julian's brilliant creativity and reveals his approach to bringing Downton Abbey to the big screen.
Feature Commentary with Director Michael Engler
Watch the Official Downton Abbey trailer here: