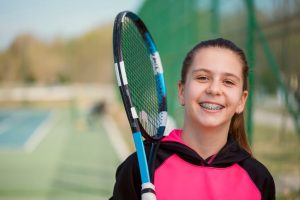 I am often chatting about the importance of sport and exercise with my friend, triple jump Olympic athlete, Michelle Robinson (nee Griffith). Last September, she was in Doha for the World Athletics Championships as part of her connection with Women's Sport – GiveMeSport. When I spoke to her on her return from Doha, she was still buzzing. She said it was an amazing experience.
Michelle is not competing these days, but she is as passionate about women and girls in sport today as she ever was. Instead of a hop, skip and a jump to victory these days, she instead gets to witness the next generation of athletes and talent coming through. An opportunity for her to learn more about where they've come from and how hard they've trained to compete at such an elite level, just as she had done.
In 2016, EY's sponsorship of the Rio Olympic games 2016 helped shine a spotlight on the role of sport in advancing women. But while it's important to celebrate the victories women are having as athletes, it's time to recognise how these victories on the field of play translate to success throughout their lives. Beyond sport. Because women's success in sport has a positive ripple effect throughout society.
EY research tells a surprising story.
They found that 94% of C-suite-level businesswomen played sport and over half at university level. How have we not known that statistic? 94%! That is virtually every woman that has made it to the top in business. Sports equipped them with skills which enabled them to be successful in the very long and hard journey to the top. Furthermore, Fortune estimates that 95 percent of its Fortune 500 CEOs played sports. While only 6 percent of Fortune 500 CEOs are women, the proportion of women CEOs who were athletes is similar—90 percent of them played sports at some point, and 54 percent played sports at the university level.
The world's most untapped pool of leadership talent
There is no question that the world needs more women in leadership. In all sectors — academic, government, business and in sports. And to get more women in leadership. So, could supporting girls to take up sport (of any kind) from a young age support this campaign? If, like me, you agree this could make a difference, here are two things I believe we should be doing: –
Invest in making sports available to girls. A great start is to encourage and inspire girls to find a sport they will enjoy. This was the passion behind why I co-created We are Girls in Sport alongside an equally passionate, Caroline Kings.
So what can success in sport help to teach women and girls?
How to be resilient leaders.
Sport teaches them how to set and exceed goals. To be hardworking and disciplined. It teaches them how to lose, but also know how to win. They know how to come back over and over.
These athletes become entrepreneurs.
Entrepreneurs see possibilities others don't. They have long-term vision and failure is not an option, so against long odds they work incredibly hard to achieve goals that others didn't see a path to. An entrepreneur's journey to building a business is not all that different from one of an athletes.
What's next?
Here, right in front of us, is our chance to make a difference.
Our We are Girls in Sport is a global to empower girls and women through sports. We want to help people to see that sport is a tool that works to build girls' self-esteem, strength and confidence. and grow this movement.
Think about what role you can play in teaching girls the benefit of sport. Maybe you can tell them about sporting experiences that shaped your childhood? After all, many us are role models to our next generation without even realising it.
If you are a parent, aunt or uncle, get a girl near and dear to you in sports and support her in every possible way. Even when society pressures her to drop out of sport at 4 times the rate of boys. We know that what she is learning on the field of play is equipping her with skills that will carry her very far in life.
Join our campaign by connecting with us on Instagram, Facebook or Twitter.
Please support us in our quest for change. For every girl. For every body.