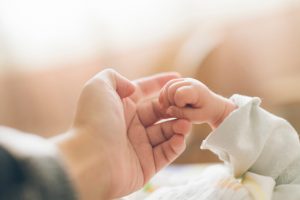 As well as all the unconditional love, sleep deprivation and nappy changes, being a parent often brings about a sense of overwhelming confusion. I'll be honest, things seem to have changed alot since I had my first baby a decade ago! So what exactly does the baby need in the first few months? There are some genuinely useful products and accessories out there, but equally, there are a-lot of items on the market you probably will not need. Many baby lists online will tell you what they can't 'live without' but how do you know what's a good buy and what is not? I am sharing with you my top ten products / buys and why they made the grade this time around.
1. Baby Stroller from BABYZEN
We sold our old stroller so we were searching for a new one. Things have changed since we had a toddler some six years ago, so this time around, we knew I wanted a stroller to be small, compact and lightweight – easy to manoeuvre.
After seeing a passenger on a flight neatly compact their stroller into the overhead cabin of the plane, we were fascinated. On closer inspection, we saw this was a brand called BABYZEN. This became our stroller of choice and we chose the YOYO+.
Specially designed for little passengers with a bassinet option for newborns that can be easily swapped with a comfy, reclining seat that can face forward or backward for bigger kids. Perfect. I purchased the YOYO+ stroller but received a press discount for sharing this on the blog.
https://www.babyzen.com/en/yoyo-plus
2. The White Company Products
It is hard not to fall in love with The White Company and to be honest, when the brochure arrives on my doorstep on a regular basis…I just want to order everything! I have worked with The White Company before and when they heard I was expecting a baby, they kindly gifted me some items.
The first item was this super handy bag for keeping all my baby essentials together. From nappies to wipes, muslins and creams, this beautifully soft, felt holdall has four compartments with an additional three pockets on the outside, front and back. Finished with two large handles so you can move and store in any room of the house and grab at a moment's notice. I can't wait to start using this.
https://www.thewhitecompany.com/uk/Dream-Felt-Storage-Bag/p/DFUSS?swatch=Grey
3. Etta Loves Oversized Muslins
The muslin is without doubt one of the most multifunctional items any parent can have in their armoury. I had seen the designs from Etta Loves online and thought they were particularly special because of the gorgeous patterns and designs.
I read on their website that the company Etta Loves was created to turn everyday essentials into sensory sensations, by using the science of what babies can and can't see to create clever and stunning patterns. The result is that babies are mesmerised and supported in their visual and cognitive development, whilst parents benefit from a priceless moment of calm.
These oversized muslins are perfect for swaddling, draped over our pram as a sunshield, as a towel and, of course, during feeding to mop up milk, puke and dribble. And the best part about these muslins?…they feel so super soft!
4. SnuzPod (Side by Side Crib)
Sleep is something we all cherish, but when you become a parent it can take on a whole new meaning! Co-sleeping cots and bedside cribs are becoming increasingly popular as they allow you to keep your baby close, while following safety guidelines to have your baby in a separate crib or cot. Effectively, you're lying next to your baby, but you're not sharing bed coverings.
The SnüzPod is surprisingly lightweight so it's a breeze to move around and set up, but also substantial and sturdy. The SnüzPod has won plenty of awards for its clever 3-in-1 design and is a favourite among new parents. It comes in slightly cheaper than the equally popular Chicco Next2Me Magic and can be used as a bedside or standalone crib, and as a rock-able bassinet. Suitable from birth to 6 months, the 9-height crib will attach safely to either a divan or framed bed thanks to a strong and secure attachment system and the fully zip-down side panel gives easy access for feeding and cuddles.
I am really happy with this product and can't wait to try it out. Contemporary, functional and beautiful the SnuzPod bedside crib was gifted to us from The Little Green Sheep.
https://www.snuz.co.uk/snuzpod3-bedside-crib/
5. Moses Basket from Little Green Sheep
A moses basket is a must have for any newborn and when I came across this stunning knitted moses basket from the Little Green Sheep, I knew it was the one. Part of their 'With Love' collection, this moses basket comes complete with a luxurious chemical-free Little Green Sheep mattress.
The natural palm leaf basket is perfect and light, making it easy to pick up and move around the home, whilst also being tougher and more durable than other Maize baskets. The organic cable knit liner is super soft and breathable, important to help air circulate and also keep little ones all cosy and snug.
This moses basket and mattress was gifted from The Little Green Sheep.
https://www.thelittlegreensheep.co.uk/natural-knitted-moses-basket-mattress-dove-grey/
6. Sleepyhead Pod from Sleepyhead of Sweden
Having never had one of these before, I had noticed they had become a popular product for new parents. Sleepyhead Deluxe is the original baby sleeping pod, the first to introduce the idea of creating a snug, portable, material surround for babies to sleep in.
The original concept behind the Sleepyhead was to create a cosy and soothing environment for babies to sleep in – the big idea was to recreate a womb-like experience. Cots and cot-beds look huge for little babies, and Sleepyheads are often used on top of cot mattresses to give a more snug place to put your baby to sleep; offering what we hope will be a cocoon of cosiness.
What is great about this product is that it can be used anywhere – next to a parent on a sofa, inside a cot and even on the floor in lieu of a cot. It's a super simple design – a loop of soft cushion on top of a slim but absorbent mattress, with straps at the bottom pulled tight for newborns and left unattached for bigger babies.
It takes up very little space and comes in a wide range of colours and designs, which are easy to remove for washing. This wasn't a gifted item but I managed to pick one up in the January 2020 sales to get the best value I could ahead of baby's arrival.
https://sleepyheadofsweden.com/collections/grand-pods?page=2

7. AVEENO® Baby Product Range
AVEENO® offers a complete line of baby skin care products to cleanse and moisturise baby's delicate skin, as well as treat diaper rash. AVEENO® products contain natural oatmeal and are specially formulated to provide daily care for baby's skin, and to soothe and relieve dry, itchy skin. And, they are gentle enough for newborns and babies with sensitive skin. Johnson & Johnson kindly gifted me a set of AVEENO® products in the lead up to baby's arrival.
AVEENO Baby Daily Care Cleansing Milk
This can be used instead the top and tail wash to clean baby's face, bottom and body. The cleansing milk isn't too runny and spreads well so you don't need as much as you would have thought.
AVEENO Baby Daily Care Hair and Body Wash
I love a product that means I have one product instead of two. Less cost and space-saving but it still needs to do its job too.
See all their products at www.aveeno.com/baby
8. Baby Bjorn Carrier
One of the best bits of kit any new parent can have in their armoury is the baby carrier. These come in various carnations – from wraps to slings to actual seats – but essentially, they all strap onto a parent or carer, enabling them a hands free experience while the baby sits tight, snugly and safely. Carriers also encourage bonding – your bodies are right next to each other and the baby's head should be close enough to kiss in a front carry position.
On closer online research, it would seem that you can spend hundreds of pounds on a baby carrier. In fact, the most expensive one I found was £500! I have always used a Baby Bjorn carrier with my other two children, so was keen to continue the tradition. The BabyBjörn Mini Carrier, I feel, is great value.
The first thing we noticed about this was the jersey fabric – soft, light and squashy to the touch. It is also light and small – the ideal first carrier, suitable for babies up to a year old. When facing inwards, the baby's head is supported by the main body of the carrier, but, should you want him or her to face outwards this part folds down so as to not obstruct the view! We loved the flatness of the straps on the back because it makes it easy to wear underneath coats or jackets.
https://www.johnlewis.com/babybj-rn-mini-carrier-dark-grey/p3697792?sku=237548908&s_ppc=2dx92700046625835774&tmad=c&tmcampid=2&gclid=EAIaIQobChMI99uo9ZS65wIVjbHtCh0x2AlXEAQYAiABEgJapPD_BwE&gclsrc=aw.ds

9. Swoon Motion Baby Swing from Babymoov
We know that in the early days the babies just want to be attached to us but there will be moments when you simply want moments to yourself when the baby isn't physically attached to you. In those instances, a baby rocker is a must-have. And if there's one thing that I wish I had from day one with Baby Girl it's the Swoon Motion from Babymoov.
Although there was mixed reviews on this product online, I heard good feedback from a friend who recently had a baby, so thought we would give it a go. The Swoon Motion rocks from side to side and has various music settings so it can play lullabies at the same time. The Swoon Motion is a safe, comfortable place for her to go and it may even have the added bonus of helping your baby get to sleep at the same time.
I personally liked the fact that the swing is nice and high. There are two rocking modes, backwards and forwards and sideways. Fingers crossed these relaxing motions will perhaps help settle the baby to sleep on his/her own! I am really hoping this product will come in handy for the busy after school period and when I am trying to cook their tea! Boasting lots of functions including a number of movements and melodies, fingers crossed this product lives up to its reputation!
https://www.babymoov.co.uk/toddler-bouncers-swings/66-swoon-motion-3661276142688.html
10. Tommee Tippee Micro-Steam Microwave Steriliser
Micro-steam Microwave Steriliser gives you a quick, easy and portable way to protect your baby's tummy from harmful bacteria. A stress free way to sterilise your baby bottles in just a 4-minute sterilising phase.
When the cycle is finished either remove bottles and accessories, or leave the lid closed, and the contents will remain sterile for up to 24 hours. 100% natural steam envelopes every surface and kills 99.9% of harmful germs, so your baby's tiny tummy is always protected, wherever you are.
https://www.johnlewis.com/tommee-tippee-closer-to-nature-microwave-steriliser/p2529363?s_ppc=1dxDSA-CWEAR-PP39700045867779877&tmad=c&tmcampid=1&gclid=EAIaIQobChMI1dWfxpa65wIVSrTtCh3k4wxBEAAYAiAAEgK5sfD_BwE&gclsrc=aw.ds