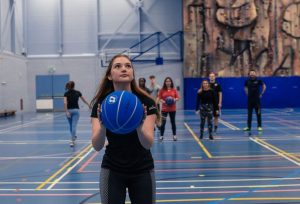 Our daughter has always loved sport. Making the team has always been important to her. She is a good 'all round' player and a motivated teammate. However, on occasions where she has been bumped from one team to another, it has sometimes knocked her confidence. What was she doing wrong? Was she not improving? Despite my efforts to tell her not to worry or take it personally, I think often…she did.
I told her to keep working hard in training and that perhaps the coach would take notice. But when that didn't happen, I suggested she talk more to her coach or teacher to further build the relationship. I explained that I thought she should ask her coach what she can do to improve her game or offer suggestions, but my daughter was reluctant to do so. She often she felt too shy to ask, despite being a confident girl. So, what was holding her back? A fear of failure?
This made me think about the differences but equally, the similarities between what is essentially a team game but also one that benefits from focusing on the confidence and performance of individuals. I have always told my daughter that "there is no 'I' in team" but on other hand, how do we encourage our girls to be strong to speak up for themselves in order to improve their personal game?
Speaking up doesn't always feel like the right thing to do and our job, as parents is to support our girls in teaching them to determine when it's appropriate. If your daughter is upset, assess the situation and ask why they are unhappy. Sometimes the answer is simple. If she is upset about a grade or their performance at school, they could meet with the teacher to gain feedback. The teacher might be able to suggest a new study technique for the next test.
For our daughter, when it comes to sport, I explained to her that she needs to be both a "team player" and an advocate for herself. Speaking up to a coach or teacher to ask, 'what do I need to do to improve?' shows a willingness to work hard, not just for oneself, but also for the good of the team."
A critical mistake parents make is advocating on behalf of their child, rather than allowing the child to speak up. Parents may feel it's their responsibility to step in and help (I agree that sometimes it is necessary), especially if their child is shy or has trouble expressing themselves. There has been a few occasions where I have had to push my daughter out of her comfort zone to talk to her teacher herself. Naturally, the easy option is for me to step in. Often, it is so hard not to; but, some experts say that by doing so, we can be robbing our kids of valuable lessons in self-advocacy and that it doesn't help them build their confidence. Furthermore, some experts say children as young as 3 years old can learn to speak up for themselves if they are given a safe and trusting place to develop these skills.
Teaching your child how to advocate effectively
Remind them to speak calmly and assertively
Look the person in the eye
Stand tall, with good posture
Ask the right questions to gain the feedback you want – If you don't believe what you are saying or asking, neither will the person you are addressing
Respect the teachers/coach feedback
Parents can also teach self-advocacy by setting a good example. Suppose you are in a restaurant and your meal is incorrect. Are you rude to the waiter, do you say nothing and just not eat, or do you politely ask for the correct dish? Kids emulate their parents' behaviour, so it is critical to be a positive role model. Finally, it's important to teach kids that even the most effective advocating does not always yield the desired result. In my personal opinion, I think it is important to respect the teachers or coach's feedback. Take the time to digest the feedback, taking the positive and negative points to reflect on over time.
It took weeks before my daughter self-generated the inner confidence to chat to the coach. At ten years old, there will be so much more of this to come but I am proud of her for being assertive and coming out of her comfort zone.
Hard work and a positive attitude are important here as well as finding the inner confidence to speak up for yourself when it feels like the right thing to do. By helping our children learn how to do that from a young age, we can give them a better chance to achieve their future goals.