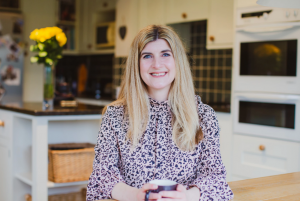 In today's interview, I had the pleasure of chatting to Katie Malkinson. Katie is the founder of Little Big Sports. A website that sells age specific sports equipment specially designed for children under the age of 12. The equipment they sell allows children to enjoy sport and develop the skills of the game without wielding a cricket bat they can't lift, kicking a football that is too heavy or trying to reach a tennis ball that bounces over their heads. With the ultimate goal of helping make sport a normal and fun part of their lives.
In these unprecedented times with millions of us spending time in our gardens, Little Big Sports has been extremely busy with orders! Katie and her team are working extremely hard to deliver sports equipment to your homes and I've just placed an order myself! A rugby kicking tee, netball, cricket net and table tennis set to use on our dining room table. I think we are officially set up for summer!
1. Katie, please start by telling us a little more about yourself?
I'm a business owner, a wife, a mother of two and a runner living in the same village I grew up in. Before children, I travelled the world and had a successful career in advertising but the draw back to Kent was strong. It was the best decision, as not only do I love being surrounded by countryside but being away from London coupled with the desire for work flexibility meant I resigned from my corporate job and set up Little Big Sports.
2. What was your motivation behind starting Little Big Sports?
My son was the inspiration behind the business. Obsessed by cricket from a young age, he was bought a cricket bat that he could hardly lift, let alone hit a ball with. Rather than continue to try and play with it he put it down and wandered off to do something unrelated. I couldn't believe it. It sparked an idea. For sport to become a fun and normal part of a child's life as well as allowing them to develop their skills it was obviously important for them to play with equipment that was suited to their age and size; rather than kicking a size 5 football which would hurt their foot or playing tennis with a normal tennis ball that bounces over their head. However, it was hard to know what to buy online, little advice was given by retailers regarding age suitability and customer service was generally poor. The seed was planted. Lots of hard work followed resulting in the launch of www.littlebigsports.co.uk nearly ten years ago!
3. Tell us about any challenges you faced when starting your business
I didn't have any money to invest in the business which was rather challenging to say the least! The first major hurdle was website development. Although I worked in advertising pre children I didn't have any technical digital knowledge but with the help of a handbook I built the website myself (with some help from my husband).
The second was persuading sports equipment manufacturers to send out products on my behalf hence negating the need to initially invest in stock. Surprisingly this wasn't difficult as most manufacturers seemed to relate to the story behind why I was setting up the business and agreed there was a gap in the market.
The third and most challenging was balancing being a mum to two young children with very limited childcare with the demands of launching a business from scratch and freelancing to earn some income to help make ends meet.
4. I know you are an avid ambassador for promoting children to get active and find a sport they enjoy. Where does your passion come from?
I grew up in a family surrounded by sport. My summers were spent at the cricket club. The winters at the hockey club. Test Match Special was the soundtrack to my childhood. Hockey and tennis were the sports I played socially and competitively when I was younger but I tried many others. It wasn't until after I had my children that I discovered a love of running. All of these sporting experiences have been hugely positive and shaped my life. The physical and mental benefits are well documented but sport has given me so much more than that; friendship, exhilaration, a sense of achievement, escapism, joy as well as many fun days and nights out. I really can't imagine life without it.
5. What more can parents do to get their children more active outdoors? Especially for those who feel they don't have very naturally sporty kids?
Embrace being outdoors and make it a normal part of your life. Be a role model to your children. You don't have to play competitive sport; taking part in the hugely inclusive park run, going for a cycle or a family walk are as important. Talk about the positives that being active brings to your life and encourage your child to join you.
I have a very sporty, competitive son so the challenge with him is to fit it all in to his hectic week! My daughter is the happiest most sociable person I know, but with no particular interest in sport. She joins me at park run from time to time and loves cycling. I have encouraged her to try a whole range of sports. Most she has not been interested in but over time I have realised that the environment is the most important factor for her. She needs it to be relaxed and friendly, predominantly female, with time built in for a chat. Adding an element of sociability has made a huge difference to her enjoyment and willingness to return.
So, in addition to being a role model, I would encourage you to not only think about which sport/activity would be of interest to your child but also what is the best environment for them enjoyment wise. There are so many opportunities out there. Encourage them to try as many as possible with the emphasis on enjoyment and being active will become an engrained, established part of their life.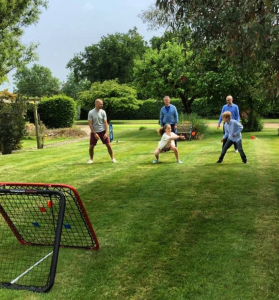 6. We see a huge drop off in girls in sport from teenager years onwards. What can we do to try and support more girls to carry on playing sport or find a sport that suits them?
I strongly believe that if more girls were encouraged to whole heartedly embrace different types of sport and activity during the primary school years, then more would continue to play during their teenage years. Not only would there be a positive association with sport, it would be embedded in their lives . Crucially the bigger base would mean that they would be surrounded by more like minded girls as teenagers which would help with engagement and reduce drop off.
So as parents, as well as acting as role models, we should encourage our girls to try all sorts of sporting opportunities from a young age. Whilst recognising that girls often need different environments from boys to flourish. As I mentioned before the social aspect for my daughter is important. There was no way she was going to try football in a predominantly male environment but an all girls team gave her the opportunity to learn new skills, make new friends and enjoy football in a relaxed and non competitive way.
7. What advice would you give to someone who wants to start their own business?
If the business is based on a robust idea and is scalable then go for it! I think it is incredible that anyone can start a business from their kitchen table. Be prepared to work the hardest you have ever worked. Keep your costs low. Test and learn.
8. I see from your Instagram feed that you have been taking part in RED January to support mental health by getting active every day. Well done! How has RED January helped you and how can we inspire others to get outdoors more for their own mental health?
I loved being part of Red January even on the coldest and wettest of days. I am goal driven so I love a challenge but the main motivator was being part of an online community who were supporting each other and trying the new sports and activities facilitated by West Kent Mind. Red January kickstarted my fitness and genuinely made January an easier and happier month.
I would encourage others to prioritise exercise and being outside even when it feels like the last thing you want to do. Involving someone else always helps with motivation. So I would suggest that making a commitment with a friend to go walking with every week or joining a running or walking club will help you keep on track and before you know it you will have established a healthy exercise habit.
9. What is the best advice you've ever been given?
Be brave and believe in yourself.
10. And finally, I have to ask, what is your favourite sport?
You might have guessed by now?! It's cricket. Most definitely cricket. I love everything about It so I am delighted that my daughter is going to give cricket a try this summer. If you can't beat them, join them!