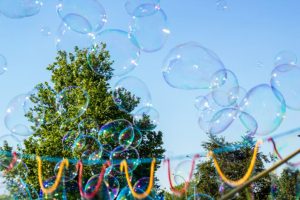 Many of us would agree that the importance of reading for children should not be underestimated. Numerous studies will tell you that reading for pleasure can benefit a child's education, social and cognitive development, their wellbeing, and their mental health. But, it's not just that. Reading is an amazing way to let children's imaginations grow. Books allow us to be transported from our own world to another. Between the pages of a book, we can become immersed in the lives of fictional characters and learn about environments entirely different from our own, even ones in space!
Puffin, the world's largest children's book publisher, has announced it is celebrating its 80th birthday by launching a week-long children's book festival next month and I am delighted to support their campaign to spread the word.
The Puffin Festival of Big Dreams, in partnership with Waterstones, will run from June 8 to 14 and will bring together celebrated authors and illustrators including Jacqueline Wilson, Robin Stevens, Nick Sharratt, Dapo Adeola, Nathan Bryon and Nadia Shireen, to inspire children to keep on dreaming. The festival events will be hosted on Puffin's YouTube and Facebook channels with an all-star line-up of authors, illustrators, and special guests who will be running writing masterclasses, draw-alongs and setting creative.
The festival will be hosted by former Blue Peter presenter Radzi Chinyanganya and there will also be a special guest appearance from some real-life puffins who reside on Coquet Island seabird sanctuary. The full line-up and programme will be announced shortly. Each day, Radzi will take audiences on a journey through Puffin's magical 80-year history, revisiting an assortment of beloved stories and characters, past and present.
You can also expect exclusive sneak peeks and snippets from The Puffin Book of Big Dreams, which is publishing on 3rd September 2020. Bursting with over 40 new and sparkling stories, poems and illustrations by a variety of Puffin authors and illustrators to spark imaginations.
Nick Sharratt will be the festival's Illustrator in Residence for the week. Throughout the festival, children will be asked to submit their own big dreams online using the hashtag #PuffinDreamer for Nick to illustrate, creating a collage of children's dreams to celebrate the power of imagination even during the most challenging times.
Jacqueline Wilson says: 'Like so many authors and illustrators, I'm really sad that all the school visits, bookshop events and literary festivals have been cancelled. I'm missing sharing stories and chatting to children, so I'm delighted to be able to take part in the Puffin Festival of Big Dreams so we can reach out to everyone at home or school and share the magic of stories.'
Every weekday from 8 to 12 June, families will be able to enjoy two new videos from Puffin's star-studded line-up, which will culminate in a live, interactive extravaganza the weekend of 13 and 14 June. Each event will be themed around dreams, be they bold, brave or wild, and the events will take story time to the next level.
Puffin are also collaborating with National Book Tokens on a National Book Tokens & Puffin Big Dreamers Writing Competition in the run-up to the festival. To take part, children aged 6 to 18 are invited to write a 300- word short story inspired by their big dreams for the chance to win National Book Tokens. The competition will be judged by Puffin authors: Nathan Bryon, Yassmin Abdel-Magied, Sam Copeland, Robin Stevens, Emma Smith- Barton and Carrie Hope Fletcher with winners being revealed during the festival.
This festival sounds fantastic and we'll definitely be joining in the fun. We know that reading, enjoying stories and freeing our imaginations is an important part of childhood. So, join in the festival and dream big with Puffin.
Find out more at www.puffin.co.uk/DreamBig