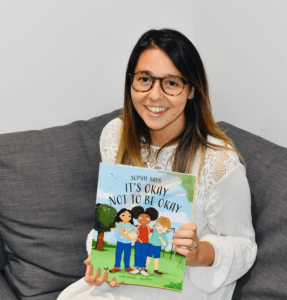 In this week's blog, I interviewed author, Esther Marshall on her collection of children's books on mental wellbeing. Did you know that children's social awareness and emotions can develop from as early as eighteen months old?Therefore, encouraging children to open up and talk about their emotions from a young age is really important; giving them a safe space to talk about their feelings. During this pandemic, we have recognised that there has never been a more important time to speak to our children about feelings and the importance of mental health, which is why I was delighted to talk to Esther on her inspiration behind the books. 'Sophie Says It's Okay Not To Be Okay' is the perfect toolkit for parents and caregivers to explain feelings and the key message that it's okay not to be okay. I hope you enjoy this interview as much as I did.
1. Esther, please could you tell us more about yourself?
Hello, thank you so much giving me this platform to talk about the Sophie Says series of children's books which aim to make life's most important lessons fun to learn. I am Esther and I am a first-time mum to little Asher who is now 2. I am the founder of a charity called sTandTall which aims to help anyone who has been through abuse and bullying get back on their feet and sTandTall again. I am a keen advocate for equal rights and equal opportunities and have a passion for Diversity and Inclusion which is my day to day job.
2. Congratulations on your brilliant book, 'it's okay not to be okay'. What was the inspiration behind the book and what do you hope children will get from it?
The most recent Sophie Says Book which was released on 10th October in line with World Mental health day is called Sophie Says It's Okay Not To Be Okay.
The Book follows Sophie and her friends Jordyn, Jamie and, of course Bunny, on their journey through Jamie's feelings. The inspiration behind it was tragically at the beginning of this year, I tragically lost my younger sister when she ended her battle with mental illness. Sophie Says It's Okay Not To Be Okay was written as my way of healing, with the book poignantly dedicated to my sister. I so desperately want the next generation to understand the importance of looking after their mental health and speaking about their feelings.
3. What age range are your books aimed at and what is your top tip for encouraging busy parents to find a few minutes to read to their children every evening?
The book is aimed at children aged 2-8 and teaches them the importance of caring for their mental health, and the mental health of others in a creative and authentic way, as well as encouraging open discussions about wellbeing between parents and children. My top tip would be that there is always time but to have a place that becomes the reading corner. I have a chair with my son so he knows that when he sits there or when I sit there we read a book. Finding a comfy safe small place where you can read a 5 minute story and can just become part of the bedtime routine.
4. What is your best advice for supporting children in helping them to navigate their big feelings?
The first most important part I find is for them to feel safe. So whether that's saying to children when you have your teddy or your blanky or a specific place this is where we can talk about feelings and its okay to talk about them. If a child gets used to that they will start to find it easier to associate the item/place as the comfort and safety, they need to talk about how they are feeling.
5. Can you tell us more about your other book 'I Can, I Will' which has had such a positive message on diversity and inclusion?
Of course, Sophie Says I Can I Will is the first book in the Sophie Says children's book series which tells the story of a young girl who is so excited about the possibilities of her future that she leaps out of bed to share all of her ideas with her parents. Written to inspire other young girls and boys about the direction their lives might take them whilst tackling stereotypes head on by showcasing incredible women in a whole host of roles, Sophie Says I Can I Will is a powerful and uplifting story of empowerment. The aim – to allow boys and girls to achieve their dreams regardless of gender, race, religion or class.
I wrote the book in response to a feeling I had whilst reading bedtime stories to my son. In most of the stories I was reading there were not any strong female protagonists. I want my son to grow up understanding that both boys and girls can grow up to become anything they want, regardless of gender. I decided if I couldn't find enough of the stories I wanted to read to my child, I'd better write one myself!"
6. Your book 'I Can, I Will' was championed by the Duke and Duchess of Sussex; as well as being supported by the Queen's Commonwealth Trust. Please can you tell us more?
The Duke and Duchess of Sussex are President and Vice President of the Queens commonwealth trust which help young leaders create positive social change in the world and brings them altogether to form an amazing network. The Duke and Duchess wanted to meet young leaders who were working on tackling gender equality and mental health and I was lucky enough to go to Buckingham Palace and meet with them and tell them about Sophie Says and gift Archie a copy! It was an amazing experience!
7. What's next in the series of 'Sophie Says'?
I am busy writing the next book in the series and we are bringing out a colouring/sticker book about Sophie and her friends, but they have a difference. It is a colouring book which encourages children to talk about their feelings through drawing and also encourages children to dream about all the different things they want to do when they are older – the perfect stocking filler for the festive holiday period!
SOPHIE SAYS IT'S OKAY NOT TO BE OKAY IS OUT NOW AND CAN BE ORDERED HERE