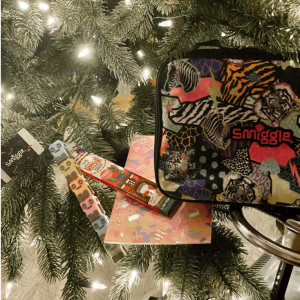 Smiggle is here to help you choose some Christmas gifts or stocking fillers to make your Christmas a little brighter. We are big Smiggle fans and they recently sent us a batch of goodies to review, which are all available both online and in their UK Smiggle stores.
With Christmas just around the corner (literally), I wanted to give you a round up of smart gift ideas for your little ones! From bigger gifts to brilliant little gifts from under £5 each; Smiggle has done well to give you the widest choice they can for a budget you can trust.
From kids' stationery, kids tech accessories, food and drink accessories to jewellery and beyond, your kids and their friends are bound to find something they love from Smiggle. Everything is available to buy online so you don't need to worry about the crowds so you can stay safe during this very unusual year.
I personally love the smaller gifts, as when I was younger, it was all about the scented pens and rubbers rather than the bigger gifts! Scratch and sniff stickers were my childhood and Smiggle's range of scented cookie dough pens bring back so many fond memories for me! When you walk into any Smiggle store you are often met with an array of pens and pencils which is my favourite part of the store! When I browsed online, I loves the cola pencils with an interchangeable eraser and equally, I love the multi coloured stacked highlighter set!
In summary, Smiggle is all about helping you to choose items you love rather than choosing things that clutter the house or end up in the landfill. Smiggle is great for lunch boxes and bottles and of course pencil cases. There's always a great range of these in Smiggle sales so we hope we can inspire you to find something your child will love. From funky backpacks to multi-compartment pencil cases and writing gear in every shade possible, there is something for everyone.
Smiggle has up to 60% off on their Top 50 gifts which ends on Thursday 17th December 2020! Click here to see more – https://www.smiggle.co.uk/shop/en/smiggleuk/gifts
You can find out more at www.smiggle.co.uk.
Disclosure: I was invited to receive a gift selection from Smiggle in exchange for coverage on my social platforms. We were not asked to write a post, but being a stationery addict I couldn't resist. All thoughts and opinions are our own.