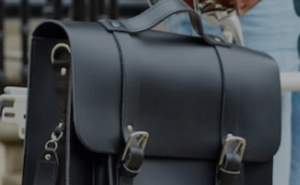 In this week's blog, I had the pleasure of interviewing Catherine Ellis, owner and founder of Hill & Ellis. In these challenging times, it is great to be speaking to entrepreneurs who are working hard to make changes and build a brilliant business at the time.
Keen cyclist Catherine found a gap in the market for stylish and functional cycle bags which customers will love. The bags created by Hill & Ellis are designed as panniers or saddle bags so you can take the bag off your back and let the bike carry the load, which we believe makes for a more enjoyable cycling experience.
They work with artisans in the UK and across the globe to manufacture their bags, and all are handmade, hand-embossed, small batch produced, and individually checked. Hill & Ellis pride themselves in using only the finest quality materials to produce pieces designed that their customers could cherish for a lifetime.
Catherine, tell us more about why you started the business?
It all started when I spotted a gap in the marketplace. As a frustrated consumer, I was cycling into London every day for the last fifteen years and I cycled at University too. Cycling into work every day really made me think about the practical side of carrying a bike bag. I felt that many bike bags on the market where a plain, black PVC design which were uninspiring to buy. I saw that there was a possibility to design a bike bag which had a bit of style. I knew that people wanted it because I knew that there were lots of people like me who were using cycling as their main form of transport. We weren't racing across the city we just were pedalling into work.
I had a few back problems in my life, so backpacks are something I try and avoid. If you've got a bike, I always just think you may as well use a bag which makes the bike carry your load instead. It is much nicer to cycle with a pannier bags and as soon as I started do that, I never really went back.
The problem with panniers at the time were, and even now is that they are great on the bike, brilliant on the bike but they're actually really uncomfortable to carry as soon as you take it off the bike. I wanted to create something that both fits cycling into your life and equally looks smart and stylish doing into work.
How did you start designing your bags?
I have always been creative I went to art college; I went to St Martins in London. When creating my designs, I came up with some sketches. I was working with a manufacturing company who have a great sampling team. When I was working with then, they come up with the best way of where the stitches are, where the seams are and the overall shape of the bag. So, I started with some rough sketches and I made a mock-up, which basically gave them an idea and a scale of what where the seams are and the overall shape and design. The first collection was four bags and based on classic bag designs. My first designs were quite retro! Since then, I have brought in more colour and really bringing that collection to life.
I have been pleased how well received my bright and bold my collection has been. I knew a few people would like them, but I wasn't sure if they would sell really well, but they have! People have loved the bright yellow and grey. I remember the moment when I was trying to put that combination together and actually it feels sort of strange, because now, yellow and grey is quite a common combination but at the time it really wasn't anywhere! It is quite a nerve racking experience to put your money down onto the cost of all the leathers and just pray it sells well. I am so pleased my bags have now been featured in British Vogue!
Tell me more about sustainability within your product range?
We moved the product to be plastic free, so we're basically putting that across from all our suppliers to us, which is always a work in progress. However, we are totally committed to it. It is quite hard to get our suppliers to not put plastic tape in the box, but I would say we are 90% there now. We have got these covers which are brilliant. They are not just compostable, but they reduce them to liquid by putting hot water in them so they literary go to liquid without any micro-plastic or anything. It's so amazing, it doesn't pollute the recycling or the compost which is what some compostable covers do.
We are working with a factory in Portugal for some fabrics for some bags in recycled plastics bottles. We are also working with some other companies in Portugal and the Netherlands which have eco-friendly coating. It's quite hard to get the right coating for water repellence usually quite chemically and PVC is quite unforgiving for the planet. Out last collection had a cotton canvas with a silicon coating which we used after speaking to a couple of members of Greenpeace who said a silicon coating was the best way to go. Technologies are incredible at the moment and they really are developing. We are just trying to keep our finger on the pulse and make sure all the best coatings are available so we can just keep improving our products every single day.
Perhaps in this pandemic, we have seen that there has never been a more important time to get outside and exercise. Catherine hopes she can encourage more people to get on their bicycles and enjoy the freedom that cycling brings; just as she does. With a Hills and Ellis bag on the back of course…
Find out more about Hill & Ellis by visiting their website.
Photo credit: Hill & Ellis. All views and opinions are my own.