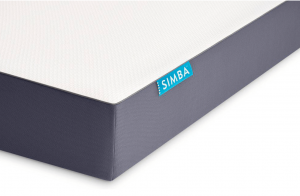 Gone are the days when I thought staying up all night with friends was cool. Now, getting more shut eye has become the ultimate goal in our household. Everyone loves to talk about how much sleep they either have or haven't had. Especially as parents, sleep now seems to encompass everything!
But all joking aside, sleep is incredibly important and evidence regularly tells us that a good night's rest is essential for health, happiness and success. And not only that, but we have been become a nation obsessed with getting the quality of our slumber nights right. It's not just about the sleep, it is the preparation involved in getting a good nights' sleep. The duvet, the right pillows and of course, the mattress.
I fear I may have undervalued the importance of a good mattress. It just seemed like one of those 'necessary' items that I genuinely hardly gave any thought. We had been overdue a new mattress for some time but sourcing a new one just seemed like hard work.
With so much choice out there, how would someone go about choose the right one? Could a new mattress be one of the most important items we would bring into our home for a while? I had put off going to the furniture shops to look at mattresses. It didn't sound like an exciting task. I also didn't want to be that awkward person lying on a mattress in a furniture shop. It feels abit weird, right? Surely buying it online would save the in-store mattress testing awkwardness.
There has been a real boom in mattress sales over the last year. In fact, sales of mattresses and beds rose by 4.5 per cent last year, according to the International Sleep Products Association. We're investing more time and money, than ever on luxurious bedding and calming bedroom furniture in a quest for the ultimate slumber time.
Traditionally, the most popular type of mattress has been pocket sprung, in which the springs are sewn into individual fabric pockets. But foam and latex mattresses – whether pure foam or latex, memory foam or a hybrid – are catching up fast, with many of the "new generation" ones arriving in a surprisingly small box, inside which they've been vacuum packed. So, when our friend suggested that their new Simba Hybrid® mattress had arrived in a box, I did raise an eyebrow. How was this possible?
How could a memory foam mattress enhance our sleep? The only way was to try it for ourselves. We contacted Simba Sleep and voilà – it arrived the next working day. Our mattress arrived in a large, cardboard box. We removed the protective plastic from the mattress and laid it on the bed. It started to fluff up almost instantly, although it takes around four hours for the Simba mattress to fully regain its air and overnight, it goes to full capacity (it's like magic, I promise!).
There were a few stand out reasons why we chose the Simba Hybrid® mattress. Firstly, as they have a 100-night trial and 10-year guarantee – is undoubtedly a key selling point. Secondly, I was reading on furniturenews.net, that Simba Sleep recently commissioned independent research that studied sleepers' experiences on its mattresses alongside two key rivals, Eve and Casper. The results were encouraging: Simba Hybrid® mattress sleepers enjoyed an extra 21 minutes of sleep a night than those on the nearest rival (equating to around 16 extra nights' sleep a year). Simba mattresses recorded the most owners who would buy one again, and none who said they wouldn't; and 83% of sleepers preferred Simba to their previous mattress, compared to 75% and 67% for its rivals.
Two weeks in and we are sleeping like lions. I won't say sleeping like a baby, as we all know that they rarely sleep! I was reading (the power of Google) of how after a large meal, lions like to sleep for up to 24 hours – talk about catnap!
It took me about seven days to adjust to the slightly firmer mattress but now it feels as if the mattress has moulded and cocooned to my body's natural curve in no way our previous mattress ever did. This could be thanks to the Simba Hybrid® unique combination of 2,500 conical pocket springs and responsive memory foam.
Have you ever fallen in love with a mattress? If you buy a Simba Sleep Hybrid® mattress, you will.
BUY A SIMBA HYBRID® MATTRESS (any size)
Note: The Simba Hybrid mattress is available in a range of sizes: the UK standards for single, small double, double, king and super king, as well as the EU standards for small single, single, double, large double, queen and Emperor.
For more information, visit Simba Sleep