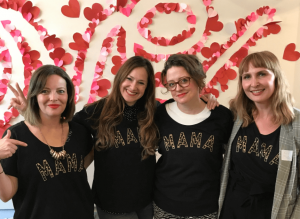 International Women's Day on March 8 was marked by both inspirational moments and a clear message that we still have a lot to do. The ongoing discussion of the gender pay gap, the 'me too' and the 'times up' campaigns. Women are still fighting for support, equality and finding their voice. But when we come together to share stories, empower and inspire each other, like we did on Thursday, it feels like movement. A time of change.
I recently had the pleasure of attending the exclusive launch event for the new Selfish Mother range with Giovanna Fletcher in support for mothers2mothers. I am huge fan of Molly Gunn (AKA Selfish Mother). She's achieved a tremendous amount since we first met in June 2016. It was a fantastic event and a great opportunity to celebrate women, kindness and motherhood.
As we came together to support this campaign, we learnt what 'rural activist' means through a conversation with Emma France, the global development and strategic engagement director of Africa-based NGO mothers2mothers.
Today, I wanted to use my social platform to celebrate the women who fit that description this International Women's Day.
Operating in countries such as Kenya, Malawi, Swaziland, Uganda and Zambia, mothers2mothers is a global leader in the efforts to end paediatric AIDS. In sub-Saharan Africa, 200 babies are infected with HIV every day and most of them contract the virus from their mothers during pregnachaincy, childbirth and breastfeeding. With modern medicine and antiretroviral drugs, as mothers2mothers points out, this is entirely preventable. But healthcare services in these countries are so dire (Africa has 3% of the world's health workers but suffers 25% of the global burden of disease) that doctors and nurses only have a few minutes to give a woman her HIV diagnosis and explain all of the treatments, drugs and tests she must undertake in order to stay healthy. Add to those rushed, anxious moments the stigma of a woman taking an HIV diagnosis home to her rural community, and it's easy to see why many women don't return for the treatment they need to protect themselves and their future children.
Mothers2mothers train, employ, and empower local mothers living with HIV, called Mentor Mothers, as frontline healthcare workers in understaffed health centres and within communities. The work they are doing is truly incredible. In fact – life-changing. Mentor Mothers' understand the social and cultural challenges of living with HIV gives them a unique ability to form trusted relationships with other women, vital to helping them overcome their fears and make lifesaving decisions.
The mothers2mother's Annual Evaluation 2016 shows that their programme has contributed to the virtual elimination of mother-to-child transmission of HIV among their enrolled clients for three years in a row, with an average transmission rate of 1.6%.
When I met with Emma France again on Wednesday night at an event called 'What She Said' in London, she told me about her recent trip to Cape Town. Like many mothers, Emma is juggling her work aswell as being a mother of three children. Emma spoke frankly about how wonderful it is to celebrate the achievement of women both past and present for International Women's Day. However, she was sensitive in explaining how she wants us all to remember that some women still don't have access to basic healthcare. They must sacrifice food for days to try and pay for a motorbike to take them the five hours to get to the nearest hospital to deliver their baby. This is why I wanted celebrate mothers2mothers for Mothers Day.
Every time I hear Emma speak at one of these events, her passion and determination to bring change for these women is awe-inspiring. I can honestly say that it's difficult to get through one of Emma's talks on this topic without a huge lump in your throat. I dare you to try. I approached Emma and asked her what I can do to help. We agreed three ways that I could help to support this charity.
The first thing I said I could do was to write about this and spread the word, which is what I am doing. Through the power of social media, we can educate more people to know about the fantastic work undertaken by mothers2mothers.
Secondly, you can please buy one of the new MAMA t-shirts or jumpers as part of a special collaboration with Giovanna Fletcher. 50% from the sale of this design goes to Mothers2Mothers. The MAMA Stars 'Boyfriend' Sweatshirt is a super stylish 85% organic cotton sweatshirt in Black, featuring their MAMA design across the chest in a Gold Stars print. Giovanna Fletcher says: "I'm thrilled to be collaborating on a new jumper design with Selfish Mother in support of mothers2mothers. Selfish Mother are a wonderful brand who I admire, and mothers2mothers a truly inspiring charity."
Thirdly, whilst many of us are preparing to celebrate Mother's Day this Sunday, perhaps you could think about making a Mother's Day pledge? Fancy rallying your wonder women together (mothers, sisters, friends) for tea and cake? Fund-raise from the comfort of your home and help the wonderful work by m2m? This is what I will be doing!
Have a wonderful Mothering Sunday everyone.