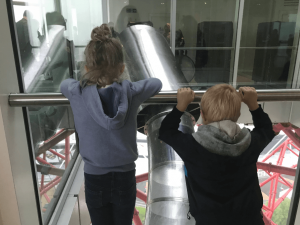 If you're anything like me, I absolutely loved the Olympic Games in London 2012. The games landed and hit the country like an extra-strength dose of a mood-enhancing drug. There's not many occasions I can think of when people talk to strangers on the underground, but the energy was uplifting around that period, we spoke to strangers like friends.
But the Games in London was six years ago and I hadn't been back to the Queen Elizabeth Olympic Park since then. Why had we not been back? Especially as we only live an hour outside London. Scandalous! The Queen Elizabeth Olympic Park re-generated one of London's boroughs like never before. The games may have come and gone but the Queen Elizabeth Olympic Park is filled with green spaces which are open to the public, where landscaped gardens are filled with wildflowers and wetlands provide new habitats for birds and insects.
There's so many great reasons to come back, it's hard to know where to start. Whether you're travelling solo or with the family, this place is jam packed with activities and attractions will help you experience the magic of the Olympics.
Here are some of things that we did: –
London Stadium
Not to be missed, we had a fantastic opportunity to explore the world famous London Stadium. I watched as the children's' jaws almost dropped to the floor as they took in the wonder of the Stadium, now home to West Ham.
Both my children are big football fans and although they don't support West Ham, they thoroughly enjoyed going behind the scenes to snoop in the home dressing room, experience that magical walk down the tunnel out onto the pitch, and see the Stadium through the eyes of Premier League football players. What a treat!
ArcelorMittal Orbit
Next up was to the ArcelorMittal Orbit. There are two viewing platforms, so we went up to take a look. The winding metal structure is a work of art has a slide that circles 12 times around it. An exhilarating experience, it is fast and furious, taking only 34-40 seconds to reach the bottom.
My eight-year-old daughter who met the height and age criteria of the slide was undecided on whether she wanted to do it. Was she brave enough to take on the challenge? I told her it was her decision and just at the last moment she said. "I'm doing it!" and while we waited for her to appear at the bottom (she waited her turn with a female friend, an adult who was supervising for me at the top). Shortly afterwards, we heard her little screams as she whirled around the speedy bends of the Orbit.
Unsure of whether I had made the right decision to send her down it, soon enough she appeared from the tube slide at the bottom, with a huge smile spread across her face. She loved every second of it. If that is not a confidence builder for kids, then I don't know what is! She's braver than me!
We planned to go on a pre-booked boat ride next, but the heavens opened so we made a quick dash for shelter in the Westfield shopping centre. As we escaped the rain, the kids lured me into Smiggle because everyone needs strawberry scented pencils in their lives…apparently.
In summary, in addition to the activities we did, there are so many things to do in the Queen Elizabeth Olympic Park – park trails, boat tours, cycling at Lee Valley VeloPark, swimming in the Aquatics Centre and even watching London Lions basketball matches. So, if you're looking for a family day out in London, I would highly recommend Queen Elizabeth Olympic Park. Here you'll find fun and enjoyment for every age.
This post has been commissioned by Queen Elizabeth Olympic Park. For details of how I work with brands, please see my Hire Me page.