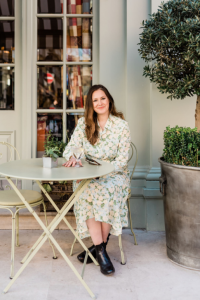 When I was in my mid-thirties, I couldn't even contemplate turning forty. I did not even consider myself as an actual grown up until I found myself completing an online application and spinning the wheel to get to my year of birth. It seems as if time stands still forever until you eventually scroll back to 1978!
When I found myself at the ripe age of thirty-nine, I thought I would have a big party with a pop up gin bar, invite tons of people and have a hip female DJ. But then, suddenly, which is very unlike me, I had a complete change of heart and decided I did not want to have a party at all. I sent out a cancellation to the save the date cards I had already emailed and in return, received many responses such as "are you okay?" The fact was, I was okay. I just didn't want to do anything for my birthday. It was almost as if I had decided that approaching the big four-o was too hard to bear, so I would bury my mind in the sand and pretend I was thirty-nine forever.
I remember women like Oprah and Jane Fonda saying that not until they reached their forties, did life really start to come together in the best ways. How would I know if they were telling the truth?
Some say that life begins at forty. I'm slowly getting used to my husband telling me that I have some new grey hairs. Thank you darling. In turn, I will remind him that he has a new wrinkle. However, perhaps these signs of wear and tear are proof we have lived a good life so far. We have been around a while to learn some stuff, achieve some things, had some kids and built some great memories. It's a trip we call life.
I've just turned forty-one so I'm getting used to the word forty a little more now than last year. In many ways, I can honestly say I am the happiest I have been for a long time. I feel my levels of confidence have reached new heights and I grab life with both hands. I am already an entrepreneur and a business owner, but my new-found confidence means I would happily go and start another new business idea tomorrow. I have no fear of failure like I did in my twenties. Overall, I feel more grounded as a person and try to appreciate every day that I am happy and healthy. I take on new challenges without caring so much about what others may think or say. If it feels right, I go with it. I trust that little voice to guide me in every decision I make.
I am not alone in these ambitious thoughts. As a new wave of women step into their forties and beyond, they're looking to chart a course for the second part of their lives that looks different from the one their mothers knew. It is an exciting time for women to thrive. To take risks and view themselves in the world as anything but invisible. So, let us talk about how powerful the transition to forty is.
I can think of so many influential women who are just getting better with age. For example, with the phenomenal success of Big Little Lies, how incredible are Reece Witherspoon, Nicole Kidman, Meryl Streep and Lauren Dern. All women who are killing it on screen. Hollywood actress Reese Witherspoon reportedly says she does not mind ageing as she prefers her 40s over her 20s. "I have a point of view because I've been on this planet for 43 years, and I didn't feel that same way when I was 25. I didn't have the same things to say," Witherspoon told Allure magazine, reported femalefirst.co.uk.
Here are two great examples of women who didn't hit their prime until forty:
Vera Wang
Vera began working for Vogue shortly after graduation, working her way up to senior fashion editor at the tender age of 23. Vera would stay in the role for 15 years, eventually moving on to accessories design director at Ralph Lauren. But it wouldn't be until 1989, when Vera was 40 years old and planning her wedding, that she even entertained the idea of opening her own bridal boutique. Frustrated with the lack of design options for brides, Vera ended up sketching and designing her own gown, which she had made for $10,000. In 1990, after securing capital from her father, Vera opened her first bridal boutique at the Carlyle Hotel in New York City. Vera now has boutiques all over the world.
Viola Davis
Not surprisingly, Viola Davis was always destined for the stage. In 1996, at the age of 31, she made her Broadway debut with a starring role in "Seven Guitars." In 2001, she garnered her first Tony Award for her work in the drama "King Hedley II." It was her part opposite Meryl Streep in the film "Doubt" that her career took off and for her performance, Viola received an Academy Award nomination for Best Supporting Actress. She was 43 years old.
Five Things to Do at Forty:
1. Stop saying "should."
I should really work out tonight, I should really eat better, I should spend more time at home. The word implies reluctance and guilt. Start saying "want" instead of "should." The positive language will help you clarify and prioritize what you really want to be doing now—and it can help you see healthy behaviours you're not psyched about (you really do want to be eating better) in a motivating way.
2. Plan to do things you want to do, not have to do
A group of psychologists have discovered something they call the Easterlin Paradox, meaning that physical possessions will make us happier—but only to a point. Experiences become part of ourselves, while iPhones and Italian suits remain separate from who we are. Experiences—whether they're luxury vacations or a trip to the movies—also create social connections, which have demonstrated mood-boosting benefits.
3. Remember to be Grateful
My friend, Olympic athlete Michelle Robinson often telephones me and asks me what I am grateful for. She reminds me to be thankful and it is such a great way to tell yourself what you are thankful for. Tell yourself three things you are thankful for before you go to bed at night, or even better, write them down.
4. Make Dates with Friends
Friendships are so important in life and when we get caught up in the business of life, sometimes, it becomes harder for us to see those who have been such an important part of our life for so many years. Make dates, pop them in the diary and do your best to stick to them, even if they are booked six months in advance. In a famous study, scientists studied the wellbeing of 1,600 Harvard undergrads over a period of 30 years. They found that the happiest ten percent of the students were the ones who had the strongest social relationships—and that was a more accurate predictor of happiness than GPA, income, SAT scores, gender, or race.
5. Love Who You Are
Forty feels good. This is the time to be as kind to yourself as you are to others. You believe in yourself and you know that you can achieve. You're not afraid to ask for what you want and you are not afraid to say what you don't want. You see your mistakes as opportunities to learn from as well as knowing your strengths and embracing your flaws.
In summary, perhaps turning forty can teach us about patience, resilience and remembering to focus on the things that really matter. We finally see how joy and growth comes from risking failure and letting go of perfectionism. For many people, writing a book can be a lifelong ambition and it has been an aspiration of mine for a long time. After three years, I have finally finished my book proposal which has just been submitted in to several UK publishing houses. In the past, I would have been so worried about the fear of rejection, but now, I hold my head up high and know what whatever the outcome, I have given it the best shot I can. Because that is how it feels at forty.
This may be the middle of your life, but for many of us, we are just getting started.