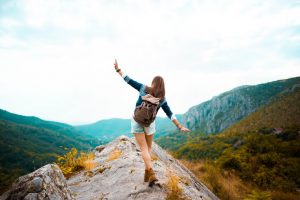 I had been reading about a few friends who had recently booked onto women only holidays or retreats. My friend, Cheryl AKA London Web Girl recently headed to far east with a female friend, followed by a female only body retreat in France. So, could this be an area of travel which is now gaining huge momentum? Is it because sometimes when we meet new women who are on our wavelength, it can quickly start to feel like we are chatting to an old friend?
With registrations for women-only travel adventures doubling between 2018 and 2019 for REI excursions, according to Megan Mehrbaum, manager of strategic communications, it is obvious to see that women are experiencing the world like never before — and in the company of other women.
Why is this and what is it that we achieve from travelling alongside only members of the same sex? Marketing manager of Salomon, Becky Marcelliano, explains; "Conversations tend to be more open and vulnerable, empowerment creates a landscape of growth and friendship, and emotional intelligence tends to lead the space. In co-ed spaces, this strength tends to be shadowed," she says, highlighting the magic that occurs between female-only groups.
Salomon recently hosted a series of all-female trips in Europe to celebrate the launch of its new women's line. In June 2019, 30 women athletes, ambassadors and contest winners from 15 different countries spent a few days in beautiful Montenegro to explore, laugh, hike, play, do yoga, laugh, swim, run and spend some quality time out in nature.
Salomon commented, "we wanted to encourage women to go their own way; find their own path; discover balance in being sweaty, brave, beautiful, loud, funny or courageous." However, what I read on the Salomon website, which I found incredibly interesting was that, what ensued on the trip, was something that as a brand, they could have predicted. The gathering of women from various backgrounds, cultures and demographics led to what will likely become lifelong friendships—all started over a love for the outdoors.
With the rise of women only travel we find now that over 2/3 of travellers are female, and to support this travel company's and organisations have recently opened their doors to women-only retreats and holidays. Women's Adventure Expo is a social enterprise that champions women in adventure. They are the founders of WAExpo – the UK's first Adventure and Travel Expo dedicated to women.
Their mission is to celebrate, inspire and empower women in adventure and exploration, connecting people and organisations, making adventure more inclusive and accessible for all women.
Other example is Run Wild Retreats which is an outdoor running retreats with retreats for beginners too. Run Wild Retreats + Wellness offers women's trail running retreats in some of the world's best trail running destinations. Under the guidance of the retreat leader and our professional running guides, they deliver small-group trail running experiences which can help you to grow, learn, revive your energy and renew your motivation.
Despite my snail running pace (I was once so slow completing a 15.5 mile cross country challenge that my dad who had come up to support me, had actually gone home as I took so long! Harsh…but true. I would love to try something like this!
It strikes me that these types of trips can have a powerful impact on how women feel about themselves. Enabling them to feel stronger, both mentally and physically without the extra clatter in our heads of busyness or life dramas weighing us down.
In my view, the interesting part of the topic is considering who is booking these trips. Women who are seeking about these trips with a difference are not traveling because they have surplus free time. In fact, it's just the opposite: women are busier than ever, juggling relationships, children and careers.
With self care and wellness for women getting much more press than in previous decades, we are now starting to understand that our own wellness is crucial to a happier and healthy life. Stress levels are at epidemic levels, so we are seeking out travel experiences with other women in the hopes of returning home refreshed and restored.
So how do you feel about it?
Well, after doing this research, I am keen as beans to give a women's retreat a go. Whether it be for a relaxing break, to make connections across the globe or perhaps a gentle way to push my own personal boundaries and see where it takes me.
How liberating that must feel?
Either way, it is clear to see that many us of would revel in the power of feminine energy, surrounded by women strong enough to put themselves out there. Women only adventure travel sounds like a trip not to be ignored or undervalued.
Book me in…